Darvish, Rangers shake off White Sox
Six-run sixth gives right-hander fifth win; Cruz, Baker, Beltre go deep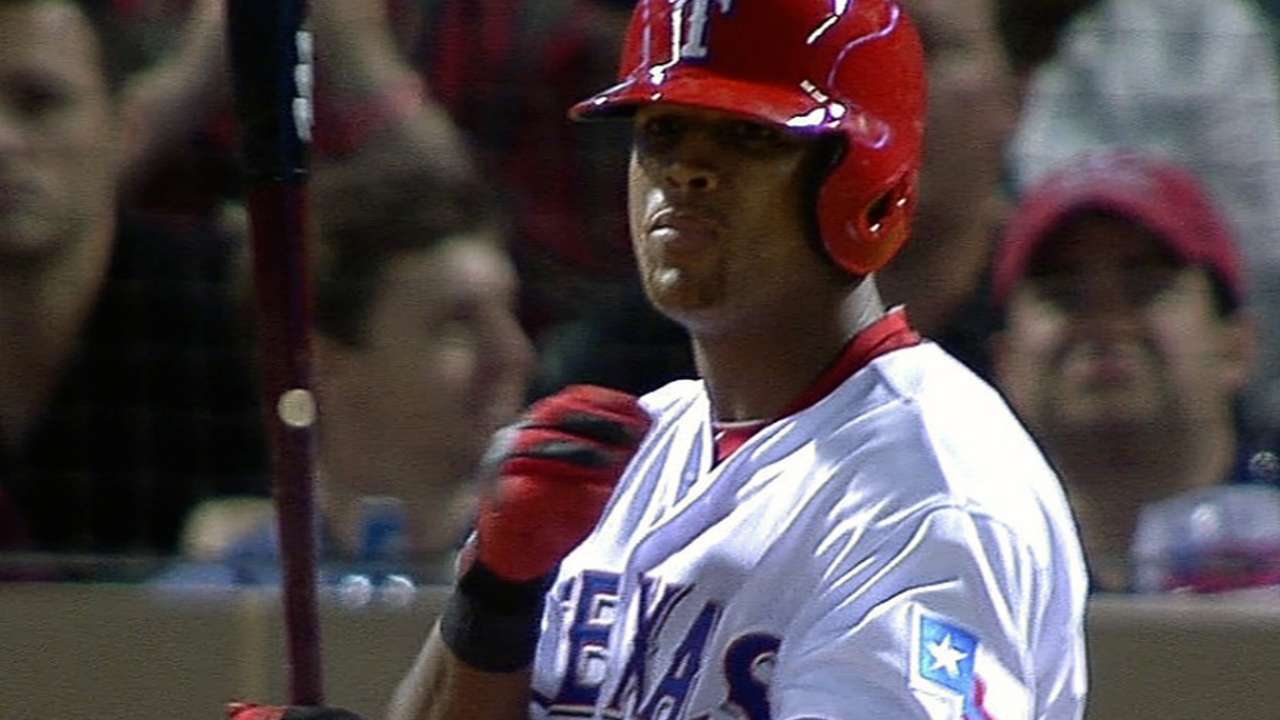 ARLINGTON -- Rangers pitcher Yu Darvish has not lacked for run support this season. The Rangers may be struggling when others are pitching but, going into Tuesday night, they had averaged 8.27 runs per nine innings with Darvish on the mound, the fourth-best run support in the league.
There have been games when Darvish didn't need all that support, but he did on Tuesday night, and his offensive teammates delivered. The Rangers, after struggling at the plate on Saturday and Sunday in Minnesota, erupted with a six-run sixth and pulled away to a 10-6 victory over the White Sox.
"Coming off the last two games in Minnesota, we might have been dragging a little bit," first baseman Mitch Moreland said. "But we had the off-day on Monday and were able to get it going tonight. It was a lot of fun."
The victory left the Rangers 17-9 for April, which is tied for the second-most victories in the opening month in club history. They were 18-7 in April, 1998.
"We're a good team. … We're a very good team," second baseman Ian Kinsler said. "We have a lot of guys on this team that love to win and love to play baseball. We work hard and when you have that and you win, it snowballs. We're a good team and we're going to continue to play good baseball and see what happens."
Darvish was not as sharp as he has been and had his streak of 18 consecutive scoreless innings snapped when he allowed two runs in the first. He ended up allowing a season-high four runs on seven hits in six innings but still earned the win after the Rangers finally broke through in the middle of the game against White Sox starter Jose Quintana and his bullpen.
"Darvish found a way to get it done," Rangers manager Ron Washington said. "He battled tonight. It wasn't easy, but he got it done. If you take the ball 32 times in a season, there are going to be nights where it isn't easy. But he battled and gave us a chance. He had a rough first inning, but then he gave us four scoreless."
Darvish is now 5-1 with a 2.33 ERA on the season. He struck out nine to give him a league-leading 58 but also threw 108 pitches.
"It wasn't a smooth outing," Darvish said.
The Rangers, after scoring two runs over 18 innings in two losses this weekend, finished with 12 hits, including home runs by Nelson Cruz, Jeff Baker and Adrian Beltre. Moreland had three hits and the Rangers were 4-for-9 with runners in scoring position. They were hitting .185 in those situations over the previous six games.
"Obviously, Saturday and Sunday weren't too productive, so it was nice to bust out like that," Baker said.
Quintana retired 11 of the first 13 batters he faced before Cruz and Baker went back-to-back with two outs in the fourth. Cruz has five home runs and 15 RBIs in his last 12 games. The Rangers added two more runs in the fifth after the White Sox failed to turn what should have been a routine double play on Leonys Martin's grounder. Martin ended up on second with one out and scored on Kinsler's double. A single by Elvis Andrus made it 4-2.
"They swung the bat," White Sox manager Robin Ventura said. "It's one of those where they're a good lineup and swing the bat and we gave them a few extras and the opportunities. Those are the ones that always end up biting you. You make a misplay or a walk or something in there, and you do that to this lineup enough times and they're going to make you pay.''
The Rangers also failed to turn an inning-ending double play in the sixth when Darvish, covering first on a grounder to Moreland, couldn't get his foot on the bag while taking the relay from Andrus. That cost him when Dewayne Wise, the White Sox No. 9 hitter, blasted a two-out, two-run home run off a 60-mph hanging curve to tie the game.
"If I had touched the bag, that would have ended the inning and I wouldn't have given up the home run," Darvish said. "But I think the home run fired up our team and we scored a lot of runs after it."
Ventura, after getting five innings from Quintana, went to his bullpen in the sixth and the Rangers broke loose against three relievers. Matt Lindstrom walked Geovany Soto with one out and Moreland, facing Donnie Veal in a lefty-vs.-lefty matchup, doubled into the left-center-field gap to bring home the go-ahead run.
Kinsler brought home Moreland with a single to center off of reliever Nate Jones. A single by Andrus and a walk to Lance Berkman then loaded the bases. Jones got ahead 0-2 to Beltre but then threw two straight wild pitches to bring home two runs. Beltre then hit one into the left-field seats to give the Rangers a 10-4 lead.
"I think we had gone 11 innnings before we scored a run," Washington said. "The back-to-back home runs were sweet. From that point on, we just kept swinging the bat."
The Rangers are averaging 9.31 runs per nine innings when Darvish is on the mound. He needed it Tuesday.
T.R. Sullivan is a reporter for MLB.com. Read his blog, Postcards from Elysian Fields, and follow him on Twitter @Sullivan_Ranger. This story was not subject to the approval of Major League Baseball or its clubs.