Gio has uneven night as Nats fall again to Braves
Lefty strikes out nine, but allows five runs, walks five in four innings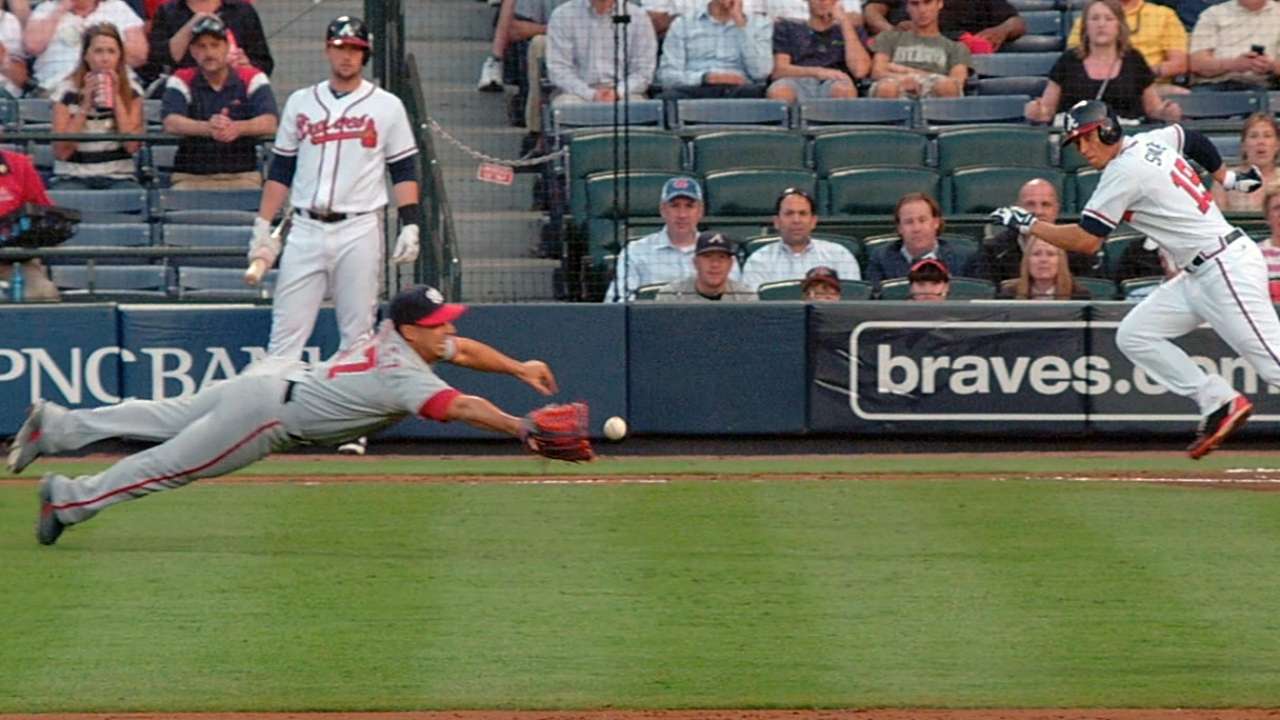 ATLANTA -- Sometimes baseball can be such a simple game. Other times, it can just leave you scratching your head.
Tuesday night at Turner Field was the latter for Gio Gonzalez.
Gonzalez, who had allowed a season-high seven earned runs in five innings in an April 14 loss to Atlanta at Nationals Park, struck out a season-high nine Braves. But he also surrendered a season-high five walks and lasted only four innings, allowing five earned runs and seven hits in taking the loss in the Nats' 8-1 defeat.
"Today is one of those things you just can't explain," said Gonzalez, who allowed at least five runs for the third time in four starts, a span in which he's pitched to a 7.36 ERA (18 earned runs in 22 innings). "You either attack the strike zone or you don't. You get nine strikeouts then five walks. They make some good contact and then they get broken-bat hits. It's just one of those games you just can't explain."
Tuesday's loss was the third straight for the Nationals, their ninth straight to the Braves dating back to last season, and the fifth straight at Atlanta's home ballpark.
In two starts against Atlanta, Gonzalez has now allowed 12 earned runs in nine innings. He's allowed seven earned runs in 23 innings in his four other starts.
The trouble began almost immediately, as Gonzalez allowed a home run to leadoff hitter Andrelton Simmons on the second pitch of the game. He would throw 26 more pitches in the frame and allow another run. The trouble would continue in the second, as he hurled 27 more pitches while the Braves bunched three hits and plated another pair of runs.
"It was just a tough outing for him," said Nationals manager Davey Johnson. "When you pitch, you've got to hit your spots, you've got to make good pitches. He just didn't do it. He punched out a lot of guys, but a lot of them were full counts. You waste a lot of pitches on a lot of hitters."
Gonzalez threw 95 pitches in the four innings, 56 for strikes, in falling to 0-2 in road starts in 2013, with an 11.25 ERA. Last season, he led the National League in road wins, going 12-4 with a 3.31 ERA.
The offense could not answer against Braves starter Tim Hudson (3-1), who won his 200th career game, going seven innings, allowing a run on three hits. He struck out six and walked two.
Washington went hitless through four, managing only two walks, and didn't get its first hit until Tyler Moore, who started in left field with Jayson Werth getting the night off to rest his right hamstring and left ankle, doubled to right field leading off the fifth. He would score on a Wilson Ramos groundout two batters later.
"I just wanted to get the inning started. He'd been shutting us down all night," said Moore. "Our bats just weren't awake tonight. [Hudson was] just getting ahead of hitters, keeping the ball down the whole time. If he fell behind, he threw his offspeed for a strike. He was just on tonight."
Hudson even hit his third career home run, an opposite-field drive in the fifth inning off reliever Zach Duke that typified the way things went all night for the Nats. Bryce Harper leapt for the fly at the wall, got his glove on the ball, but then hit the wall. The impact jarred the ball from Harper's glove and it rolled into the seats.
"I hit a pole," said Harper, who sported a big red welt under his left shoulder. "I had it in my glove. I got up pretty high. [The ball] hit my glove, [I] hit the wall. [The ball came] out of my glove. I should have caught it."
The homer ignited a three-run fifth, all with two out. In the top of the sixth, Adam LaRoche's sixth-inning blast was run down by Atlanta center fielder B.J. Upton, who hit the wall but held on to end the inning.
When it's not your night, it's not your night.
The offense never heated up, as Denard Span and Ian Desmond had the only other hits off Atlanta pitching.
Span singled leading off the sixth and Desmond, who came into the game with a .293 career average and 12 career hits against Hudson, tripled to right leading off the seventh. The hit extended his hitting streak to seven games, but, to the Nats' frustration, he would be stranded at third.
Washington's Tuesday frustration has already yielded to Wednesday optimism, however.
"We've lost our last three, but we know we've got Jordan [Zimmermann] on the mound tomorrow and we're really confident in what he can do," said Moore. "Hopefully our bats will wake up. We've got to keep moving on. Can't really dwell on it."
Gonzalez sure doesn't want to. He's looking ahead to a new day and a new month.
"It's a long season, man. Things can change," he said. "I'm not going to stress it. I know these guys are not going to stress it. They're trying their best, I'm trying my best. It's a slow start for us. But once we turn it around, it's going to be a big change. Hopefully we don't have this kind of stuff in May. Hopefully it turns around and we swing the bats and we make better pitches."
And their current luck with Atlanta?
"It's something that you've got to battle through," said Harper. "It's April. [Ryan Zimmerman] comes back soon."
Jon Cooper is a contributor to MLB.com. This story was not subject to the approval of Major League Baseball or its clubs.