Hudson does it all vs. Nats in career victory No. 200
Righty goes seven strong innings, doubles, homers in milestone win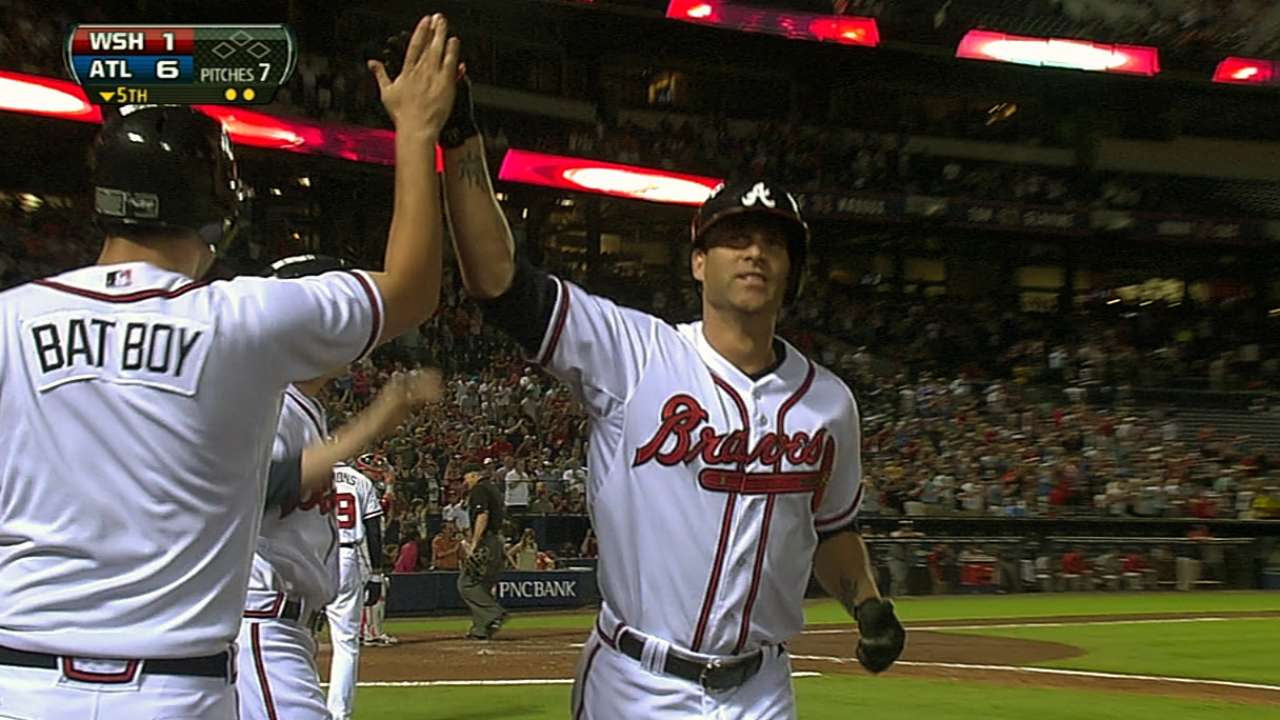 ATLANTA -- Like many who were raised in the Southeast during the 1990s, Tim Hudson idolized Greg Maddux, John Smoltz and Tom Glavine. Now, like those three former Atlanta greats, Hudson has experienced the honor of notching his 200th win while wearing a Braves uniform.
Displaying the youthful exuberance first seen during his early days in Phenix City, Ala., Hudson reached this milestone in grand fashion. The veteran right-hander allowed three hits over seven stellar innings and belted his third career home run while helping the Braves remain perfect against the Nationals with Tuesday night's 8-1 win at Turner Field.
"It was just one of those nights where things were lined up," Hudson said. "The stars were aligned, and I guess it was meant to be."
Hudson's fifth-inning, opposite-field home run off Zach Duke simply added to the splendor of becoming the 110th pitcher in Major League history to notch 200 career wins. The only other active pitchers who have reached the mark are Andy Pettitte and Roy Halladay.
"He was about as good as I've seen him pitch," Braves manager Fredi Gonzalez said. "I don't think he labored the whole game. It was fun to watch. I know Chipper [Jones] had some milestones last year. But this, for me, might have been one of the most fun ones I could sit back and enjoy."
After proving unsuccessful in his first two attempts to notch the milestone on the road, Hudson savored the opportunity to record his 200th win in front of the hometown crowd, which included his wife, his oldest daughter, his father and his brothers.
Hudson was one out away from reaching this milestone last week before Justin Upton misplayed a two-out fly ball at Coors Field and Craig Kimbrel suffered his only blown save of the season.
"I think things happen for a reason," Braves center fielder B.J. Upton said. "He could have got it on the road, but it didn't happen. He comes home and gets to do it in front of the home crowd in a place where he's been for 10 years, and in front of his family. To have the kind of day he had at the plate, it's kind of icing on the cake."
Hudson began his second two-hit game of the season with a double off the left-center-field wall and capped it with his fifth-inning home run, which bounced out of Bryce Harper's glove, hit off the top of the right-field wall and fell over.
According to the Elias Sports Bureau, Bob Lemon was the only other pitcher to hit a home run in the same game in which he notched his 200th win.
"It was a fun game all the way around," Hudson said. "I felt like I threw the ball well. I felt like I was in command of the game throughout the seven innings. You know what? Sometimes if you swing hard, sometimes you hit it. That was the case tonight."
Fittingly, Hudson reached this milestone with a win over the Nationals. His 16 wins against the franchise rank as the highest total he has recorded against any Major League club.
"Hudson was out there, he was fired up," Harper said. "You know, his 200th win. That's pretty incredible."
Harper was just 8 years old when Hudson notched the first win of his career on June 13, 1999, coincidentally against a Dodgers team that employed current Nationals skipper Davey Johnson as its manager.
"It's a great accomplishment for anybody," Hudson said. "But honestly, I feel like it's something along the way, and I hope I can accomplish a lot more in this game. I feel like I can play for a while. I feel like I haven't missed a beat from 17 or 18 years ago. I'm just a little more crafty nowadays, and I definitely have more pop."
Hudson's mastery enabled the Braves to record their ninth consecutive win over the Nationals dating back to last year. They have won each of the first five games played against the defending National League East champions this season.
Hudson did not allow a hit until Tyler Moore opened the fifth inning with a double that helped put him in position to later score on Wilson Ramos' groundout. Hudson ended his evening in grand fashion as he escaped the seventh inning unscathed after allowing Ian Desmond's leadoff triple.
"It was fun to go out there and have some fun from start to finish," Hudson said. "We put up some runs early. It made it easier on me to go out there and be aggressive. To get out of that one inning after giving up the leadoff triple was kind of the cherry on top."
The Atlanta crowd showed its appreciation when Hudson was shown on the stadium's large video board before going to the clubhouse just before the start of the eighth inning. He has recorded 108 of his victories since the A's fulfilled his childhood dream by trading him to the Braves before the start of the 2005 season.
"He's an old-school baseball player,'" said Evan Gattis, who drove in two runs and served as Hudson's catcher on this memorable night. "He's good at the game. It's not anything special, nothing magic. He's just good."
The lone run tallied against Hudson was far from enough to compensate for the damage incurred by Nationals starter Gio Gonzalez, who allowed five earned runs and seven hits in just four innings. Gonzalez has allowed 12 earned runs in nine innings against the Braves this year, and seven earned runs in the other 23 innings that he has completed.
Andrelton Simmons provided the game's first highlight with his first career leadoff home run. But the spotlight shined on Hudson for the remainder of the night.
Hudson's winning percentage now stands at .656. The only modern-day 200-game winners with a better career winning percentage are Whitey Ford (.690), Pedro Martinez (.687), Lefty Grove (.680), Christy Mathewson (.665), Halladay (.663) and Roger Clemens (.658).
"I still don't consider myself really worthy of being in those kinds of conversations," Hudson said. "But talk to me in five years, if I'm not in a wheelchair."
Mark Bowman is a reporter for MLB.com. This story was not subject to the approval of Major League Baseball or its clubs.