Mariners roll past O's behind double Saunders act
Lefty pitches four-hitter for win; center fielder homers in return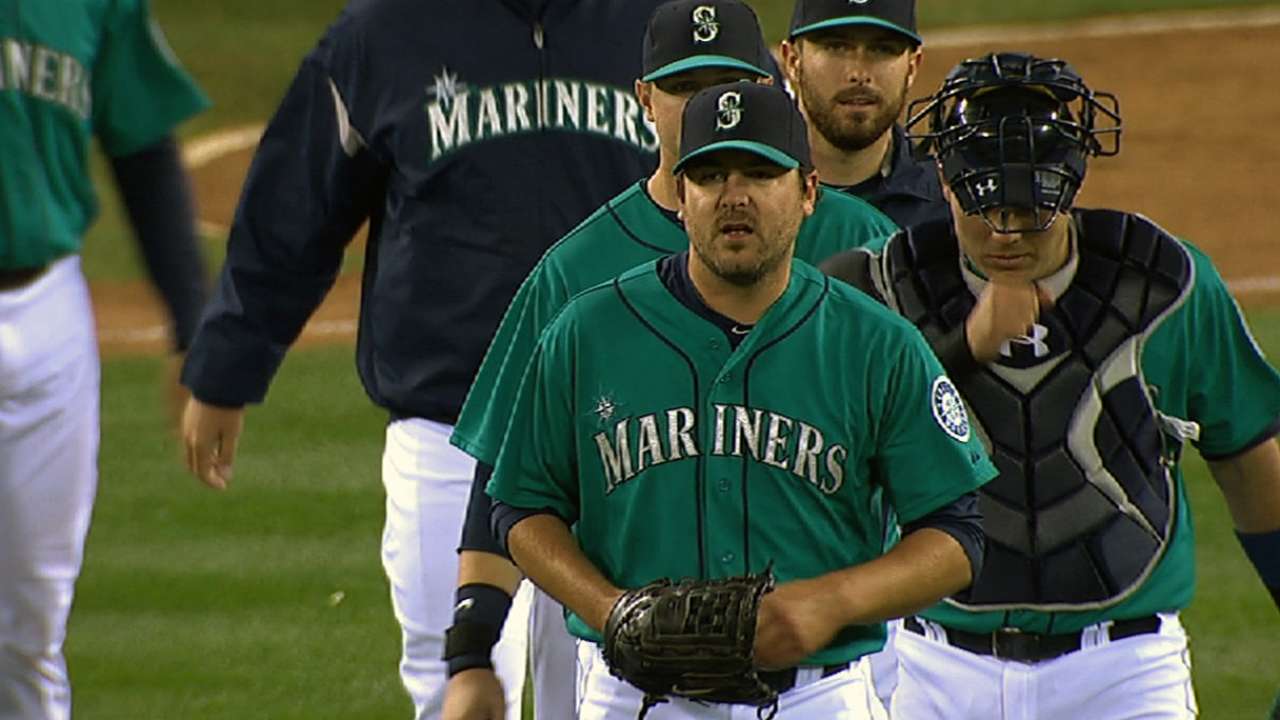 SEATTLE -- It was a Saunders kind of night at Safeco Field on Monday as the Mariners opened a three-game set against the Orioles with a 6-2 victory.
Center fielder Michael Saunders returned to the Mariners lineup with a bang, lacing a leadoff home run on the second pitch of the game from Zach Britton. Saunders, back from a disabled-list stint with a sprained shoulder, went 1-for-4 with a walk, two RBIs and two runs scored.
Meanwhile, left-hander Joe Saunders pitched a four-hitter to pick up his second victory of the season and continue his Safeco Field supremacy.
Saunders saw his scoreless streak at Safeco end at 17 innings when Matt Wieters clubbed a two-run homer in the fourth, but that was the only damage done by his former Orioles teammates.
"After I gave up the home run I was dog-cussing myself in the dugout because I didn't want to make a mistake," Saunders said. "But for the guys to come back like they did and keep going off a pretty good sinkerball pitcher in Britton, it was impressive to watch."
Saunders is now 8-0 with a 1.74 ERA in 12 career starts in Seattle, including 2-0 with a 0.80 ERA in three outings this season. That stands in sharp contrast to his road woes this year, where he's posted a 12.51 ERA in three games.
"A little better, yeah," Saunders said after getting tagged for eight runs in five frames in his last start at Houston. "This outing I had my command. I had a little problem with my backside last start, a slight little quad issue that was kind of preventing me from pushing off. Not to make excuses because I was [really] poor last game and I needed to make up for it tonight."
Saunders pitched for the Orioles at the end of last season, including two big playoff performances, and is now 6-0 with a 4.22 ERA in eight career starts against Baltimore.
"We knew what Joe was going to do," Wieters said. "Everyone sort of knows what Joe is going to do. That's why he's good and that's why he's pitched for so long. He's able to make the ball move late and get ground balls and get weak contact."
Saunders needed just 105 pitches to notch Seattle's first complete game of the season and seventh of his career.
"That's always significant because every pitcher says that's their job and that's what we try to do, but it's fricking hard to do," Saunders said. "You need to have some breaks, get some quick outs, because nowadays once you hit 100 pitches, it's bullpen ready, here we go. You've got to be efficient and get quick outs. The defense was amazing behind me and we got some clutch hits. It was awesome."
The win was the third straight for the Mariners, who improved to 12-16. Baltimore lost its second straight and fell to 15-11.
"The feel is a lot different than when we left Houston, when it was very blah road trip," left fielder Jason Bay said after his three-hit outing. "To come here and beat Anaheim, and win this first game, the feel is definitely different."
Michael Saunders' quick bolt set the tone for Seattle's awakening offense. It was his first career leadoff homer but the fourth of the year for the Mariners, with Franklin Gutierrez hitting three before landing on the disabled list. The four leadoff blasts are already tied for the fourth most in a Mariners season, with the record at five.
Britton, making his first start for the Orioles since being recalled from Triple-A last week, wound up allowing 10 hits and six runs in six innings.
"We didn't have a lot on him," Bay said. "A Minor League start with really bad video, just trying to go off that. But sometimes that's better because it just makes everybody see the ball and hit it. 'Saundo' started it off with a 'welcome back' right there, and that instantly woke the dugout up and we just kind of rolled from there."
Britton gave up two runs in the fourth as Bay hugged an RBI double down the third-base line and former Oriole Robert Andino followed with a run-scoring single. Britton finally wiggled out of a bases-loaded jam with a Kyle Seager popout, but Seattle had a 3-2 lead.
The Mariners tacked on three more in the sixth on an RBI single by Brendan Ryan, a grounder by Michael Saunders that pushed across another run and then a triple by Seager that scored Saunders.
Bay's 3-for-4 night raised his average to .269, while Justin Smoak and Seager each added two of Seattle's 11 hits. The Mariners are batting .295 as a team over the past eight games, raising their collective average from .218 to .240.
"They've been moving in the right direction for about a week now," said manager Eric Wedge. "You slowly move forward and have those little victories and keep building off that. With that comes the confidence and performance and outcome. It's nice to see."
Greg Johns is a reporter for MLB.com. Follow him on Twitter @GregJohnsMLB as well as his Mariners Musings blog. This story was not subject to the approval of Major League Baseball or its clubs.