Orioles held in check by ex-teammate Saunders
Britton surrenders six runs over six innings in season debut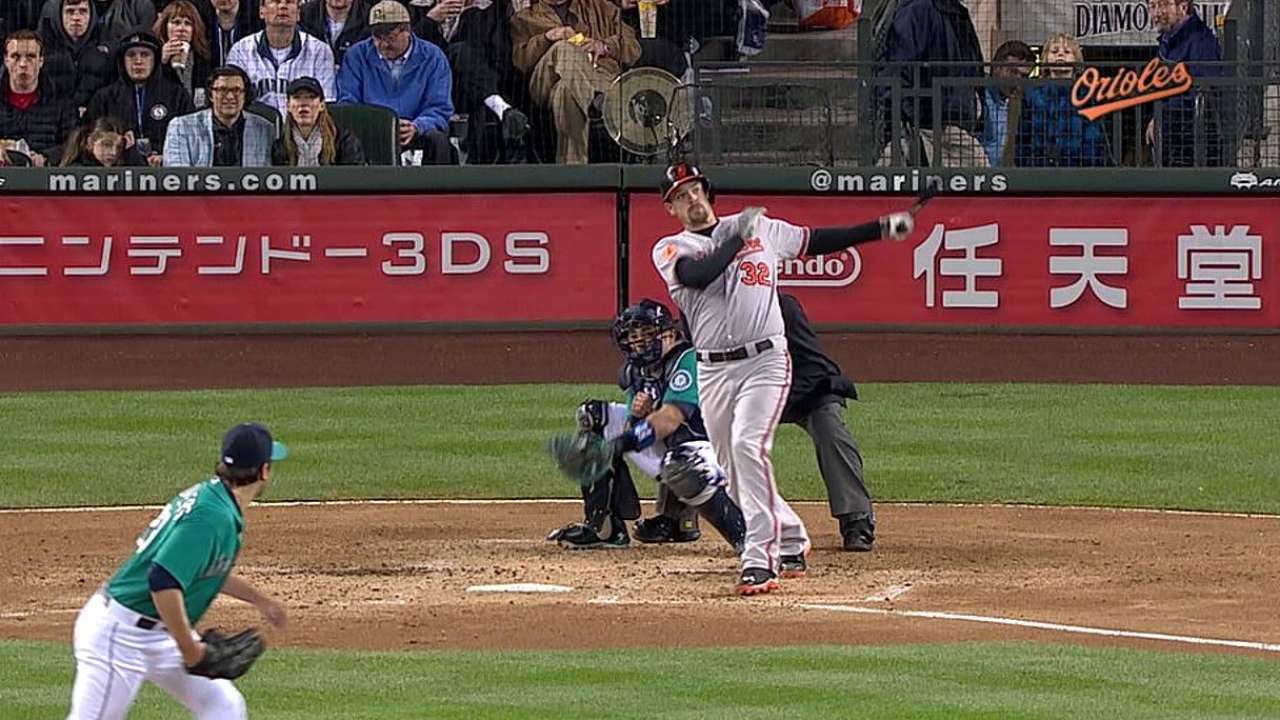 SEATTLE -- Orioles pitcher Zach Britton was standing on the mound Monday night, rubbing the baseball in his glove when he got hit in the left shoulder with a new ball from home-plate umpire Alan Porter.
"The umpire smoked me," Britton said of Porter's toss in the sixth inning, which came because he mistakenly thought the pitcher signaled for another ball. "I was looking down at the ball and all of a sudden another ball hit me. I had no idea what was going on, but it didn't feel great."
The bizarre play -- which came during a three-run frame -- epitomized the entire evening for the 25-year-old Britton, who wasn't hit particularly hard but surrendered six earned runs on 10 hits and two walks in the Orioles' 6-2 series-opening loss to the Mariners.
The high-flying O's, fresh off a series win in Oakland, snapped an eight-game win streak against Seattle and dropped their first game at Safeco Field since July 3, with wins in their previous five meetings. And while Britton played a hand in the Orioles' undoing, former Baltimore lefty Joe Saunders did plenty on his own in a dominant complete-game effort.
"I don't look at it as a gloom and doom, that bad of a start," manager Buck Showalter said of Britton's outing. "The problem was tonight we didn't do anything off their starter. That's a whole different ballgame if we can put a little more pressure on him.
"So it is magnified if you are just looking at numbers by what we scored. You look at starts differently. If we win 7-6, we'd be having different conversations. I try to keep reality in mind."
And the reality is facing Saunders at Safeco Field is a tough task. Saunders, who was the Orioles' winning pitcher in the their first playoff win since 1997 in last year's American League Wild Card game, was on cruise control for most of the evening.
The 31-year-old, who improved to 8-0 with a 1.74 ERA in 12 career starts at Safeco Field, gave the Mariners their first complete game of the season and his first since April 27, 2012, with the D- backs.
"I enjoyed my time there a lot," Saunders said of a Baltimore team he spent a 1 1/2 months with down the stretch. "We did some great things over there, but I'm here now and it's time to beat them. That's my job. I knew them a little bit, but you've still got to watch video and see what they're doing. I just tried to keep this as plain Jane as I could and just keep my normal routine."
Saunders held the Orioles to four hits, with three of those coming in the fourth inning. Catcher Matt Wieters' two-out, two-run homer put the Orioles on the board, also scoring Chris Davis, but it didn't generate any momentum as Saunders -- who signed with Seattle as a free agent over the winter -- retired the next seven straight.
"We knew what Joe was going to do," Wieters said. "Everyone sort of knows what Joe is going to do. That's why he's good and that's why he's pitched for so long. He's able to make the ball move late and get ground balls and get weak contact. Anytime you can get the ball to move late and get bats to miss barrels, you are going to have a successful career. And we knew what kind of pitcher we had with Joe and he threw the ball well tonight."
Britton staked Saunders to an immediate lead, serving up a homer to Michael Saunders on the second pitch he threw. He retired nine of 11 after that, before running into trouble in a two-run fourth that gave the Mariners back the lead.
After Michael Morse singled and Britton walked Jesus Montero, Jason Bay ripped a one-out double down the left-field line, past diving third baseman Manny Machado to even the score. Former Oriole Robert Andino, traded to Seattle this winter, pushed the go-ahead run across with a right-field single.
Britton escaped further damage, leaving the bases loaded, but three more runs scored in the sixth. After Justin Smoak opened with a hit, Britton was hit in the shoulder by Porter's throw and play was halted while he was checked on by the team's trainers. He remained in the game and Bay singled, with Andino's sacrifice bunt putting the pair in scoring position for No. 9 batter Brendan Ryan. Ryan singled in a run and after the O's failed to turn a double play on Michael Saunders' grounder, Kyle Seager tripled to right field to extend Seattle's lead.
"Definitely don't like the results," Britton said of the 101-pitch outing. "I like the fact that I was getting ground balls, it shows that what I was doing there [in Triple-A] translates up here. It's just a matter of fine-tuning it and locating it so maybe they hit it softer or at guys. And it's that one pitch to get out of that inning."
"He went through some periods there where he was good," added Showalter, who was non-committal when asked if Britton would get another start. "I don't really feel like they really centered him up a lot other than the home run. But they had some good at-bats off him, something we weren't able to do off Joe."
Britton, who is coming off a season in which he went 5-3 with a 5.02 ERA in 12 games, issued a pair of walks and a wild pitch and was replaced by right-hander Tommy Hunter -- who threw two scoreless innings.
"He just had a couple innings, a couple stretches there where he got up in the zone or they got a free base," Wieters said of Britton. "For the most part his stuff was good. I just think the main thing he wished he had was to be able to locate on the inside of the plate to some of their right- handed hitters.
"There was a few balls that just found the holes and that's the life of a sinkerball guy."
Brittany Ghiroli is a reporter for MLB.com. Read her blog, Britt's Bird Watch, and follow her on Twitter @britt_ghiroli. This story was not subject to the approval of Major League Baseball or its clubs.