Belt's big hit gives Giants win in Arizona
Cain gives up three homers in fourth; Sandoval aggravates elbow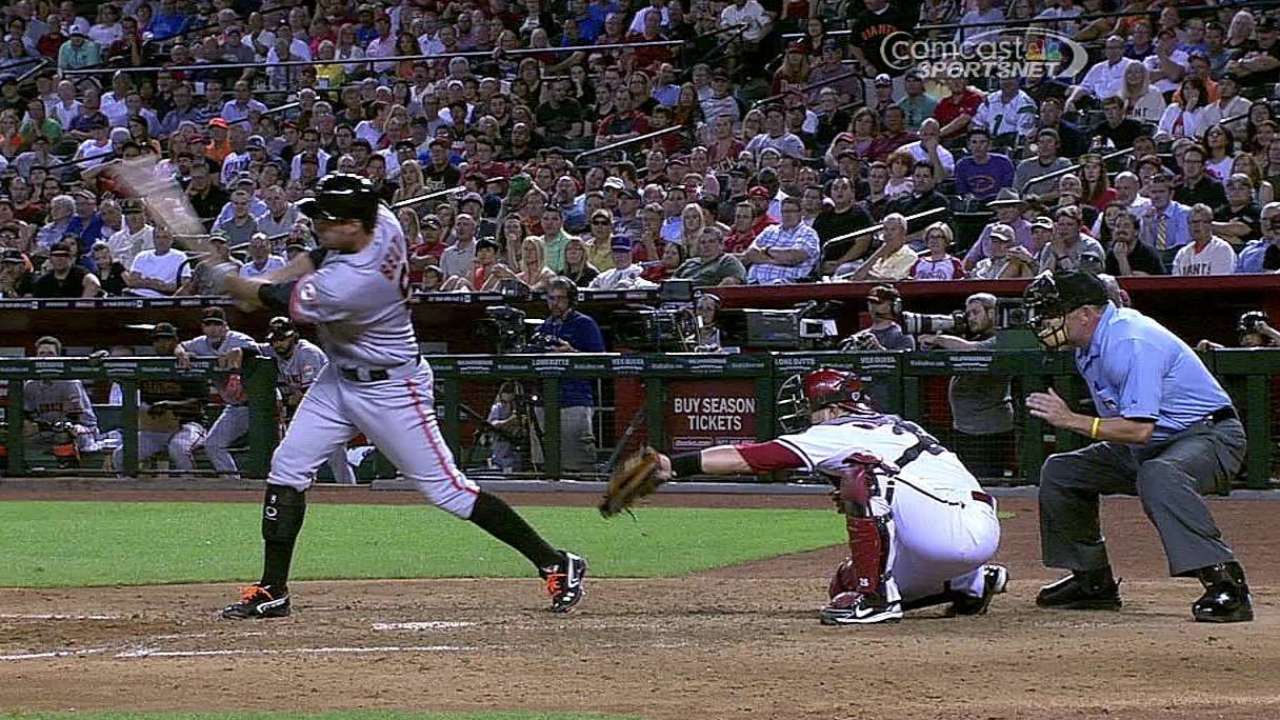 PHOENIX -- Brandon Belt descended in the batting order yet soared with his deeds Monday night.
Occupying the eighth spot for the first time this season, Belt smacked a tiebreaking, two-run single in the eighth inning that lifted the Giants to a 6-4 victory over the Arizona Diamondbacks.
The outcome ended the Giants' losing streaks of five games overall and six on the road.
"We were on an ugly skid," said right-hander Matt Cain, who personified the Giants' struggles. San Francisco hadn't won any of Cain's previous five starts, and another defeat appeared possible after he surrendered three fourth-inning homers, the most he ever has allowed in a single frame.
Ultimately, Belt's grounder up the middle carried more impact than any of the D-backs' mighty clouts.
With the score knotted at 4, Nick Noonan, who entered the game for an injured Pablo Sandoval (elbow), doubled off reliever Brad Ziegler to open the eighth. Two outs later, Ziegler walked Gregor Blanco and Brandon Crawford to load the bases. Up came Belt, whose name plummeted on manager Bruce Bochy's lineup card due to his .133 career batting average (2-for-15) with nine strikeouts entering the game against Arizona starter Ian Kennedy. Belt connected with Ziegler's 3-1 delivery to score Noonan and Blanco.
Ziegler's lack of control actually could have worked against Belt, who might have wondered whether he'd see a strike. But Belt purged himself of any indecision.
"I was seeing the ball well enough that I thought, 'If he gives me something I can handle here, I'm going to go after it.' You just don't want to be in between on that."
Belt christened the second inning by homering off Kennedy, signaling that this would be a fruitful evening for him.
"I had to go up there with a strict zone in mind, stick with it and lay off all those pitches that were up and away that he used to get me on," Belt said.
Belt also thrived in the Giants' previous victory, lining a tiebreaking single in last Monday's ninth inning off Arizona's Tony Sipp at AT&T Park. Since then, Belt has sustained a mini-hitting binge (.409, 9-for-22). But he'd prefer to be wielding his influence, along with his bat, from a higher spot in the order. He has hit eighth in only four starts during his career.
"I liked it tonight," Belt politely said when asked about batting eighth. "I don't know if it's the ideal position. As a hitter you want to try to move your way up through the order."
It was an arduous effort overall for the Giants. Sandoval aggravated the elbow that nagged him during Spring Training while lining a fifth-inning RBI single. Bochy was ejected for the first time this season for arguing that Hunter Pence was safe on the back end of an inning-ending double play in the fifth. And Cain endured the D-backs' powerful fourth inning, when they erased a 3-0 deficit.
Jason Kubel followed Cody Ross' leadoff walk with a drive over the right-field barrier. Eric Chavez then hit his second homer against the Giants in two weeks. Two outs later, Martin Prado launched his fourth homer of the season.
To put matters in perspective, Cain's 6.49 ERA for April exceeded any of Tim Lincecum's monthly ERAs in 2012, when he finished 10-15. But Cain, who's 0-2 and has yielded nine homers, won't let himself dwell on the worst.
"It is a little weird, because you make some [good] pitches and they hit homers," he said. "You think back to the game in Chicago [when the Cubs homered twice off him], it's a popup and it's wind-blown. You think one of them's a double and it's a homer. It's like all the hits are homers. But do you reallly understand it? No. It's kind of the way it is and you get over it. You just have to keep trying to make pitches."
The Giants bolstered Cain and themselves by pulling even in the fifth. Marco Scutaro, who went 3-for-4, lashed a one-out single, advanced to second on a wild pitch and scored on Sandoval's single.
"They came out and swung the bats decently," Arizona manager Kirk Gibson said of the Giants. "They're a good team. We know they're the world champs, so give them credit. They came back after we tied it up and scored a couple of runs on us."
Chris Haft is a reporter for MLB.com. This story was not subject to the approval of Major League Baseball or its clubs.