Ziegler, D-backs stung late in loss to Giants
Arizona drops series opener despite three-homer fourth inning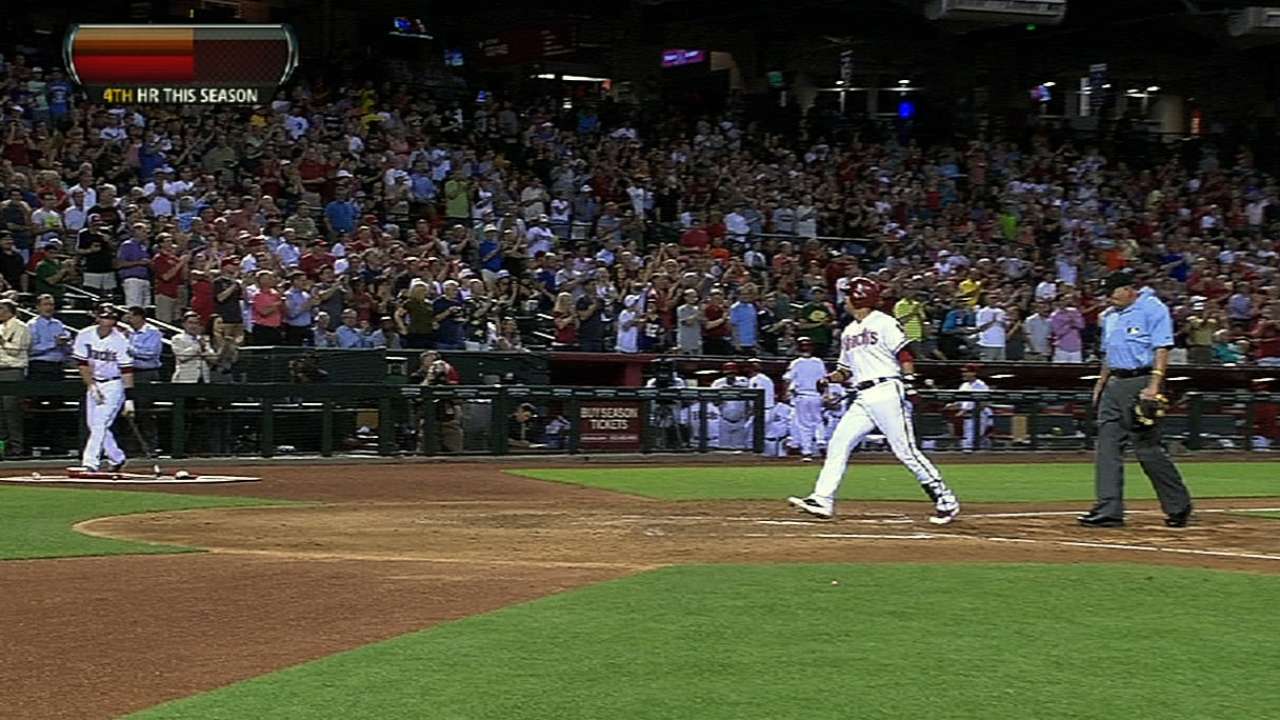 PHOENIX -- Tied in the eighth inning Monday with two outs and a runner on third, D-backs manager Kirk Gibson faced a decision whether to leave right-hander Brad Ziegler in the game with a trio of lefty Giants batters scheduled to bat next or bring in a southpaw from the bullpen to get the left-on-left matchup.
Gibson opted to keep Ziegler on the mound and the 33-year-old, who entered the night with a 1.77 career ERA against San Francisco, proceeded to walk the next two batters and then allow Brandon Belt to drive in a pair of runs, lifting the Giants to a 6-4 victory over the D-backs.
Arizona has two left-handed relievers in its bullpen: Matt Reynolds, who pitched one-third of an inning Sunday, and Tony Sipp, who hadn't thrown since Friday and ended up replacing Ziegler and tossing 1 1/3 scoreless innings Monday after the damage was done.
After the game, Gibson pointed to his bullpen's heavy workout recently as the reason he didn't make the move sooner. Over the weekend in a four-game set vs. the Rockies, D-backs relievers combined to throw 15 innings.
"I just didn't have a bullpen," said Gibson, who added some relievers weren't available but declined to specify whom. "They've thrown a lot and just for me, you have to look beyond today. They've thrown a lot of innings and we tried to accomplish it and couldn't get it done."
Asked if he would've handled the situation differently if he had a rested bullpen, Gibson replied, "I might have."
"But regardless of whether we were short or not in the bullpen I was comfortable with who we had in there," Gibson said. "[Ziegler] has gotten lefties out, he's gotten righties out, and the ball found a hole tonight."
Belt's game-winning hit wasn't the first time this year he has hurt Arizona. In four games vs. the D-backs this season, Belt is 6-for-11 with two homers and six RBIs. Against everyone else, the first baseman is batting just .197.
"I was seeing the ball well enough. I thought, 'If he gives me something I can handle here, I'm going to go after it,'" Belt said of his late hit Monday. "You just don't want to be in between on that. I said, 'If I get something, I'm going to take my full hack at it.'"
For Ziegler's part in the loss, the 33-year-old took full responsibility despite the tough matchups he faced.
"Maybe just a little bit of a lack of aggression, trying to make the pitches too good on the edge and not attacking enough to make them put the ball in play," Ziegler said. "I wasn't off by a lot tonight; it was just a little bit enough to get behind in counts and be on the defensive."
Coupled with a Rockies victory over the Dodgers, Arizona's loss Monday dropped the club back into second place in the National League West, a game back of Colorado.
As for the D-backs' offense, the only runs it produced came courtesy of the long ball. Jason Kubel and Eric Chavez went back-to-back in the fourth off Giants starter Matt Cain, then Martin Prado hit his first blast since April 18 later in the inning.
Prado entered the game 0-for-his-last-11 so Gibson tried to get his third baseman going by penciling him in the leadoff spot for just the second time all year.
"I just wanted to give him an opportunity to swing the bat," Gibson said. "I think he has been worrying too much about the runners on base."
Besides the loss, another casualty of Monday was Gerardo Parra's career-best 13-game hitting streak, which ended after an 0-for-5 night at the plate.
Looking for his first win since Opening Day, D-backs starter Ian Kennedy knew he didn't have his best stuff right out of the gates Monday, but he battled to give the club a chance to win. The right-hander allowed four runs on seven hits over seven innings, but only four Giants reached base over his final five frames of work.
"Even after the first batter I know my stuff wasn't as sharp. I just wanted to keep it close as much as possible," Kennedy said. "I noticed my fastball wasn't as good command-wise, so I knew I had lean more on my off-speed tonight. It's awfully tough when your fastball command isn't good though."
Monday was Kennedy's second consecutive outing against the Giants as he faced them last Wednesday in San Francisco. The D-backs' ace didn't give up a run until the seventh inning in that start, but Monday was a different story.
Highlighted by a Gregor Blanco RBI single and a Belt solo home run, the Giants pounded out four hits in the first two innings off Kennedy, who came into the start with a 2.33 career ERA vs. San Francisco, to take an early 3-0 advantage.
Two innings later in the fourth, the D-backs briefly grabbed a lead thanks to the franchise's first three-homer inning since 2010, but a Pablo Sandoval RBI single in the fifth off Kennedy tied the game, 4-4.
After their powerful fourth inning, the D-backs' bats went silent the rest of the night, managing just two hits over the final five frames.
"We hit the ball out of the ballpark; we didn't die," Gibson said. "It went down to the end -- it just wasn't our night."
Tyler Emerick is an associate reporter for MLB.com. This story was not subject to the approval of Major League Baseball or its clubs.