Gallardo belts one of five Brewers homers in rout
Club is first team since 1958 to go deep five times, hit three triples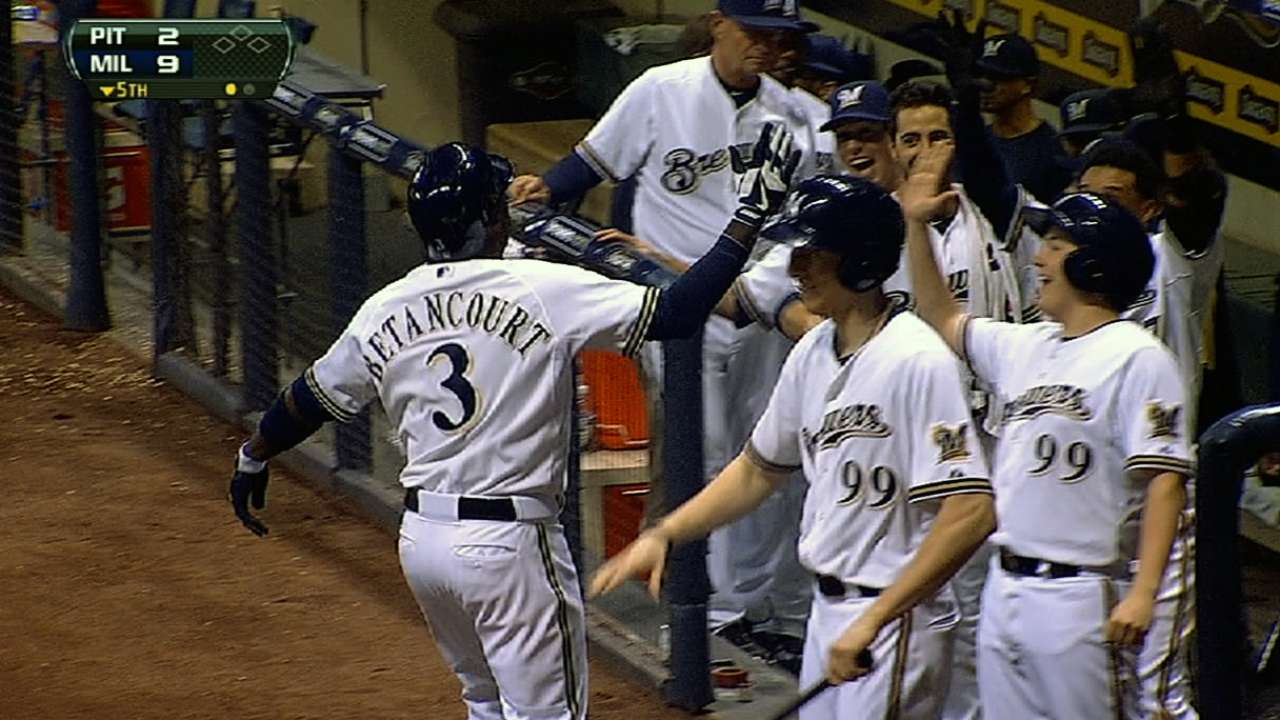 MILWAUKEE -- One day after being blanked by Clayton Kershaw and the Dodgers, the Brewers erupted for five home runs and three triples, a feat last accomplished 55 years ago.
Yovani Gallardo scattered three hits over seven innings and was one of five Brewers to homer as Milwaukee continued its dominance over the Pirates with a 10-4 rout on Monday night at Miller Park.
The last time a team hit five homers and three triples in a game was May 13, 1958, when the San Francisco Giants beat the Los Angeles Dodgers, 16-9, according to the Elias Sports Bureau. Willie Mays had two homers, two triples and a single in the game.
"That's just the kind of guys we have here, they do it all, they hit for power and for average," Gallardo said. "It's always exciting to see the guys go out there and swing the bats."
While the legendary Mays did most of the heavy lifting for the Giants on that day, the Brewers had more balance, getting homers from Gallardo, Jean Segura, Norichika Aoki, Carlos Gomez and Yuniesky Betancourt. Martin Maldonado, Segura and Gomez all tripled as the Brewers improved to 70-24 against Pittsburgh since 2007, including 45-7 at Miller Park.
"There's no question about it, you know, it's the one through the nine, even the pitcher," said Gomez, who is batting .349 with four homers.
The win ensured that the Brewers (13-11) are only the fifth team since divisional play began in 1969 to open a season 2-8 or worse and still finish April with a winning record.
Gallardo (3-1) needed 47 pitches to get through the first two innings, but settled down and allowed only two runs, one earned, with two walks and five strikeouts. He improved to 10-2 in his career against the Pirates.
"Glad he went the length that he did," manager Ron Roenicke said. "He struggled with his command early, then he got the rhythm and started throwing strikes, and finished, I thought, outstanding."
The right-hander retired the final 13 batters he faced.
"In that situation, we have the lead," Gallardo said. "It's just a matter of throwing strikes. Make them put the ball in play. The last thing you want to do is put guys on, then something bad can happen.
"As the game went on, I was able to find that rhythm and stick with it throughout the whole game."
Pittsburgh manager Clint Hurdle acknowledged that Gallardo was able to settle down after a rough start.
"He was effective staying away from big innings," he said. "He competes, and that's what kept him going in the middle of that game, and gave them the needed innings.
"That's why he's establishing himself as a good young pitcher," he said. "He did not have his best stuff tonight, and still went out there and pitched a professional game."
One day after losing, 2-0, and managing only four hits in Los Angeles, the Brewers battered Pittsburgh starter Wandy Rodriguez (2-1), The left-hander lasted only 3 2/3 innings, giving up seven runs on six hits and four walks while striking out two. His ERA climbed to 3.91 after beginning the game at 1.66.
After Pittsburgh took a 1-0 lead in the top of the first, the Brewers scored five runs in the bottom half of the inning to take the lead for good. Aoki led off with a walk and scored on Segura's second homer of the year.
Ryan Braun then hit his first double since April 8 and Jonathan Lucroy walked, but was picked off first by catcher Russell Martin.
Rodriguez then walked Rickie Weeks and Gomez to load the bases. Betancourt's groundout allowed Braun to score for a 3-1 lead. Maldonado then singled to score both Weeks and Gomez to make it 5-1.
The other four teams to have winning records in April after slow starts all opened the season 2-8 like this year's Brewers: the 1976 Dodgers (10-9 in April), the '77 Yankees (11-9), the '85 Twins (11-9) and the 2011 Rays (15-12).
The strong rebound from the slow start has Roenicke optimistic. Cleanup hitter Aramis Ramirez is preparing to return from a sprained left knee this week and slugger Corey Hart hopes to come back from knee surgery when he's eligible to come off the disabled list on May 30.
"The way we started, I thought it would be a long time before we got back to .500," Roenicke said. "Now I'm looking at this as trying to win as many games as we can until we get everybody back. With the addition of [Kyle] Lohse to the starting staff, if we can score some runs for him, he's going to be a huge addition to the team, and I see us being good."
Joe DiGiovanni is a contributor to MLB.com. This story was not subject to the approval of Major League Baseball or its clubs.