Wandy struggles as Bucs' woes in Milwaukee continue
Southpaw lasts only 3 2/3 innings; Pittsburgh hurlers allow five homers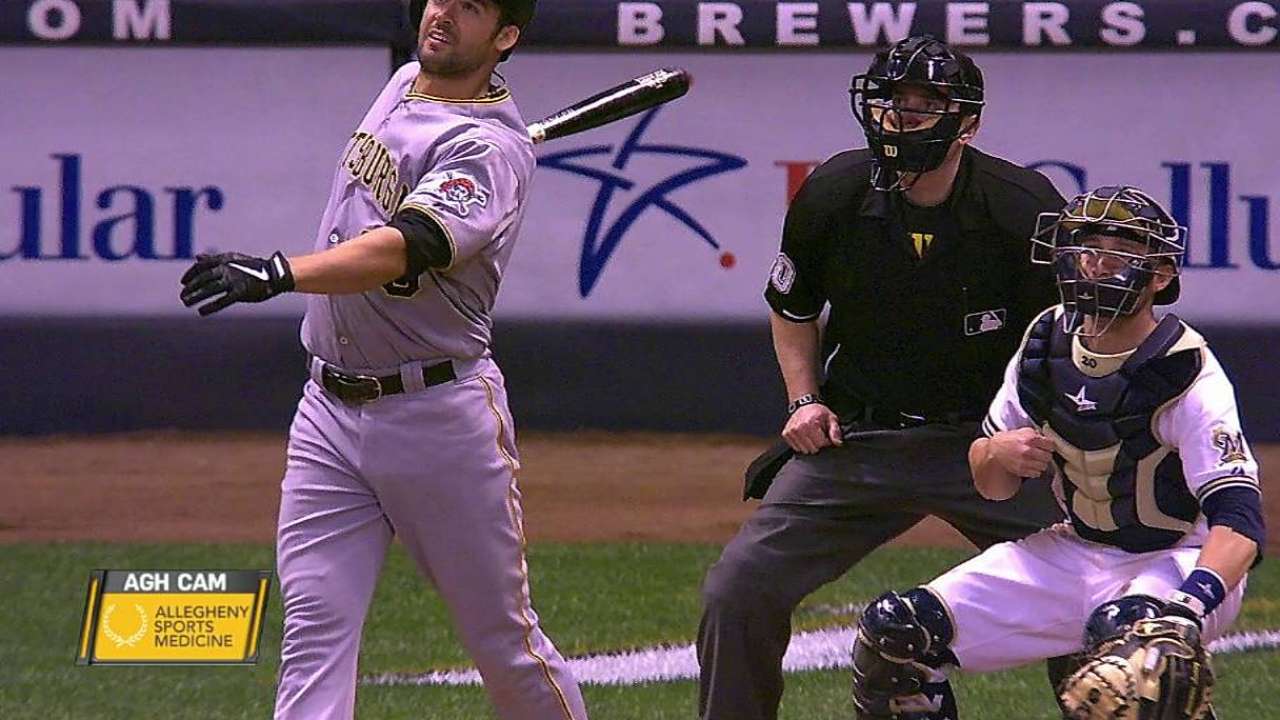 MILWAUKEE -- That wave of momentum the Pirates rode into Miller Park? It turned into a wipeout somewhere between the national anthem and Wandy Rodriguez's seventh pitch of Monday's game.
Jean Segura smacked the offering over the center-field wall for a two-run homer, the first of three off Rodriguez as the Brewers not only brought him down to earth but dug him a few feet under.
All of the Pirates are familiar with that view in Miller Park. Monday night's 10-4 loss was their 45th in 52 games here since the start of the 2007 season.
There was no over-thinking this one. Long before it was even over, manager Clint Hurdle and his coaches reached a conclusion on the bench.
"This one you move in the other column," went the conversation in the dugout, "and you move on."
"We weren't able to execute any part of our game plan off the mound," Hurdle later told reporters. "Zero. Take a beating, learn from it."
For six years, the Pirates have been leaving Miller Park smarter than they arrived. Yes, Hurdle allowed repeatedly, this is a hitter's park, but ...
"Balls are going to fly here if we don't make pitches," he said. "This one's gone. We got beat up. We've been here before."
As ugly as it was -- the Brewers ending with a total of five homers -- it was merely typical in this house. That is not an exaggeration: The last time the Pirates had allowed five home runs was the last time they played here, on Sept. 2, in a game started by James McDonald -- Tuesday night's starter in the second game of this series.
It does not even matter that the cast has been completely overhauled since the beginning of this nightmare. Seems to be agony by association. Rodriguez was making his first start here for Pittsburgh, and took a 1.66 ERA to the mound.
In the first inning, the lefty issued more walks (four) and allowed more earned runs (five) than he had all season in 21 2/3 innings.
Afterwards, Rodriguez admitted what had been obvious: That he lacked his control, didn't know where the ball was going.
And he didn't want to hear about the ballpark being a hitter's haven.
"It wasn't the ballpark," Rodriguez said. "If you can't control the ball, that's going to happen anywhere."
"There wasn't a lot of pitching being done off the mound," Hurdle said, kindly. "The fastball command wasn't what he wanted. The breaking ball didn't come into play until way too late. And the changeup wasn't a factor. So you're going out there without your three normal weapons."
Opposing Yovani Gallardo, that quick hole felt deep. Indeed, not only did Gallardo hold the Bucs to one earned run in seven innings -- Pittsburgh added a couple of runs on Garrett Jones' eighth-inning homer off Alfredo Figaro -- he poked one of Milwaukee's five homers.
Gallardo's growing lead enabled the right-hander to "fake" his way through seven innings.
"He did not have his best stuff tonight, and still went out there and pitched a professional game. He was effective in staying away from the big innings," said Hurdle, disappointed the Pirates could not take advantage of being able to make Gallardo throw nearly 50 pitches in the first two innings.
"They've got a good team. They've been playing well," said Gallardo, who had done his homework and knew the Pirates had scored 92 runs in their last 20 games, third most in the National League across that stretch. "Coming into tonight they were swinging the bats pretty well. I knew that going into it. It's just a matter of making pitches."
The 38 pitches Rodriguez had to make in that first doomed him to a short start. But he lasted 2 2/3 more innings -- and two more home runs, back-to-back by Gallardo and Norichika Aoki in the fourth. The total of seven runs he gave up in 3 2/3 innings raised his ERA to 3.91.
In reserve for just such dire situations, Jonathan Sanchez turned his first relief appearance into a strangely-familiar gig, giving up consecutive homers in the fifth to Carlos Gomez and Yuniesky Betancourt.
Of course the Bucs would lose this game. That's not even a reference to their systematic blues in this place, but to their loss of a fifth straight series opener. Overall, the Pirates are 2-7 in series openers, and 13-4 in all the other games.
That's partly what Hurdle meant by the "we've been here before" remark.
"This first step was very similar to first steps we've taken the last four series," he noted.
Remarkably, those five consecutive series-opening losses have been started by each member of the rotation: McDonald, Jeff Locke, A.J. Burnett, Sanchez and now Rodriguez.
Shortstop Clint Barmes had a costly uncharged error in that tone-setting first, his bobble being the difference between a two-run escape and the five-run crash.
Milwaukee loaded the bases after Segura's homer, but Betancourt's one-out grounder to Barmes appeared to extricate Rodriguez. Too eager to flip to second and start the double play, Barmes dropped the ball and recovered only to throw out Betancourt at first.
One run scored on that play, and two more on Martin Maldonado's single to right-center.
Soon after, the concession talk began on the bench. And the page-turning.
"This group has an opportunity to do something different against that team that hasn't been done in a while," said Hurdle. "We didn't get off to a good start."
Tom Singer is a reporter for MLB.com and writes an MLBlog Change for a Nickel. He can also be found on Twitter @Tom_Singer. This story was not subject to the approval of Major League Baseball or its clubs.