Pettitte's off night sets Yanks on wrong path
Lacking feel for trademark cutter, lefty chased in fifth inning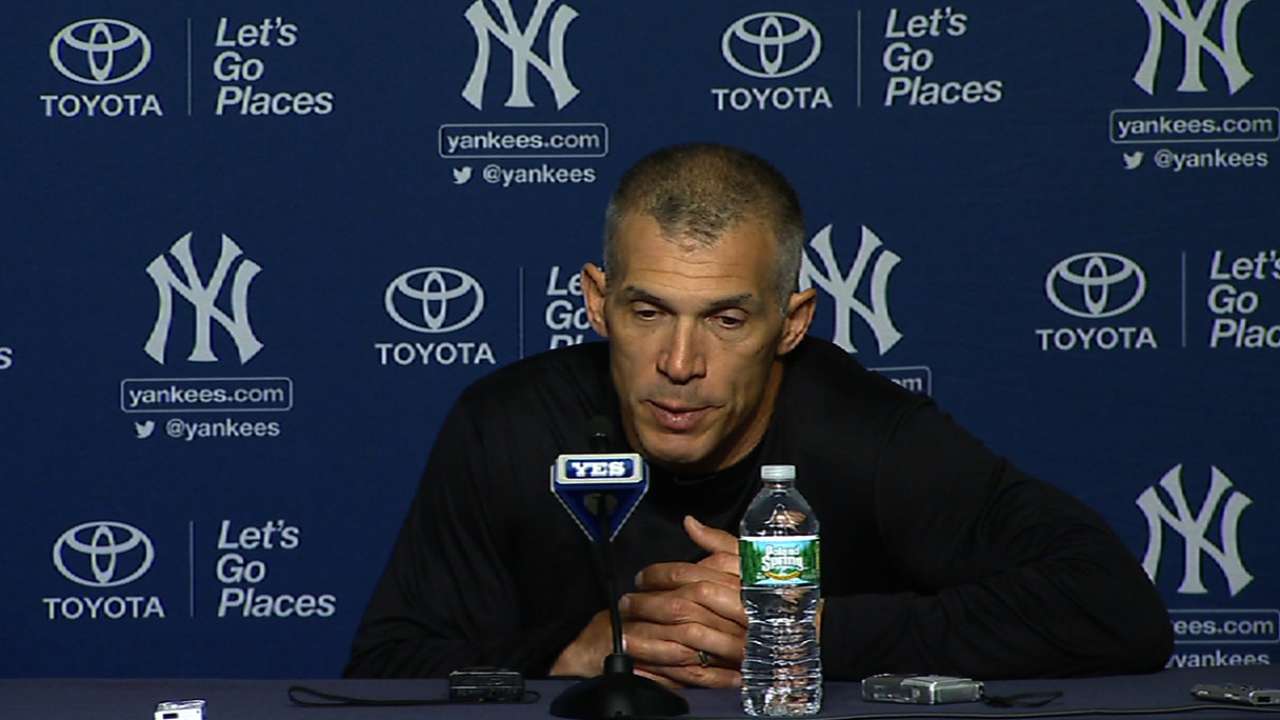 NEW YORK -- For the better part of the last decade and a half, Joe Girardi has closely watched Andy Pettitte's pitching repertoire, whether it has been through the iron bars of a catcher's mask or from his current perch in the Yankees' dugout.
And try as he might, Girardi said he could not find an instance in his memory bank when Pettitte had seemed so completely abandoned by his swing-and-miss cutter. The results showed, as the Astros pounded the veteran to an early exit and handed the Yankees a 9-1 loss on Monday.
"To tell you the truth, I can't remember where I have completely lost the feel for it for as many innings as I did right there," agreed Pettitte, who was charged with seven runs on 10 hits before departing with one out in the fifth inning.
The Astros snapped New York's four-game winning streak with the victory, pounding Yankees pitching for 17 hits as they celebrated their first game in the Bronx as an American League opponent in style.
The outing marked the most runs Pettitte had allowed in a start since a 10-run July 31, 2008, debacle against the Angels, and it represented the most hits he had permitted since a Sept. 24, 2010, game against the Red Sox. But at least in those starts, to some extent, Pettitte still had the cutter.
"That has been a signature pitch for him for a long time," said Girardi, who also refers to the pitch as a slider. "It just didn't have the bite today that we're used to seeing. That's kind of strange."
The Astros' attack was paced by catcher Carlos Corporan's career-high four hits, including a two-run homer, while Brandon Barnes also drove in three runs and collected three RBIs -- both career highs for the right fielder.
Astros starter Lucas Harrell made use of the hearty cushion to complete 6 1/3 innings, allowing a run. New York managed eight hits off Harrell, who blanked the Yanks until Vernon Wells picked up an RBI single in the sixth inning.
"It definitely feels good," Harrell said. "We have some quality baseball players in here and we've been struggling a little bit, but the big key is we keep working hard. Today is one of those days where we went out there and battled and the guys hit the ball really well and took a lot of pressure off me."
Pettitte said that he and catcher Austin Romine struggled to get on the same page with their communication, and Romine agreed that he and the left-hander would have to meet on Tuesday to hash out exactly what went wrong.
"I've got to get here tomorrow, and we've got to talk about what happened," Romine said. "We've got to iron this out before next time."
Pettitte didn't blame Romine, saying that "he's going to do a great job for us," and it was clear from the beginning that Pettitte didn't have his best command.
Pettitte threw a good cutter to strike out Barnes for the second out of the first inning, but the pitch abandoned him from there as the Astros rallied for three first-inning runs that came on a Carlos Pena RBI single and Corporan's two-run double.
"They were coming out and they were swinging early," Romine said. "They were waiting for a pitch up in the zone. They weren't getting cheated. When a whole team is doing that, it's pretty rough."
Pettitte said that even without his cutter, he should still have weapons to work with -- he felt he could use his curveball, changeup and fastball in some order, and he managed to squeak into the fourth inning.
But Pettitte left a cutter up to Barnes, who banged it to left for a two-run double, and the left-hander felt the game was essentially over with that pitch.
"It was up," Pettitte said. "I'd been burying a lot of cutters in front of home plate. I'm burying them because I'm not trusting it. You're saying, 'Trust it; it's going to be there.' When you trust it and it's not there, it's not a good feeling."
Houston batted around for four runs to blow the game open in the fifth, an inning that featured Ronny Cedeno roping Pettitte's 91st and final pitch off the third-base bag for a fluke double.
Corporan greeted reliever Adam Warren with a two-run homer into the right-field seats.
"Everybody did their job," Corporan said. "My teammates, they had a lot of really good at-bats, and I took advantage of that and had good swings and got RBIs. It's teamwork. Without them, I couldn't have this game tonight."
Warren allowed two runs and three hits in 1 2/3 innings of relief before left-hander Vidal Nuno made his Major League debut with three innings of scoreless, four-hit mopup duty that included two strikeouts.
With the defeat, the Yankees fell to 14-6 since April 7, losing for just the second time in their last nine games at Yankee Stadium.
"We've been playing well," Pettitte said. "To come out here and give up those five runs that early in the game and not give us a chance to win, it makes me sick to my stomach. You want to give your team a chance to win, and I didn't do that."
Bryan Hoch is a reporter for MLB.com. Follow him on Twitter @bryanhoch and read his MLBlog, Bombers Beat. This story was not subject to the approval of Major League Baseball or its clubs.