Corporan helps Astros drub Pettitte's Yankees
Catcher enjoys career night with four RBIs to back Harrell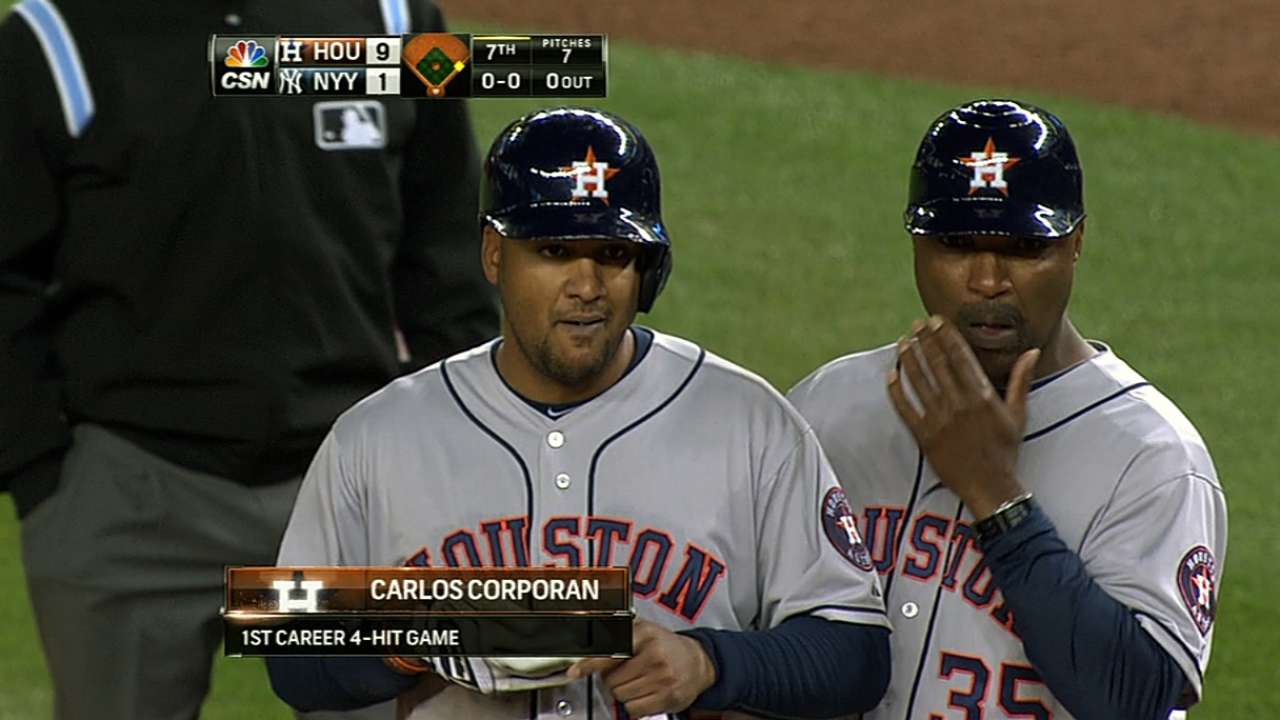 NEW YORK -- If you thought the young Astros were going to be intimidated by facing the mighty Yankees under the bright lights of Yankee Stadium, then you should have been in the visitors' clubhouse about three hours prior to the game.
With salsa music blaring, teammates Marwin Gonzalez, Jose Altuve and Ronny Cedeno were playfully dancing in the middle of the floor and were obviously not starstruck by their surroundings. And the good times didn't stop when they took the field.
The Astros played one of their most inspired and complete games of the season on Monday night, getting a solid outing from starter Lucas Harrell and cranking out 17 hits to snap a nine-game road losing streak with a resounding 9-1 win over the Yankees.
"Just because it's Yankee Stadium, we can't get too hyped up or think we have to do too much," said outfielder Brandon Barnes, who set career highs with three hits and three RBIs. "Lucas just started to roll and pitched a great game and kept us in the game early. Guys were swinging the bats tonight."
Harrell won his third consecutive start, holding the Yankees to one run and eight hits in 6 1/3 innings to improve to 3-2. His batterymate, catcher Carlos Corporan, had a career night, going 4-for-5 with a career-best four RBIs, including a two-run homer.
"It definitely feels good," Harrell said. "We've got a group of guys in here working hard and trying to get better every day. We have some quality baseball players in here and we've been struggling a little bit, but the big key is we keep working hard. The guys hit the ball really well and took a lot of pressure off me."
Coming off a four-game sweep at Fenway Park, the Astros beat the Yankees for only the second time in 10 all-time meetings. On Monday, they scored one run fewer than they did in the entire Boston series.
"I keep telling those guys, 'It's a long season,'" Astros manager Bo Porter said. "Baseball is not a sport that you want to hold your head down. That's the reason why God put a good night's sleep in between two bad days. You have to come back the next day, hold your head high, have a smile on your face and be ready to go."
Corporan and Barnes led the way offensively, but Altuve (2-for-6), Brandon Laird (2-for-5), Chris Carter (2-for-5) and Carlos Pena (2-for-5) joined the fun. Houston was 6-for-14 with runners in scoring position.
Harrell (3-2) had his good sinker working and was in sync with Corporan, inducing three ground-ball double plays in the first four innings that kept his pitch count low and allowed him to work deep into the game.
"I've been working on trying to get more ground balls and inducing early contact, and Cedeno and Altuve and [third baseman Matt] Dominguez, they all played great defense behind me," Harrell said. "It makes it easy for me when you know you can get a ground ball and those guys are turning double plays."
Andy Pettitte (3-2), making only his second career start against his former team, was tagged for seven runs and 10 hits in 4 1/3 innings. He recorded two outs to start the game before Laird, Carter and Pena had consecutive singles, with Pena driving in the first run.
Corporan's two-run double into the right-field corner made it 3-0, and Barnes added a two-run double to left in the fifth that stretched the lead to 5-0. Houston batted around in the fifth to take a 9-0 lead, including a two-run homer by Corporan off reliever Adam Warren.
"We've been playing well," Pettitte said, "and to come out here and give up those five runs that early in the game and feel like we don't have a chance to get back in it and not give us a chance to win, it makes me sick to my stomach. You want to give your team a chance to win, and I didn't do that. That's all I try to do when I go out there, and it usually works out pretty good. It was a very frustrating night for me."
Corporan, who had his left leg wrapped postgame because of a cramp, smiled from ear to ear while talking about his career night.
"It's special," Corporan said. "It's my first time here. Growing up watching this field, this is amazing. I'm just happy because I did something good to help my team win a ballgame and start something good. Maybe we'll start a win streak. Hopefully, we can take advantage of this and keep going."
Brian McTaggart is a reporter for MLB.com and writes an MLBlog, Tag's Lines. Follow @brianmctaggart on Twitter. This story was not subject to the approval of Major League Baseball or its clubs.