Prince's blast backs strong Scherzer in Detroit
Fielder's three-run homer delivers lead as righty strikes out 10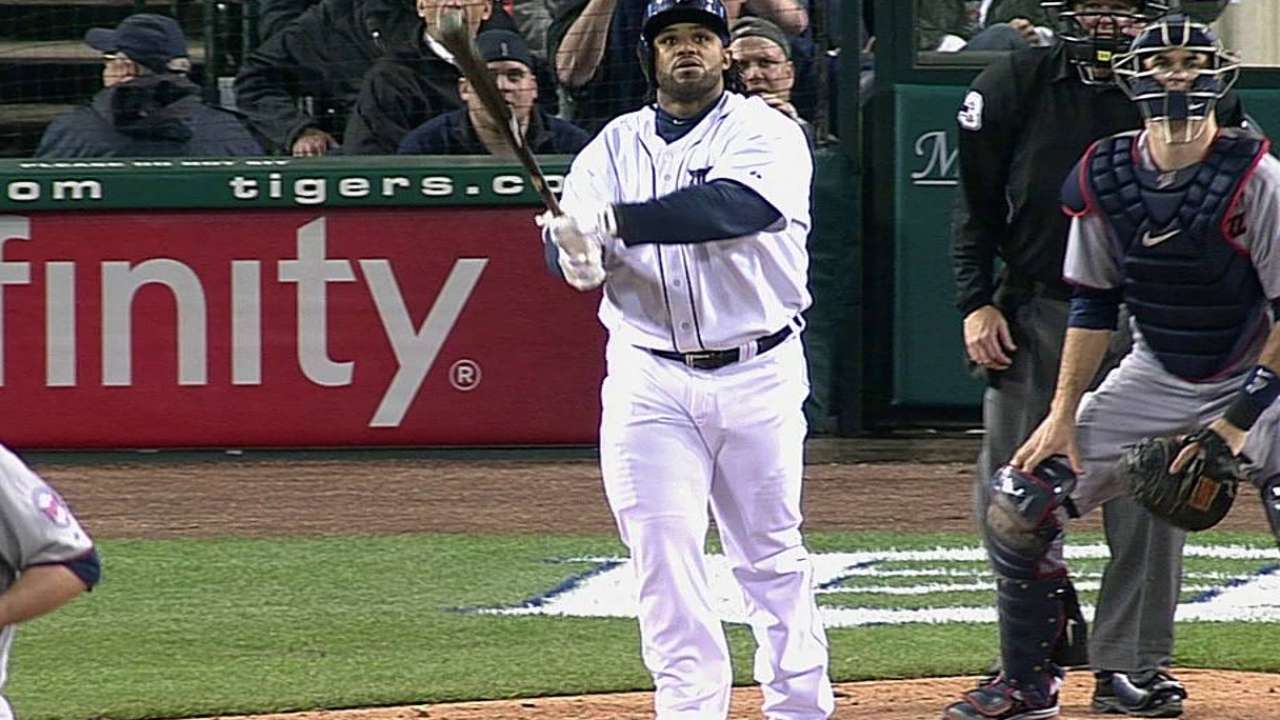 DETROIT -- Prince Fielder changed his walk-up music a few days ago to Mozart's Requiem because he wanted something dramatic. His first home run since the change fit the mood.
It was the fourth three-run homer in as many days for the Tigers, but the first late-inning game-changer. After Minnesota's Mike Pelfrey spent five innings flustering the same Tigers offense that beat up on Braves pitching all weekend, Fielder's three-run shot in the sixth changed the theme.
"Prince struck at the right time for us," manager Jim Leyland said after a 4-3 win.
What looked like the kind of low-scoring duel that allowed the Twins to hang with the Tigers in the season-opening series at Target Field became another game turned by one of the Tigers' big hitters. It marked Detroit's fourth consecutive win after seemingly trading wins and losses for the better part of the first three weeks.
For much of that time, the Tigers strung together offense through leadoff hits and big doubles. They've led the American League in hitting for most of April, but they've ranked in the bottom half in home runs, partly because of the cold weather at their home park.
Yet the homers they've hit have produced more than last season's early drives. Though Fielder's homer was just the 20th on the season for the Tigers, eight of them have been three-run shots. Detroit didn't hit its eighth three-run homer last year until July 8.
Fielder has hit three already this year, comprising half of his six home runs. Miguel Cabrera and Austin Jackson each hit one Sunday night. Matt Tuiasosopo added one Friday.
"You can't do anything about those," Leyland said. "I mean, when they hit them over the fence, it doesn't give you a chance to catch the ball or anything else. Those are quick runs. I mean, Earl Weaver went to the Hall of Fame watching a lot of those."
The Tigers went in front watching Fielder hit his latest more than 400 feet. It capped a rally that began with an Andy Dirks bunt that rolled about 50 feet down the third-base line.
With Torii Hunter off, Dirks returned to the lineup in the second spot, playing for the first time in four days after missing the weekend with lingering soreness in his right knee. He showed no discomfort rounding the bases with his third-inning home run, the only tally through the first five innings off Pelfrey.
It was also one of the few productive fly balls early off Pelfrey, who held down Detroit's lineup with help from eight ground-ball outs. The next time Dirks came up, he looked at third baseman Trevor Plouffe playing back and gave him a ground ball he couldn't handle.
Surprisingly, it's not something the Tigers do often in front of Cabrera and Fielder. To Dirks, it made too much sense not to.
"With nobody out, and especially with those two guys behind you, you just want to get on base," Dirks said.
It's something the Tigers worked on in Spring Training, and it still had third-base coach Tom Brookens smiling after the game.
"It's taking advantage of what's given to you," Brookens said.
It put Pelfrey in a precarious position with Cabrera and Fielder. When he fell behind on a 3-0 count to Cabrera, it was treacherous.
On the same count Sunday night, Cabrera jumped on a get-me-over pitch for a three-run homer. Cabrera took this 3-0 offering, then fouled off back-to-back splitters to stay alive before drawing a full-count walk.
The situation made Fielder's new walk-up music seem especially appropriate.
"I liked the Batman sound, the superhero sound," Fielder said Friday.
He didn't wait long to play the hero role, jumping on Pelfrey's first pitch. The result was a no-doubt drive toward the flagpole in deep left-center field, just the fifth home run the Tigers have hit this year in the sixth inning or later.
It gave Tigers starter Max Scherzer (3-0) his first lead of the night, and he carried it. Not only did he not allow another baserunner, he struck out the last four batters he faced among the 10 consecutive batters he retired to end his outing. His 10 strikeouts marked his 13th career double-digit strikeout game, and his fourth without allowing a walk.
However, his ability to hold Justin Morneau and Joe Mauer hitless might have been more important. They were 13-for-30 combined in their careers against Scherzer with four home runs and five walks. They went 0-for-8 combined Monday against Scherzer and Drew Smyly, who took over with one out in the eighth inning and carried it into the ninth before Joaquin Benoit recorded the final out for his second save.
Jason Beck is a reporter for MLB.com. Read Beck's Blog and follow him on Twitter @beckjason. This story was not subject to the approval of Major League Baseball or its clubs.