Sixth inning spells doom for Pelfrey, Twins
Righty falters after starting strong, allowing decisive homer to Fielder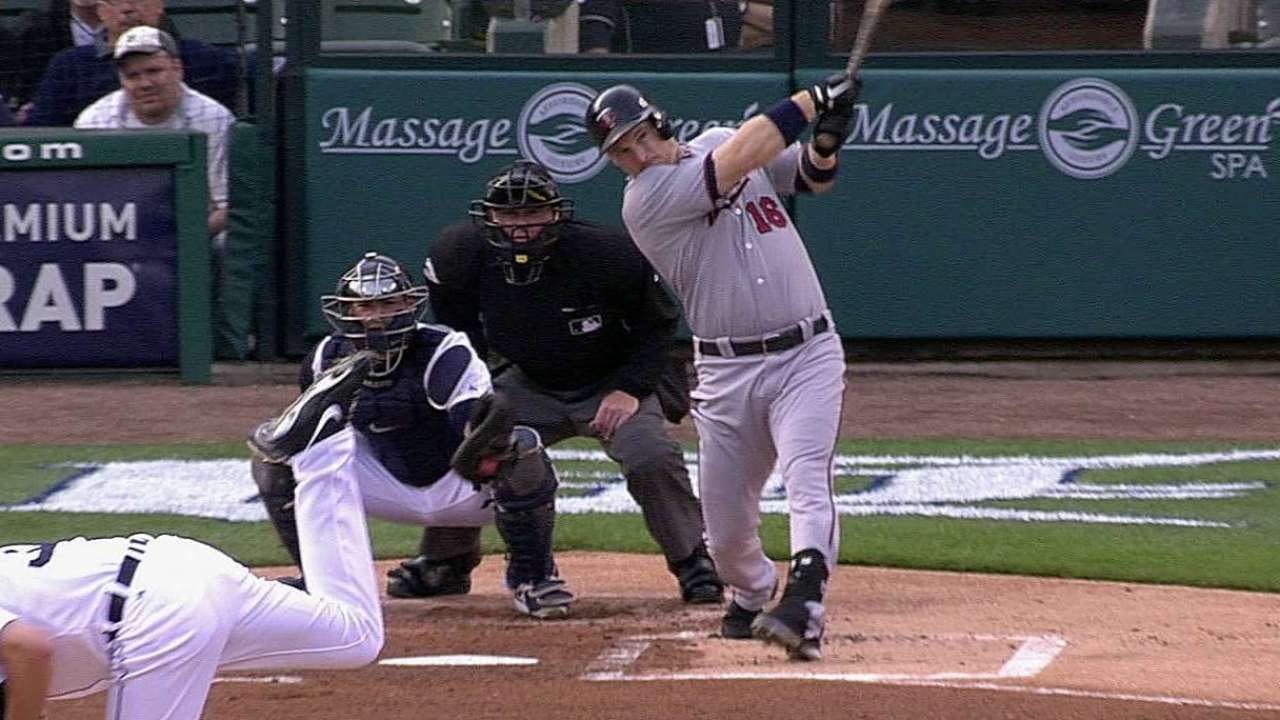 DETROIT -- Wednesday will mark one year since Mike Pelfrey underwent Tommy John surgery on his right elbow. For most of Monday night, it looked like Pelfrey would be heading into that anniversary on a high note.
But a three-run home run by Prince Fielder in the sixth inning turned a two-run lead into a one-run deficit, and the Twins fell to the Tigers, 4-3, at Comerica Park.
"You're talking about a guy that's missed a year of baseball and coming back from elbow surgery," manager Ron Gardenhire said. "It's a process. It doesn't just happen overnight. Tonight was a step forward. The one inning, he's obviously going to be very frustrated about, but that's a step forward. He got us into the second half of the game and was doing fine."
Pelfrey allowed one run -- a second-inning home run by Andy Dirks -- and four hits through five innings. But Dirks caught the Twins with a bunt single on the first pitch of the sixth.
Next up, Miguel Cabrera popped up a 3-1 pitch down the right-field line, but because the Twins defense was playing back, they couldn't get under it, and it landed in foul territory. Cabrera walked two pitches later.
"You're playing deep out there with a two-run lead," Gardenhire said. "You've got a man on. You're playing deep. [Chris Parmelee's] out there in right-center, and my second baseman is playing pull. It just landed in the right spot, unfortunately."
That brought out pitching coach Rick Anderson. The goal was clear.
"He came out and we were thinking, 'Let's get a ground ball,'" Pelfrey said. "The best way for me to do that is a sinker down. I just didn't execute."
Pelfrey threw a sinker on the first pitch, but it didn't sink, and it ended up over the left-center field wall. A 3-1 lead quickly become a 4-3 deficit.
"You know what happens when you get to the middle of that lineup," Gardenhire said. "Dirks with a leadoff single, then a walk and then a sinker, and he just got underneath the ball a little bit, and Fielder crushed it. There you have it. Three quick runs. That's what that offense over there can do.
"You work pretty hard to get our runs, and with that offense over there, one bad pitch in an inning and boom, they get three runs."
Pelfrey struck out Victor Martinez in the next at-bat, but a double by Jhonny Peralta ended Pelfrey's day.
Pelfrey appeared en route to his best start of the season, but one inning ended that, and he fell to 2-3 on the year. Coming off of surgery, Gardenhire was encouraged by Pelfrey's performance, but the right-hander could only focus on the ending.
"It was definitely better than the way I have been pitching, but at the end of the day, it still wasn't good enough," Pelfrey said. "I made a terrible pitch there to Prince Fielder. Obviously, he's a good hitter and he made me pay for it. The worst possible pitch you could probably make. I was trying to find a way to get a ground ball and I threw it right down the middle, and it was up. He obviously drilled it."
The Twins bullpen would only allow a walk the rest of the way, but the offense would not return. After a leadoff single by infielder Pedro Florimon in the fifth, the final 15 Twins batters were retired in order.
Catcher Joe Mauer went 0-for-4 -- the first time in his career he's gone five consecutive games without a hit. He's hitless in his past 20 at-bats, which is a career-long hitless streak.
After the game, Mauer said he feels good and doesn't need a day off, although he's the only Twin to play in all 22 games. Rather, breaks just aren't going his way.
"Just not really bouncing my way right now," Mauer said. "Hitting some balls hard and guys are catching it. Just one of those things you run into during the season."
Chris Vannini is a contributor to MLB.com. This story was not subject to the approval of Major League Baseball or its clubs.