Moss' walk-off HR ends longest game in A's history
Scratched from start, Anderson pitches in relief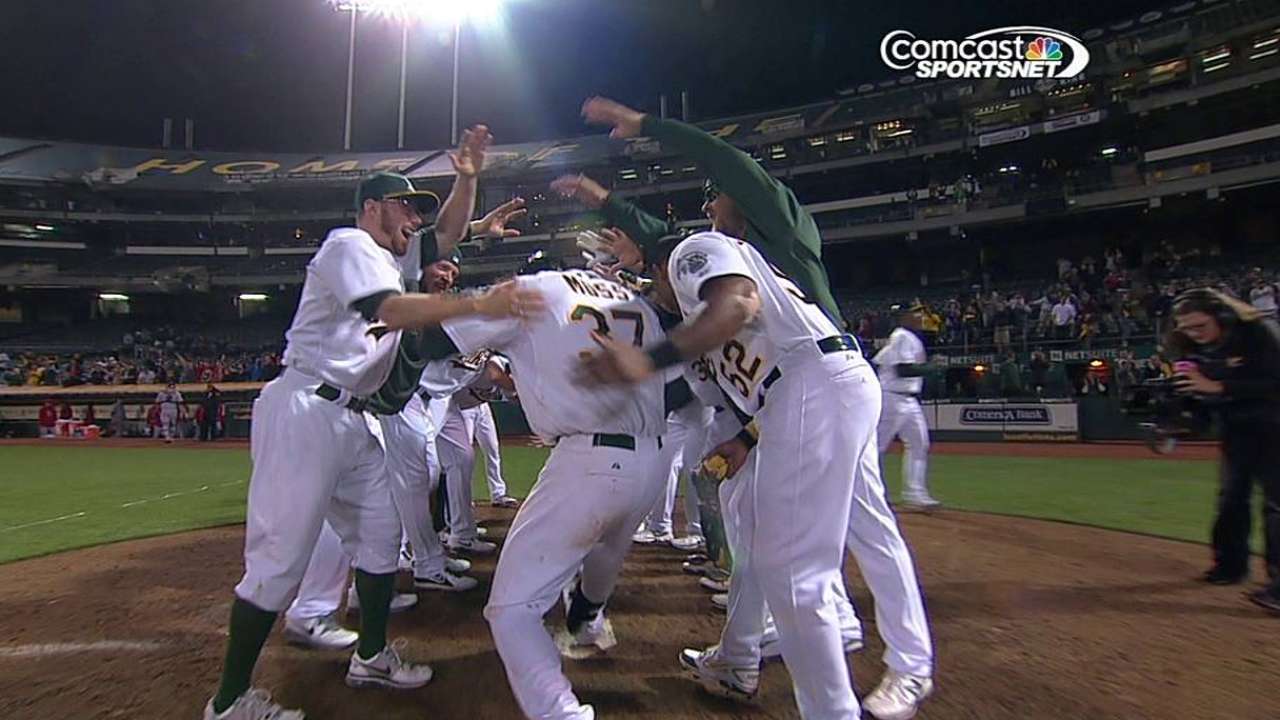 OAKLAND -- A weary Brandon Moss leaned against his locker, his eyes barely able to make out the nearby clock that told him it was well past 2 a.m PT, his usual chatty self almost unable to vocalize anything that made sense.
Nothing really did on a night that became morning before Oakland's 10-8 victory over the Angels was made official.
So trying to comprehend any of it, let alone put into words the feeling of ending a six hour and 32 minute game -- the longest by time in A's history -- with a walk-off two-run homer in the 19th inning, eluded Moss. But he tried, anyway.
"That was a crazy game," said Moss, who also homered in the sixth, "and I'm glad it's over.
"It's one of those things where you just want to quit, but at the same time you don't want to lose so you're not going to quit. You just keep fighting through and keep hoping they throw a ball into your bat. I don't even know how I hit it."
It was a changeup from righty Barry Enright, the 16th pitcher used in the game, that was recorded at 83 miles per hour -- essentially the same pitch Moss had swung through just seconds before, Jed Lowrie patiently waiting at first base following his Oakland record-tying ninth at-bat. This one landed over the right-field wall, ending a tumultuous affair between a pair of division foes, the A's having secured their 12th straight win over an American League West opponent.
Injuries occurred along the way -- the A's lost Coco Crisp and Chris Young to muscle strains, while the Angels were without Peter Bourjos and Luis Jimenez by game's end -- and, as is custom in such a lengthy contest, so were difficult decisions.
Yet Melvin's choice in the 13th inning to bring out lefty Brett Anderson, scratched from the day's start to rest his sore right ankle in favor of a healthy Dan Straily, who gave up six runs in 4 2/3 innings, somehow wasn't one of them.
"Thank God we did," the manager said.
Turns out one of the best performances by an A's starter this season came in relief, with Anderson braving 5 1/3 innings, his one run allowed in the 15th essentially erased by Adam Rosales' ensuing RBI hit in the bottom of the frame.
It was the first career relief appearance for Anderson, who decided his last one may have come at some point in high school. And though it ended in a limp off the mound, with Jerry Blevins coming in to relieve him in the 18th, Anderson insisted he was no worse off than when he entered the game, declaring he'll make his next scheduled start.
"I didn't really come to the field today anticipating to pitch, but that was fun," Anderson said. "It's baseball. It's fun. Weird things happen. That's why it's the greatest game in the world.
"The first few innings I was pitching on adrenaline, the last few was pretty much sheer will. That was an awesome win for us. It took a little while, but it's always good when you win."
Blevins, too, felt like he was back in high school, while stepping to the plate to lead off the bottom of the 19th for his first career at-bat, the A's out of position players. One was about to be asked to maybe pitch the 20th inning if it got that far, perhaps the 21st if Blevins could go one more. That job was designated for Seth Smith, and Blevins had his outfielders' glove on hand just in case.
But Moss, amid a rather boisterous cheer from a lively fan base of a few hundred still at work in the wee hours of the morning, had other plans in mind for a game his club once trailed, 7-2, in the middle of the eighth inning.
"I tell you what, I couldn't be happier that we're on the winning side of a game like that," Blevins said. "Those are stepping stones along the season and character-builders for a ball club. Everyone chipped in and we came out victorious."
It was the second straight walk-off win for the A's, who have three on the season after totaling 15 during their magical 2012 run. As he did the day before, Yoenis Cespedes naturally played an integral role in this one, collecting his second game-tying hit in the ninth inning in as many days.
It came on one of 598 pitches thrown in the game, a 19-inning marathon that tied for the third-most innings in Oakland history.
Even Josh Reddick was too sleepy to pie Moss. So he told his teammate to finish the job on his own. And Moss did.
"I think he was too tired to pie me, so I pied myself," Moss said. "We gotta do the pie, so yeah, I did."
"A lot happened in this game that normally doesn't happen in one baseball game," Melvin concluded. "We exhausted everything we had."
Yet, in the bigger picture, these A's are more alive than ever before in this young season.
Jane Lee is a reporter for MLB.com. Read her blog, Major Lee-ague, and follow her on Twitter @JaneMLB. This story was not subject to the approval of Major League Baseball or its clubs.