Angels fall in 19th after losing two late leads
Pujols homers twice, Trumbo adds mammoth shot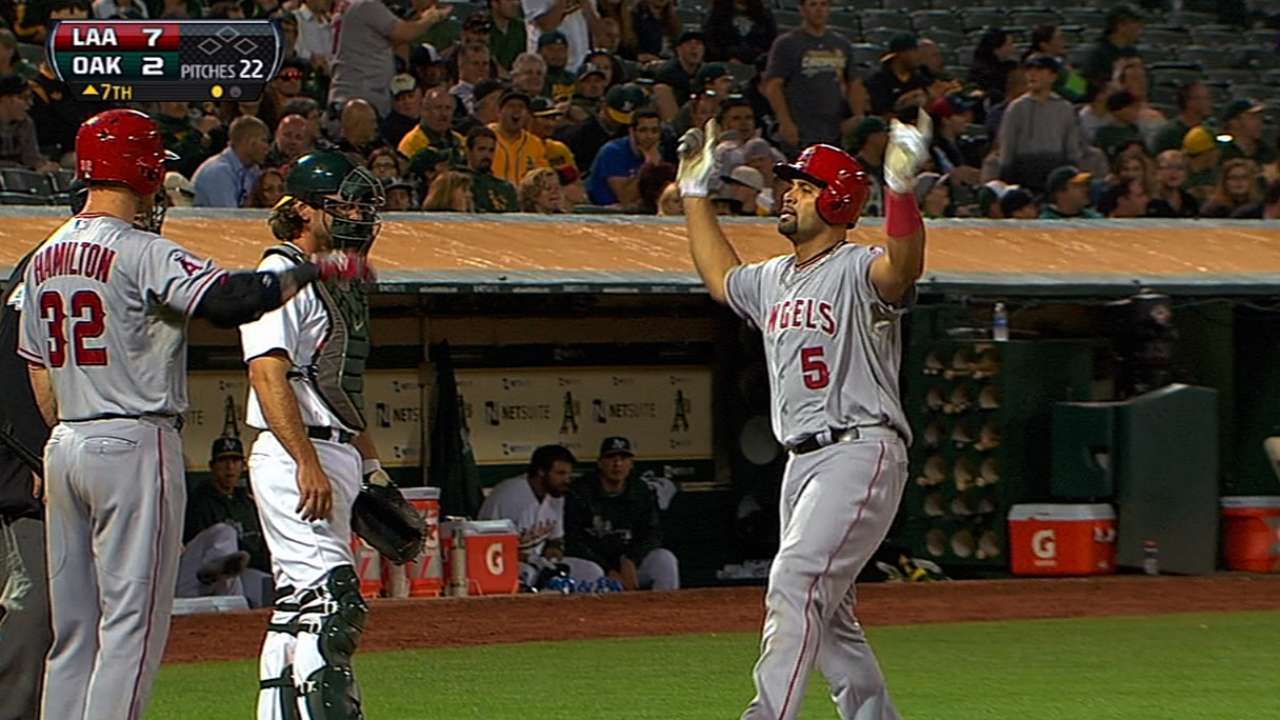 OAKLAND -- A night that began so promising for the Angels ended with easily the toughest loss of what had already been a trying April, with A's slugger Brandon Moss belting a two-run, walk-off homer in the bottom of the 19th.
Six hours and 32 minutes after the first pitch was fired by Dan Straily, the Angels lost, 10-8, at the O.co Coliseum.
Their bullpen coughed up a five-run lead with six outs left, Josh Hamilton went 0-for-8 with three strikeouts, Peter Bourjos was lost to the disabled list and the Angels suffered their fifth defeat in six tries, putting their record at 9-16 -- tied for the worst mark through the first 25 games in team history.
"It sucks," said Bourjos, who felt his left hamstring grab on him while trying to beat out a sac bunt in the 11th inning. "It sucks playing this long into the night and to come out on the wrong side of it. Obviously we have to come back [Tuesday] and get a win. We haven't been playing the best baseball. It would've been nice to win this one. I think the momentum could've carried us a long way."
Instead, it only sunk them further.
Time-wise, it was the longest game in both clubs' history. And for the Angels, it marked only the third time they've played into the 19th inning. Seven members of their depleted bullpen accounted for 12 2/3 innings -- none bigger than the six frames of one-run ball Jerome Williams hurled -- and in the end, the Angels had nothing to show for it.
Michael Roth, Dane De La Rosa and Scott Downs combined to give up four runs in the eighth inning and Ernesto Frieri surrendered a two-out, ninth-inning liner to Yoenis Cespedes that bounced off the left-field wall and scored the tying run.
Ten innings later, with two outs and Jed Lowrie on first, Barry Enright -- appearing in his first game since being called up on Thursday -- served up Moss' two-run shot to right field, bringing a painful end to an arduous night.
"You always have your share of frustrating games during the course of a season, and this one obviously is extremely frustrating," said Angels manager Mike Scioscia, who at 2 a.m. PT was still bouncing potential roster moves off his head.
"We didn't do a good job in the bullpen and it cost us the game," Frieri said. "We didn't make our pitches, and that's what happens. It was tough. It was bad. It wasn't fun to be out there, fighting with that team. They didn't deserve that win. But that's how baseball is sometimes. Crazy."
"Crazy" hardly did Monday night justice.
The game saw four players -- Coco Crisp, Chris Young, Luis Jimenez and Bourjos -- leave early with injuries. It saw Brett Anderson hurl 5 1/3 innings of relief in a game he was originally scratched from starting. It saw reliever Jerry Blevins make his first career plate appearance. It saw Howie Kendrick, Brendan Harris and Jed Lowrie compile nine at-bats each. And it saw 598 pitches cross home plate.
When Moss' ball cleared the right-field fence, giving him his second homer of the night and handing the A's a second straight walk-off, it spoiled a night when a heavy-hearted Tommy Hanson pitched six innings of two-run ball and a still-ailing Albert Pujols notched four hits.
"It's one of those things where you just want to quit, but at the same time you don't want to lose so you're not going to quit," Moss said. "You just keep fighting through and keep hoping they throw a ball into your bat. I don't even know how I hit it. I was so late on everything after the 10th inning on."
Offensively, the Angels got two homers from Pujols, snapping a 19-game homerless drought, a moon shot from Mark Trumbo and a four-run fifth inning -- after going 0-for-17 with runners in scoring position while dropping three of four to the Mariners in Seattle.
Down five heading into the eighth, the A's quickly made it a one-run game with four runs. Lowrie hit an RBI single, giving the A's three straight hits to start the inning off Roth, Cespedes walked to load the bases against De La Rosa and Josh Donaldson hit a two-run single two batters later. Then, with two outs, Chris Young notched a pinch-hit RBI single off Downs to put Oakland right back in it.
Frieri, making only his second appearance in six days, stranded two runners in the eighth and checked in for the ninth trying to record the four-out save. But with two outs and Coco Crisp on third, Cespedes lined a ball that almost went out for a homer and led to the Angels' fourth extra-inning game of the season.
For a seven-inning stretch, from the eighth to the 14th, the Angels had just five baserunners. Finally, they scored in the 15th, when J.B. Shuck drew a bases-loaded walk off Anderson. But in the bottom half, Williams gave up a two-out, game-tying RBI single to Adam Rosales.
And four innings later, it was -- painstakingly -- over.
"Everybody out there gave everything they had," Scioscia said. "It's just frustrating when you don't put those last outs together to hold a lead."
Alden Gonzalez is a reporter for MLB.com. Read his blog, Gonzo and "The Show", and follow him on Twitter @Alden_Gonzalez. This story was not subject to the approval of Major League Baseball or its clubs.