Lilly hurting after Dodgers drubbed by Rockies
Lefty to have MRI on tight neck; Schumaker called on for relief inning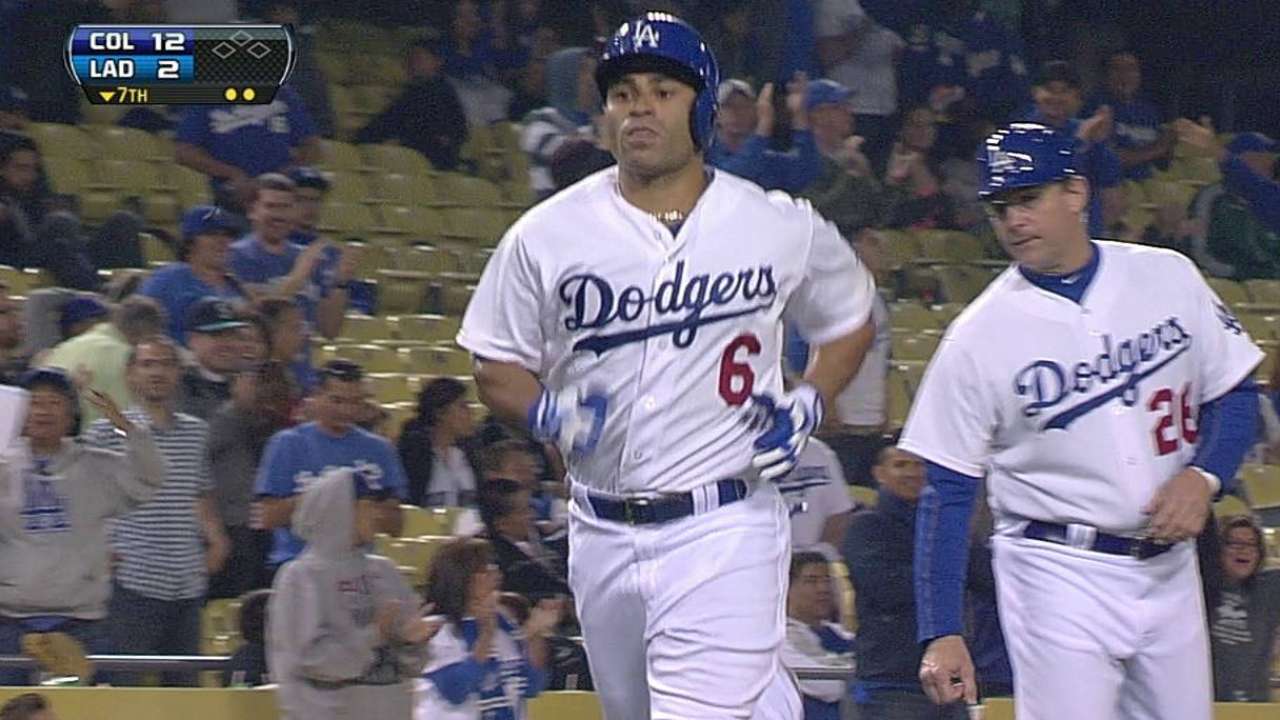 LOS ANGELES -- The starting second baseman pitched better than the starting pitcher, so you know the Dodgers have more problems than just Monday night's punishing 12-2 loss to the Rockies.
They have problems with Ted Lilly, who allowed five runs in three innings while trying to pitch with recurring back and neck tightness that will send him for an MRI on Tuesday and, probably, back to the disabled list. Lilly came into this game 10-2 lifetime against the Rockies.
They have problems with young reliever Josh Wall, who allowed seven more runs in the two innings he pitched, an exhausting 62-pitch nightmare during which his fastball slowed from 93 mph to 87. Wall was sent back to the mound for a second inning to save the bullpen, although he's now likely to be sent back to Triple-A Albuquerque, where former closer Javy Guerra could be next in line for long relief.
Or the Dodgers could turn utility man Skip Schumaker into a full-time reliever. Schumaker, his fastball touching 90 mph while showing a breaking ball and changeup, escaped a bases-loaded jam for a scoreless ninth inning when manager Don Mattingly wouldn't waste the back of his bullpen on this blowout. Schumaker's only other Major League relief outing was against the Dodgers in 2011.
The Dodgers had their usual problems at bat, especially against winning starter Tyler Chatwood (who had three hits himself), escaping a shutout only because of Jerry Hairston's two-run homer in garbage time.
There was a little good news, as Hanley Ramirez returned as a pinch-hitter (although he struck out looking in his first at-bat of the year) and Matt Kemp avoided serious injury when Colorado starter Tyler Chatwood grazed his nose with a 93 mph fastball.
"This got out of hand quick," said Mattingly, whose club trailed by 10 after four innings. "At the end of the day, it is one game. We have a chance to win tomorrow and we could win the series the next day. This is lot easier to take than losing, 3-2, or taking a four-run lead into the eighth and blowing one of those. Tonight we just got our butts beat."
Mattingly deflected questions about Lilly's next start because of his pending MRI, although Matt Magill will be ready to go when Lilly's turn comes around again Sunday. Magill, who pitched into the seventh inning Saturday, was to be skipped in the rotation because of Thursday's day off.
Lilly's neck was an issue last year, causing him to open the season on the disabled list, after which he won his first five decisions, then blew out his shoulder and needed surgery. He finally returned to pitch five innings (one run) in New York on Wednesday, but started to feel the neck Thursday. Then came the all-night flight west. He said he felt the neck a little while warming up before Monday night's game.
"I felt it a little bit in the first inning and it progressively got a little worse," Lilly said. "I think I have few things to be concerned about. That being one and just ineffectiveness here. A lot of guys in the clubhouse aren't feeling as good as they'd like to, but you still expect to get the results you're looking for. I try not to make big deal out of little things. Most of the time it's nothing. Once in awhile, well, I was confident this would get better."
Lilly continued a bad trend for Dodgers starting pitchers. Clayton Kershaw has pitched at least seven innings in four of his six starts. The other eight pitchers that have started the remaining 19 games for the club have pitched at least seven innings only twice.
The Dodgers then turned to Wall, who had already allowed seven runs in five innings since his recall and hadn't looked like the dominant reliever that nearly made the Opening Day roster.
He allowed five runs on five hits in the fourth inning alone with nobody warming up in the bullpen. When that inning ended after 41 pitches, Mattingly took a seat on the bench next to Wall, no doubt to explain the reasoning for the abuse he was in the midst of taking.
And Wall was then sent back out for the fifth to allow two more runs on three hits, including Nolan Arenado's first career home run. A former starter who had been closing while at Triple-A Albuquerque earlier this month, he was charged with seven runs on eight hits in two innings.
At one point, catcher A.J. Ellis motioned to the bench and out came assistant trainer Greg Harrel, but Wall stayed in.
"I'm fine," he said. "My job, in my mind, is to save someone from having to warm up, that's my job and I wasn't good at all."
"Josh took the ball and sucked it up," an appreciative Mattingly said. "He took a beating. It's the position he's in right now. In a sense, we had to sacrifice him a little bit there."
Chatwood said he was glad Kemp wasn't injured with the pitch that got away.
"I wanted to make it a point to apologize," he said. "I let him know how I felt. I'll find him tomorrow and apologize again. You never want to hit a guy in the head. It's scary for everybody. Anything up in that region is scary."
Ken Gurnick is a reporter for MLB.com. This story was not subject to the approval of Major League Baseball or its clubs.