Chatwood, Arenado lead Rox rout in return home
Former LA-area high school opponents team up in runaway victory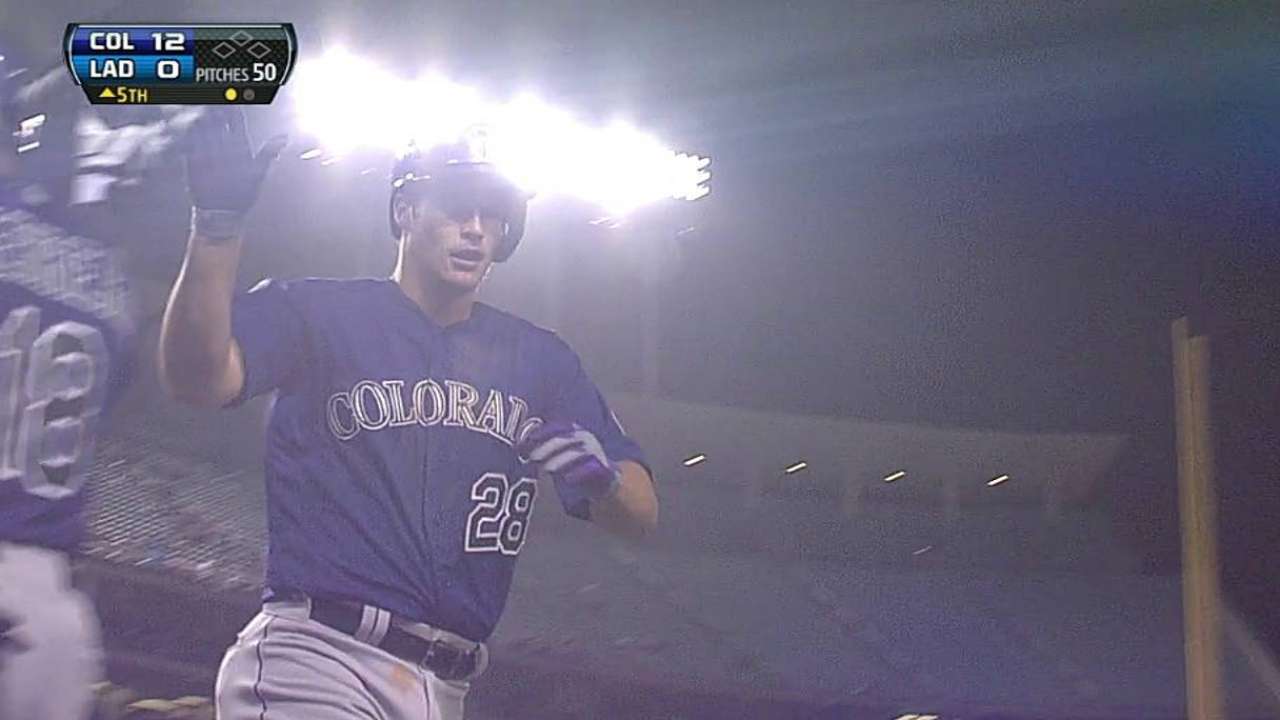 LOS ANGELES -- Rockies pitcher Tyler Chatwood and third baseman Nolan Arenado opposed one another in a high school championship game at Dodger Stadium not many years back. They showed a Chavez Ravine crowd Monday night that they're formidable together.
Chatwood, in his second start, went six scoreless innings and had three hits, and Arenado, in his second Major League game, knocked his first career hit and crushed his first home run in the Rockies' 12-2 rout of the Dodgers. The victory broke a tie with the D-backs and put the Rockies in first place in the National League West.
Both were called up from Triple-A Colorado Springs -- Chatwood (1-0) two starts ago after No. 1 starter Jhoulys Chacin suffered a back strain, Arenado to begin what the Rockies hope will be a significant career. Arenado finished with three hits, meaning the Southern California products produced six of the Rockies' 19 -- a club record for hits in a game played in Dodger Stadium.
The 15 or so family members and friends and 60 or more who were there for Arenado were able to make some of the loudest noise among the crowd of 31,570.
"It's pretty cool, nice to do it in front of my family in my hometown," said Arenado, whose two-run shot gave the Rockies a 12-0 lead in the fifth. "You could hear them. They were loud. You try to zone it out as much as you can, but after you get a hit you can hear them."
By no means are the accomplishments of Dexter Fowler and Wilin Rosario old news. Fowler led off the game with his eighth home run of the season. In less than a month, he has hit just five fewer homers than last season, when he set a career high. Rosario broke the game open in the first with a three-run shot, his seventh homer of the season.
It was part of a rare successful night against Dodgers lefty Ted Lilly (0-1), who entered 10-2 in 14 starts against the Rockies but left after coughing up five runs, four earned, and eight hits in three innings. Also, standout outfielder Carlos Gonzalez entered with a 4-for-35 slump but had a hard double and an infield single in his first two at-bats.
"I still don't know how I did it -- Ted Lilly comes with it," said Fowler, whose homer was his first, and just his fourth hit, against Lilly in his career. "He dominates me. He dominates all of us. We just got good pitches to hit."
The hitting barrage occurred after a strange Sunday night, which followed an odd series in which the Rockies repeatedly either didn't deliver big hits or ran into outs while losing three of four at Arizona. Mechanical problems with the plane forced the Rockies to spend nearly two hours on the runway, then required them to deplane, wait hours for another aircraft, and not arrive in Los Angeles until around 3 a.m. PT.
The Rockies didn't take batting practice on the field but made up for it at gametime.
"It was just what the doctor ordered after a tough series in Arizona and a rough night last night," Rockies manager Walt Weiss said.
The Rockies' Sunday night might have been long, but the Dodgers' Monday night felt even longer.
"At the end of the day, it is one game," said Dodgers manager Don Mattingly, who resorted to having second baseman Skip Schumaker pitch the ninth. "We have a chance to win tomorrow and we could win the series the next day. This is lot easier to take than losing, 3-2, or taking a four-run lead into the eighth and blowing one of those."
But the game will be remembered best for the homecomings of Chatwood, who pitched for Redlands East Valley High School in the California title game at Dodger Stadium, and Arenado, who played for the winning Lake Forest (Calif.) El Toro High squad that day in 2008 in a 7-0 decision for the California Interscholastic Federation Southern Section championship.
Chatwood gave up five runs, four earned, in six innings in his season debut, a no-decision in an extra-innings victory over the Braves on Wednesday. He struck out five Dodgers against five hits and no walks.
"Balls found holes at home in the Atlanta start and I wasn't able to stop the bleeding soon enough," Chatwood said. "I was able to tonight, and the defense helped out a lot."
The strikeouts were significant for pitching coach Jim Wright, who watched Chatwood spend last season and Spring Training getting to two strikes but overthrowing and losing hitters.
"I didn't see a different guy -- I saw the same guy that got into the count, finish the count," Wright said.
The only blemish came in the fourth, when a Chatwood pitch hit Matt Kemp in the left shoulder and grazed his nose. Chatwood said he apologized to Kemp on the field and will do so again Tuesday.
The Dodgers didn't score until Jerry Hariston's two-run homer off Adam Ottavino in the seventh.
Arenado, who is ranked as the team's No. 2 prospect and was called up Sunday, reached on a Lilly error in the third inning before singling in the fourth on a soft hopper to third against Dodgers reliever Josh Wall. With no play at first, Dodgers third baseman Luis Cruz threw late to second base. Chatwood delivered his third hit, a two-run single, and Jordan Pacheco added a two-run double in the five-run inning.
There was nothing soft about Arenado's next at-bat -- a homer off Wall to dead center field on a 1-0 pitch in the fifth.
Thomas Harding is a reporter for MLB.com. Read his blog, Hardball in the Rockies, and follow him on Twitter @harding_at_mlb. This story was not subject to the approval of Major League Baseball or its clubs.