Cubs push right buttons against Padres
Ransom, Hairston hit back-to-back homers; Barney plates two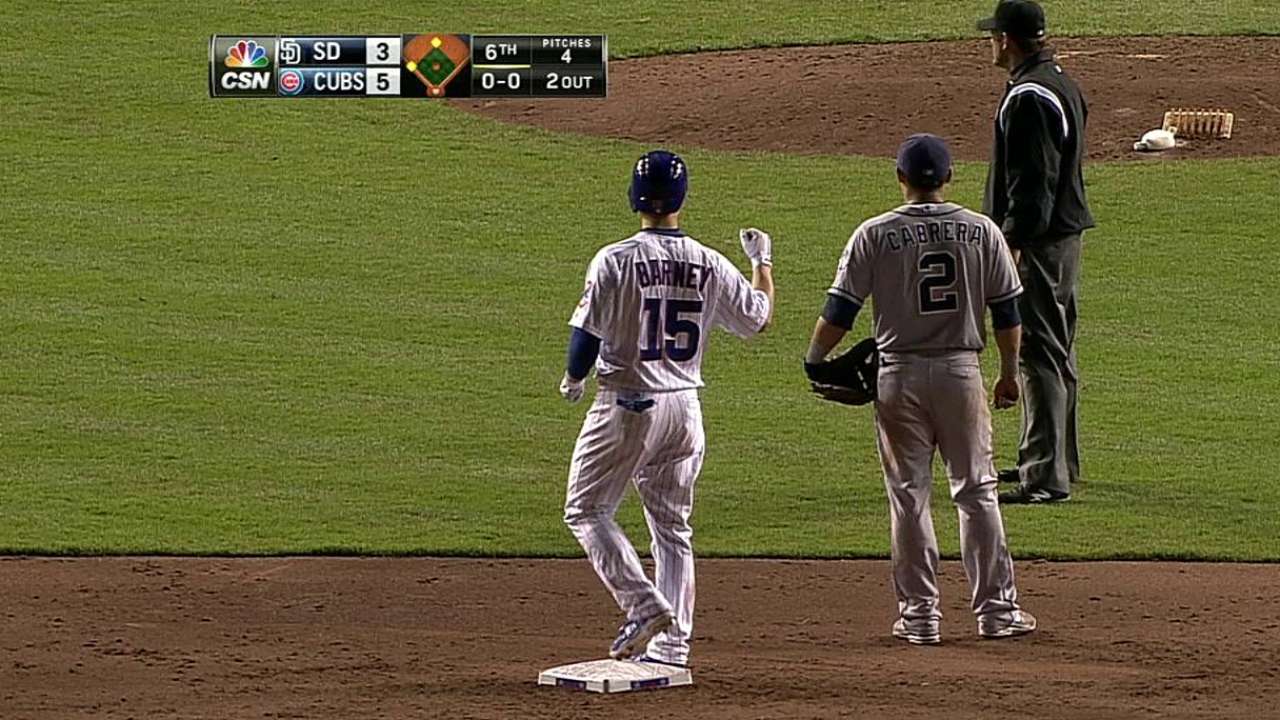 CHICAGO -- The Cubs may be a little unconventional these days as far as their closer is concerned, but it's working.
Kevin Gregg picked up his fourth save, Darwin Barney hit a pair of RBI doubles, and Scott Hairston and Cody Ransom smacked back-to-back home runs to lift the Cubs to a 5-3 victory over the Padres on Monday night for their fourth win in the last five games.
Gregg, who signed after being released by the Dodgers on April 15, now has converted a save in each of his last four outings. However, manager Dale Sveum refuses to name him or anyone else the closer.
"For whatever reason, guys are getting the job done and getting big outs when we have to get outs," Sveum said of his collection of relievers. "That's the key is making pitches when you need to."
Michael Bowden picked up the win in relief of starter Jeff Samardzija, who struck out eight in five innings to raise his season total to 47, among the National League leaders. It's the second most K's in Cubs history in the month of April, behind Matt Garza's 51 in 2011.
Samardzija also didn't try to barehand any line drives. In his last outing, he suffered a bloody cut on his right index finger trying to snare a liner by the Reds' Shin-Soo Choo in the first and admitted it was tough to get a grip on Monday. Samardzija also didn't get a win, and now is 0-4 with a no-decision since his Opening Day victory over the Pirates.
"I think he probably got away from his fastball a little bit in situations," Sveum said.
"Too many walks," Samardzija said. "You can't put that many guys on for free. Just pitching in a lot of situations where you have to battle and make bigger pitches makes it harder on yourself."
He walked Everth Cabrera to start the game, and one out later, Chase Headley singled. Both runners advanced on a wild pitch, and Cabrera scored when Samardzija was charged with another wild pitch on a third strike to Carlos Quentin that catcher Welington Castillo couldn't reel in.
Hairston connected with one out in the second off Clayton Richard, ending an 0-for-15 stretch over eight games, and Ransom followed with another blast that landed in the juniper bushes in center field. Hairston and Ransom, both former Padres, are part of the Cubs' platoon lineup against left-handed starters.
It's the second time the Cubs have hit consecutive home runs this year; Anthony Rizzo and Alfonso Soriano did so April 18 off the Rangers' Alexi Ogando. Chicago also has out-homered the opposition, 13-4, at Wrigley Field.
Barney hit a RBI double in the fourth to go ahead, 3-1. But the Padres loaded the bases with two outs in the fifth as Samardzija walked two, and tied the game on Yonder Alonso's two-run single.
Soriano singled to start the sixth and scored two outs later on Ransom's RBI single to chase Richard. Barney then lined a RBI double to right off Anthony Bass.
The Cubs' 6-7-8 hitters provided the offense.
"These guys are Major League players, and somebody's gotta hit in the bottom of the order," Padres manager Bud Black said. "They got us."
Ransom and Barney also made solid defensive plays, including a running barehanded grab by Ransom on Jedd Gyorko's grounder with the bases loaded in the seventh. Ransom was able to get the Padres' second baseman by a half step.
"You take a million ground balls and hope to have the opportunity to catch it and throw it," Ransom said. "Checked swing, and it was a little strange off the bat and it came off a little harder than I thought it would and made it to me and luckily for us, Gyorko didn't run that well."
"That barehand play saved the game for us," Barney said. "It's nice to have a guy like [Ransom] who knows how to play the game the right way and knows the situation and knows who's running."
All 25 of the Cubs' games this season have been decided by four runs or fewer, a franchise record, and second most all-time to start a season in the Major Leagues. The 1914 Tigers have the longest streak at 33 games.
"That's a positive and a negative," Barney said. "It's a positive that our pitching staff has done a great job thus far. It's a negative because our offense hasn't blown up yet. Hopefully that happens. Hopefully we have one of those games this year where we're up by a lot."
Since the Cubs' series against the Reds last week, the defensive play has been better.
"With all these close games, pitching and defense is going to help us win those games," Barney said. "It's nice to get on a roll a little bit and hopefully we can keep it going."
It helps to have Gregg, 34, in the mix. This is his second turn with the Cubs; he was the closer in 2009.
"He's a calming presence for sure, especially just his demeanor and the way he goes about his work every day," Samardzija said. "If you've got [Carlos] Marmol pitching in the eighth, and [James] Russell in the seventh and [Shawn Camp] mixed in there, too, you're pretty confident with that."
The Cubs are ready to turn the calendar. It's been a tough April.
"Let's be honest -- we've played some really good teams in the first month," Samardzija said. "You've got the defending world champs [the Giants], you've got [the Rangers], you've got the Brew Crew at their place, and Cincinnati. We knew we'd have to come out and be on top of our game in April.
"It could easily be flipped around and we could be 15-10 instead of 10-15," he said. "They say you don't win or lose the season in April. I feel we're good where we are. ... Let's get a little momentum going and see what happens from there."
Carrie Muskat is a reporter for MLB.com. She writes a blog, Muskat Ramblings, and you can follow her on Twitter @CarrieMuskat. This story was not subject to the approval of Major League Baseball or its clubs.