Padres' win streak is halted in Chicago
Alonso plates two in San Diego's first loss in five games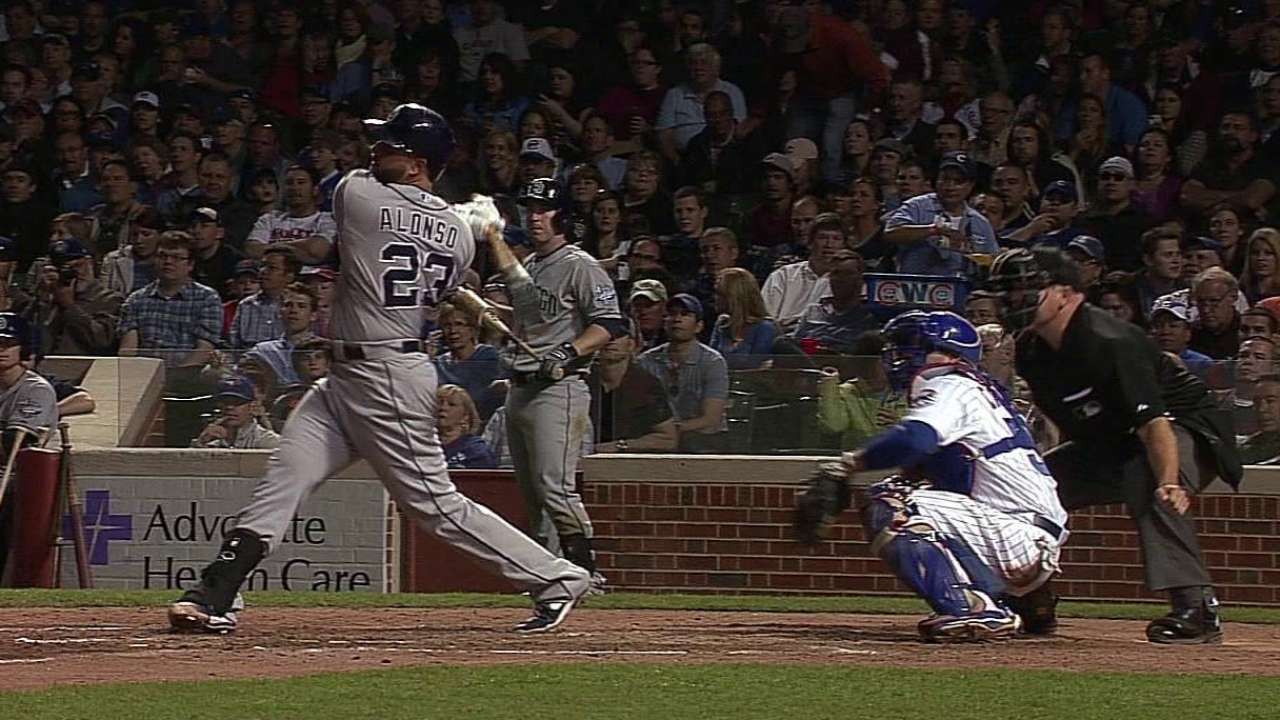 CHICAGO -- In a tightly contested game pitting two teams who, on paper, were as similar as could be, the Padres got a taste of what can win a ballgame on Monday night before minutes later reeling from what can tip it in the other direction.
Just two innings after Yonder Alonso drove in the tying runs in a two-run fifth, the first baseman was called out by third-base umpire Dan Iassogna for a checked swing with the bases loaded and one out. It would prove to be just one of a handful of missed opportunities in a 5-3 series-opening loss to the Cubs at Wrigley Field that snapped the Padres' longest winning streak of the season at four games.
"We couldn't get the hit," manager Bud Black said before listing off a slew of other opportunities in which the Padres left men in scoring position. "We just couldn't get the big knock. We got ourselves in position, we drew some walks, we got some hits, we put stress on them. We didn't get the hit."
San Diego went 1-for-10 with runners in scoring position and stranded 11 men on base. They left two in the eighth and were retired in order in the ninth, but it was with one out and bases loaded in the seventh when opportunity really snuck by.
Cubs reliever Shawn Camp gave up two singles and a walk before lefty James Russell entered to face Alonso, who had tied the game at 3 in the fifth with a two-out, two-run bloop single to left field.
Four of the five pitches Russell threw to Alonso were sliders, and the fourth caused him to offer. Iassogna ruled that Alonso did not check his swing, and Black was visibly upset in the visiting dugout.
"It is what it is. I'm not gonna sit here and cry over it or whatever," Alonso said. "I had two other pitches to hit and should have executed it before. That's all there is to it."
Said Black: "From the first-base dugout, left-handed hitter, it's really hard to tell. But that was a critical play for us. One out, bases loaded, middle of the order bat. I couldn't tell."
The Cubs threw four relievers at the Padres, and despite four hits in the final three innings, San Diego did not score.
"For whatever reason, guys are getting the job done and getting big outs when we have to get outs," Cubs manager Dale Sveum said. "That's the key is making pitches when you need to."
All five Cubs runs were charged to Padres starter Clayton Richard, who remains winless on the year with a 7.94 ERA. He allowed five runs in 5 2/3 innings, including back-to-back home runs in the second to former Padres Scott Hairston and Cody Ransom. It was just the second time this year the Cubs have hit back-to-back homers, but it's happened in consecutive home games.
San Diego scored first when Everth Cabrera walked to lead off the game and scored on a Jeff Samardzija wild pitch, but after the home runs and a fourth-inning Darwin Barney RBI double, Chicago had a 3-1 lead. Alonso's RBI knock tied it in the fifth, but Richard surrendered two more in the sixth. Ransom and Barney again were the culprits. They combined to go 4-for-7 with two runs, two doubles and four RBIs.
"Unfortunately, I fell behind guys at the wrong time and, in that last inning, I just left a pitch up," Richard said. "It stings."
‪Joey Nowak is a reporter for MLB.com. Follow him on Twitter at @joeynowak.‬ This story was not subject to the approval of Major League Baseball or its clubs.