Royals' stay in first ends with loss to Indians
Starter Davis exits in six-run fifth as K.C. settles for series split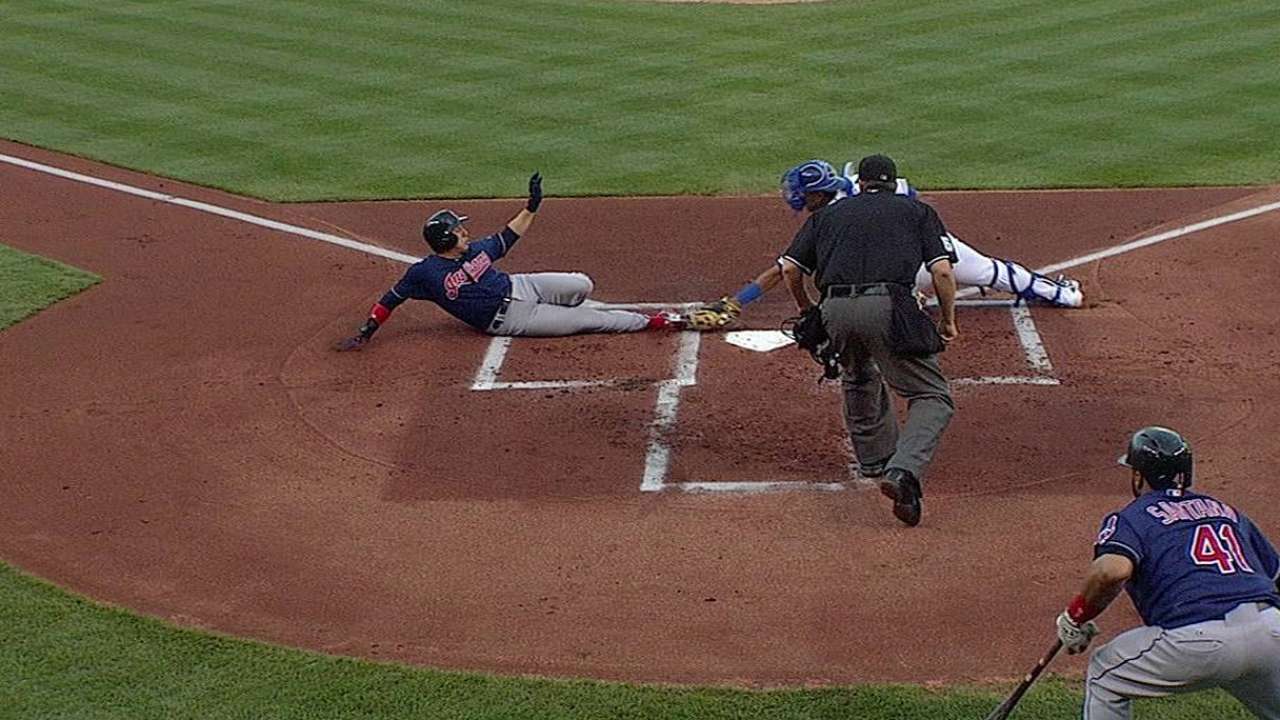 KANSAS CITY -- Not much happened for the Royals on Monday night. Unless you want to count giving up first place.
After 10 lovely days atop the American League Central, the Royals' 9-0 loss to the Cleveland Indians dropped them into second place -- a half-game behind. And, yes, it was those highly-touted Detroit Tigers who edged into the lead.
Right-hander Ubaldo Jimenez stifled the Royals on one hit through the first seven innings and gained the victory. He was pulled after giving up two hits to open the eighth. Ryan Raburn led the Indians' attack with four hits, including two home runs, and four RBIs.
The Royals split the four-game series with the Indians at Kauffman Stadium, while the Tigers won their fourth straight game.
"It's early," Royals manager Ned Yost said. "Yeah, I'd love to be in first place, but I don't pay attention to that."
Yost is not much on perusing the standings, at least at this time of the year.
"I don't," he said. "We just try to come out and win a ballgame every night."
The Royals' season has been dominated by starting pitchers going effectively deep into games. This was not one of them.
Starter Wade Davis was chased during a six-run fifth inning in which the Indians jumped ahead, 8-0. Davis was tagged for five hits in the inning, including doubles -- all to right field -- by Michael Brantley, Asdrubal Cabrera and Carlos Santana, Mark Reynolds' single and the big one, Raburn's three-run homer to left field.
"They hit some good pitches off of Wade, but they hit some mistakes, too," Yost said. "Wade wasn't up in the zone; a lot of balls that they hit, though, were catching a little bit too much of the plate down. ... This is a club that hits the ball down pretty well."
Rayburn, who also had two singles off Davis, led off the eighth with his second home run into the right-field bullpen against reliever Kelvin Herrera.
Jason Kipnis belted a solo homer to right-center field in the first inning. Royals center fielder Lorenzo Cain kept the inning from getting worse by throwing out Cabrera at the plate. In the second, Brantley's double and Cabrera's single combined for another run and a 2-0 lead.
In all, Davis gave up 12 hits, one walk and eight earned runs. He record fell to 2-2 and his ERA jumped to 5.55.
"I just made a lot of mistakes to the plate and put myself in bad spots. I've got to do better," Davis said. "I was probably off here and there. Made some bad decisions and didn't execute."
Meanwhile, Jimenez looked nothing like a pitcher with a 0-2 record and 10.06 ERA in four previous starts.
Instead he looked like a guy with no-hit stuff. Through the first seven innings, the Royals' lone hit was a single by Billy Butler on a ground ball that took shortstop Cabrera so deep into the hole that he didn't have a chance even for the slow-motion DH.
"Ubaldo today -- wow! Incredible, man," shortstop Alcides Escobar said. "He was keeping the ball down and throwing a lot of first-pitch strikes. And he was using a curve, changeup and a fastball over 92 (mph). Wow -- unbelievable today."
Escobar's nine-game hitting streak (15-for-36, .417), was ended. He was 0-for-4 even though he hit two balls hard off Jimenez.
Jimenez originally was supposed to pitch on Saturday but, after the series opener on Friday was rained out, his turn was pushed back two days.
"It felt really good. I guess the couple extra days they gave me really helped my arm and everything," Jimenez said. "I was able to throw everything for a strike -- fastball, breaking ball."
Finally, after Mike Moustakas led off the Royals' eighth with a double and Jeff Francoeur singled, Jimenez was relieved by left-hander Nick Hagadone and he kept the shutout intact.
"That was nice," Indians manager Terry Francona said. "We had spread the game out, but it was nice for Ubaldo to have some zeros after the way he had battled."
Jimenez, in addition to the three hits, gave up two walks and struck out four. Until the eighth inning, not one Royal got past first base.
"He got ahead of us early and he was able to mix his pitches well. That's a great pitcher out there. His track record speaks for itself," Moustakas said.
The Royals have gotten a little off track, getting outscored, 19-3, in losing the last two games to the Indians. And they've detoured into second place.
"It's way too early to be worrying about that," Moustakas said. "We're still playing great baseball on this side. We're not concerned about what everybody else is doing. We're concerned about going out and winning a ballgame every day."
Dick Kaegel is a reporter for MLB.com. This story was not subject to the approval of Major League Baseball or its clubs.