Cardinals' skid hits three after offense quieted
Freese's struggles continue; St. Louis strands 10 on the basepaths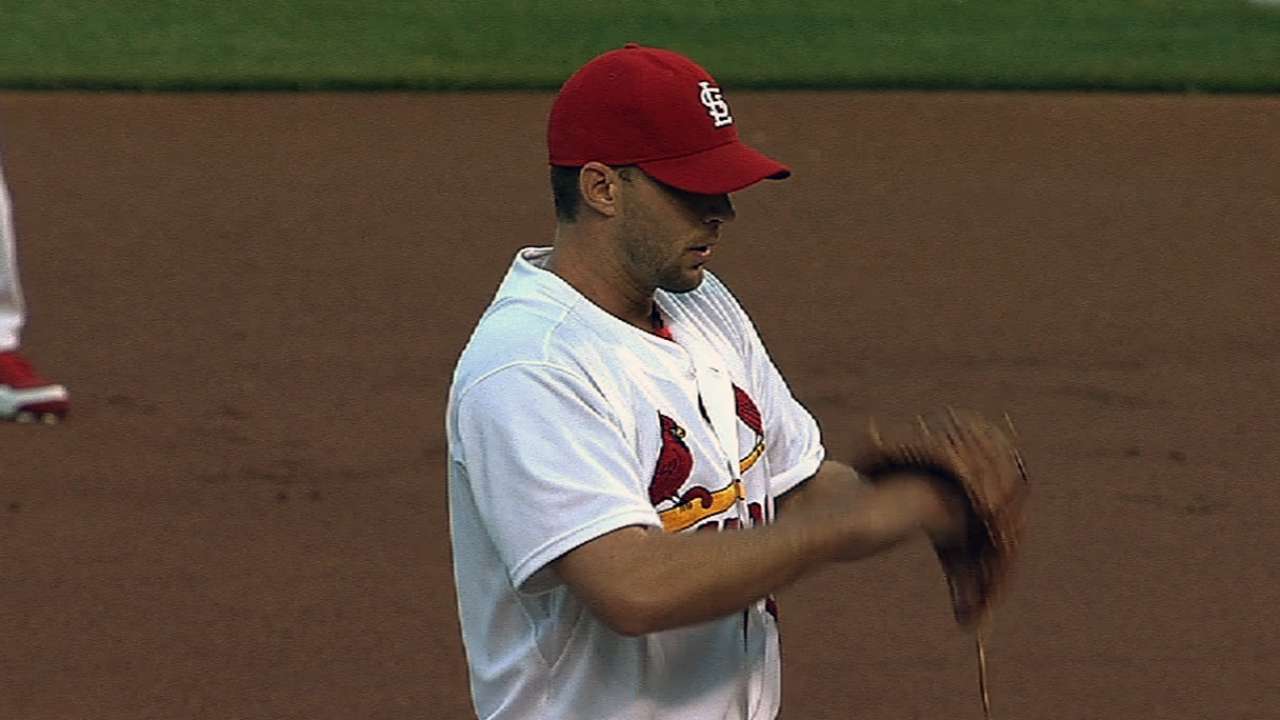 ST. LOUIS -- The clubhouse had mostly cleared out by the time David Freese emerged from the indoor batting cage, drenched in sweat, bat in hand.

Immediately upon the conclusion of the Cardinals' 2-1 loss to the Reds on Monday, Freese made a direct line to the cage, where he continued his quest to find his swing.
Freese's night -- and, in many ways, his season -- seemed a microcosm of the team's series-opening loss, one that was sealed by the Cardinals' inability to capitalize upon opportunities. With 36,681 fans at Busch Stadium, the Cardinals stranded 10, as their productivity with runners in scoring position continued to decline.

Through it all, no one endured a more exasperating few hours than Freese.

"I feel terrible," Freese said following his 0-for-4 night. "It's frustrating. The big thing is not being able to help the team right now. I think I know, and the team knows, that I'm going to get out of it. But it stinks. You learn every day in this game, and this is a tough stretch for sure."

Freese admitted that his troubles have spiraled from partly mechanical to mostly mental. He's trying to do too much, attempting to will his way on base during a hitless stretch that now extends 16 at-bats. There was hardly much positive reinforcement before that, either. He is still awaiting his first home run, and his season average sits at .163.

And as often happens when a player is seeking his way out of a slump, the struggles were magnified by the situations in which he couldn't come through.

"You could really see his frustration when he came back in," manager Mike Matheny said. "We're going to have to just sit and continue to help him figure out how to get there. He will sooner than later, but I think, no question, sooner is better than later. We have to just keep trying different things and get him to breathe a little bit and trust himself."

Hitting sixth in a lineup that was without Carlos Beltran, Freese batted with Yadier Molina on base in front of him three times. He struck out in the first instance before grounding into a double play in the next. And just when the Cardinals appeared to have something going in the eighth -- which started with consecutive doubles from Allen Craig and Molina to close the deficit to one -- Freese followed with weak squibbler to the pitcher.

None of his last 12 at-bats has resulted in a ball even making it out of the infield.

"I'm in a huge spot," Freese said, referring to his place in the batting order. "Very rarely are the guys in front of me going to go down 1-2-3 throughout the whole course of the game. I have to capitalize, and that comes into not doing too much. It's basically to the point that I have to act like there is nobody on every time I go up there and do what I do, which is hit hard line drives. The mind is spinning a lot."

He singled out the need to fix the mental side before adding, "It's just about seeing the baseball. I'm not seeing it. The [batting practices] are good. The cage work is good. I just get in the game and try to do too much. That's a recipe for disaster."

Freese is hardly the only one scuffling, though his struggles are the most pronounced. But on a day when the Cardinals made headlines for their attempts to fix their weary bullpen, it was a collectively hushed offense that foiled Adam Wainwright's attempts to close April with a fifth win.

One day after totaling three hits against a pair of Pirates rookies, the Cardinals had five in six innings against Reds starter Mat Latos. The club stirred off reliever Jonathan Broxton in the eighth but couldn't advance the potential tying run past second. Cincinnati closer Aroldis Chapman followed with his sixth save.

Carried earlier this month by timely hitting, the Cardinals have been stung by a lack of it lately. A team that entered Saturday batting .350 with runners in scoring position through the first 22 games has gone 4-for-26 in such spots since. That included a 2-for-12 mark on Monday.

"It's tough to rely on [timely hitting] over the long haul of the season," Matheny said. "We needed those tonight, and you're playing with fire when you're expecting that to happen. The bunches are going to come, too. Right now it's not happening very often."

That sealed the loss for Wainwright, who entered the game averaging six runs of support per start. The Reds scored a first-inning run off him before Xavier Paul's groundout in the fourth extended the Reds' lead. Wainwright issued an intentional walk to the next batter before retiring the final 10 hitters he faced in his 99-pitch start.

"It was a tough game to lose," Wainwright said. "Their guy, Latos, threw some tough pitches. Sometimes you have to matchup zeros with someone who is throwing great, and tonight I didn't match zeros."

"He's on a roll the way he's been pitching lately," Latos said of Wainwright. "I knew I had to match up. It's one of those things where one mistake could cost you the game, especially the way he's been pitching."

Wainwright's ERA inched up to 2.03 -- tied with Shelby Miller for eighth in the National League -- with Monday's performance, but overall, there has been little not to like about his first month of work. He averaged 7.4 innings per start, struck out 43 and walked only three.

Though the rotation has posted a 1.54 ERA over the past nine games, the Cardinals have won just five times. The absence of a more dominant record has been the result of a combustible bullpen and, more recently, a tamed offense.

"Right now we've had three bad games in a row," Molina said. "We just have to keep battling."