Locked-in Latos, Reds take opener from Cards
Right-hander throws six scoreless frames, extending streak to 17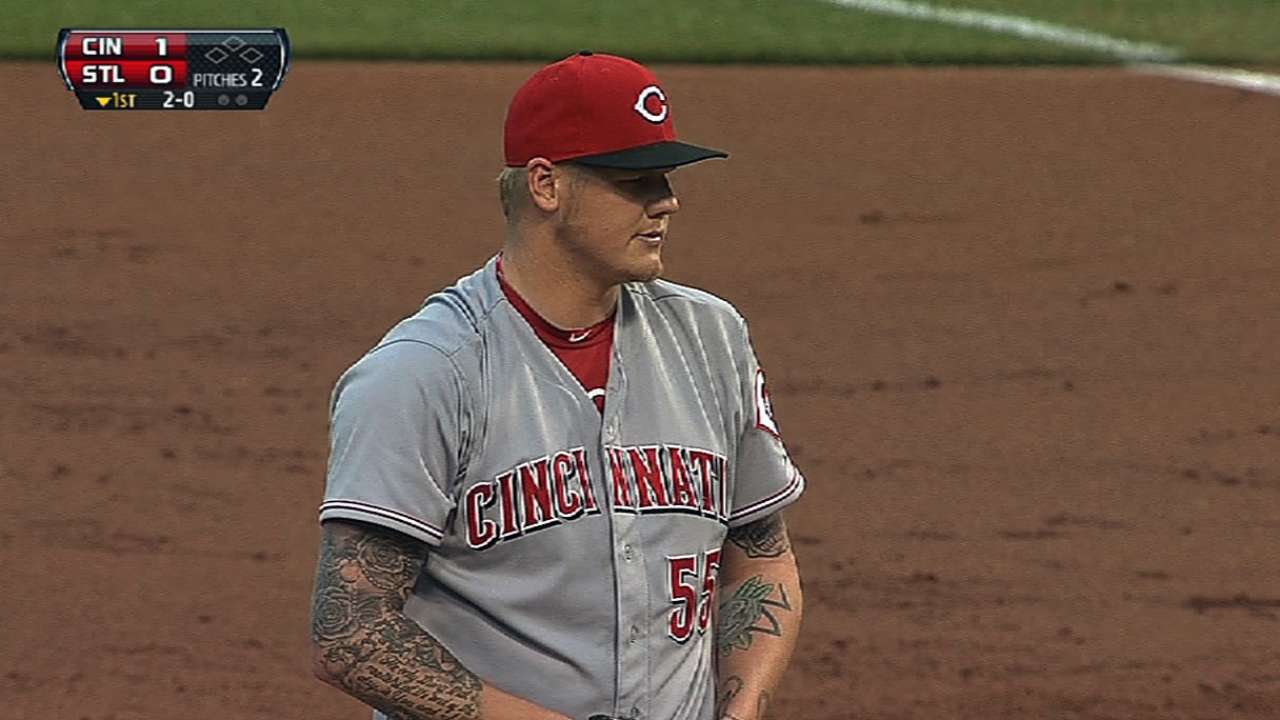 ST. LOUIS -- Throughout his brief big league career, Mat Latos might have wondered how good his seasons could have been had the month of April never existed on the baseball schedule.
But April 2013 has seen those dark clouds break, as Latos finished the month with 17 straight scoreless innings. That included six hard-fought zeros on Monday as the Reds edged the Cardinals and Adam Wainwright, 2-1.
"He's on a roll the way he's been pitching lately," Latos said of Wainwright. "I knew I had to match up. It's one of those things where one mistake could cost you the game, especially the way he's been pitching. I just beared down and attacked as much as possible."
Latos gave up five hits and three walks while striking out four, but almost every inning required him to work out of trouble; St. Louis was 1-for-7 with runners in scoring position while he was on the mound and stranded 10 men overall.
Cincinnati jumped out to a one-run lead against Wainwright in the first inning. It began with leadoff hitter Shin-Soo Choo's double near the left-field line and Zack Cozart's sacrifice, which put the runner on third base. Joey Votto's single, lined into right field, scored Choo.

"It was a tough game to lose," said Wainwright, who has a 2.03 ERA after six starts. "Their guy, Latos, threw some tough pitches. Sometimes you have to match up zeros with someone who is throwing great, and tonight I didn't match zeros."
In the fourth inning, Todd Frazier's one-out double off of the right-field wall put runners on second and third base. After being down in a 0-2 count against Wainwright, Xavier Paul worked through an admirable at-bat, fouling off three straight 1-2 pitches before hitting a broken-bat grounder to shortstop that was slow enough to score Jay Bruce.
"It was tough at the plate for me today, but the one thing I did that let me sleep a little easier tonight is that at-bat right there," said Paul, who ended the night 0-for-4. "That run ended up being the deciding run."
Meanwhile, Latos had a runner in scoring position during four of his first five innings but kept escaping with zeros. In the fifth, following back-to-back two-out singles by Matt Carpenter and Matt Holliday, Allen Craig hit a hard grounder to the middle. Second baseman Brandon Phillips knocked it down and lunged, glove outstretched, to the bag for an inning-ending force play that avoided potential damage.
"I was able to make pitches when I needed to, which is a good thing," Latos said. "With Johnny [Cueto] being down, I took it on myself to make sure I go out there as much as I can."
"Mat pitched a great game," Paul said. "Every night he goes out there, we know we have a really good shot of winning as long as we put a couple of runs on the board. That's the type of pitcher that you want facing Wainwright."
The only drag on Latos' evening was his exit for a pinch-hitter in the top of the seventh despite having thrown only 91 pitches. His right hip tightened on him, stemming from his first at-bat, in the second inning.

But Latos, whose scoreless streak is the club high for the season, does not seem concerned.
"It just nagged throughout the whole game," he said. "I pitched four [more] innings and then really pushed myself that last inning. It was real tight. I wasn't able to follow through with my leg on the mound. It should be all right. It actually loosened up."
In the eighth inning, trouble quickly found reliever Jonathan Broxton, who gave up doubles to Craig and Yadier Molina over his first three pitches to allow a run. But he worked out of his jam before Aroldis Chapman notched his sixth save with a perfect ninth inning.
Through his first six starts (39 1/3 innings), Latos is 2-0 with a 1.83 ERA, eight walks and 37 strikeouts. All six outings have been quality starts, and his record would be better had there not been two blown saves behind him.
A year ago, Latos had a 5.97 ERA through April. He began the season with a 2-8 career record and 5.73 ERA in March and April.
"His track record is kind of short; he only has three Aprils," manager Dusty Baker said. "It's a learning process in how to prepare yourself mentally and physically for the season. He's still learning."
Latos, who joked during Spring Training that pitching in the World Baseball Classic might one day help rid himself of bad Aprils, isn't ready to say that things are all good between him and the first full month of the season.
"We'll see next year," he said.
Mark Sheldon is a reporter for MLB.com. Read his blog, Mark My Word, and follow him on Twitter @m_sheldon. This story was not subject to the approval of Major League Baseball or its clubs.