Easy being Green: Sac fly lifts Miami in 15
Marlins win back-to-back contests, but lose Stanton to injury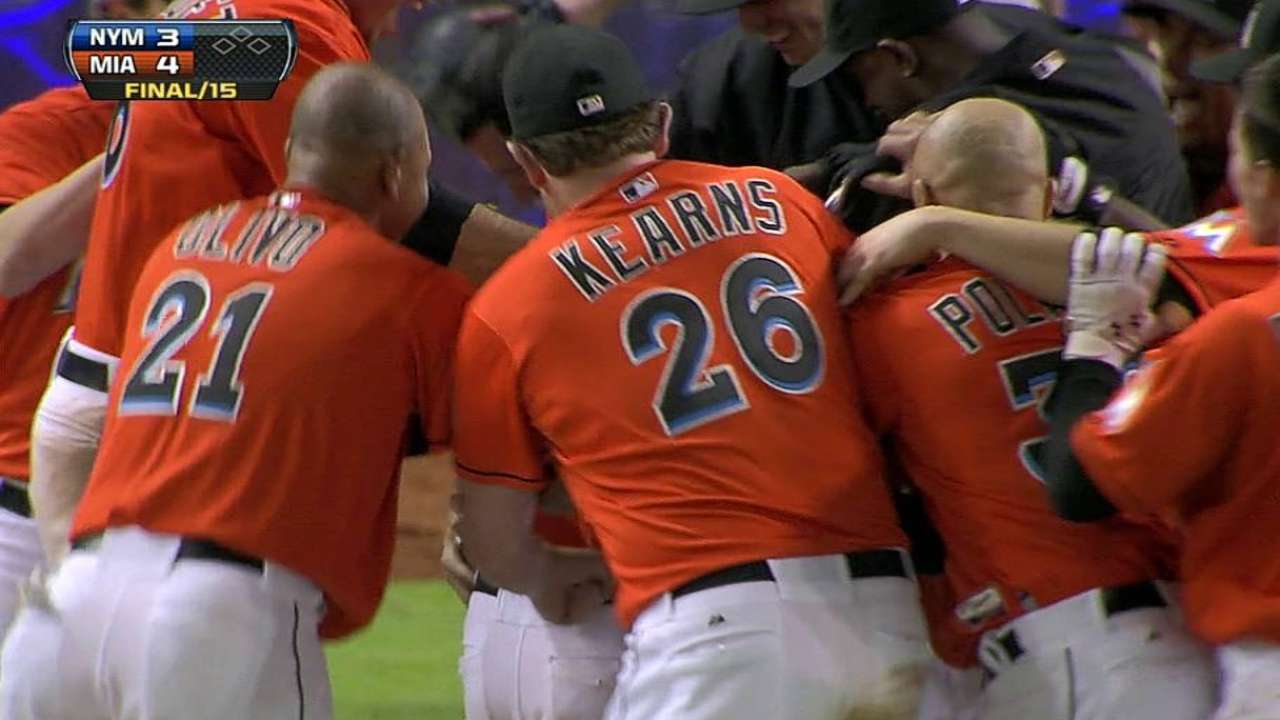 MIAMI -- A wild and painful night ended in elation as Nick Green's sacrifice fly in the 15th inning lifted the Marlins to a 4-3 win over the Mets on Monday at Marlins Park.
After falling behind in the top of the inning, Miami came back with two runs off Shaun Marcum, the Mets' ninth pitcher.
"That was a long day, but it's always nice to get on the other end of that," Marlins manager Mike Redmond said. "As many one-run games as we've played. These guys get all the credit in the world. No one gets down. We keep battling. Keep fighting. They are cheering for each other. It's one of those games, and one they'll remember for a long time."
Greg Dobbs singled with one out before Justin Ruggiano walked. Rob Brantly's RBI single tied the game, and put runners on the corners for Green, who lifted his game-winning fly ball to left field.
For the first time this year, the Marlins have won two straight games, but it took five hours and 31 minutes. Miami improved to 3-8 in one-run games.
"This team, it's no secret we've been struggling a little bit, but we've been battling in every game," Brantly said. "To be put to the test like that, it still shows that we come out and we play hard every inning, whether it's a nine-inning game or a 15-inning game -- or a 30-inning game, knock on wood."
In their rivalry, the Marlins and Mets have played 323 games, but none longer than what transpired in front of 15,605 fans on Monday.
"We continued to grind, and continued to battle, no matter what the circumstances are, no matter how tough it is," Redmond said. "You saw that again tonight."
Jon Rauch, in his third inning of relief, was charged with a wild pitch in the 15th that set up Ruben Tejada's infield single that gave the Mets a 3-2 lead.
For just the 10th time in franchise history, the Marlins had a game reach as many as 15 innings. They last reached 15 innings on June 16, 2012, at Tampa Bay, winning, 4-3. The most innings the club has played were 20, on April 27, 2003, in a game won, 7-6, by St. Louis.
And the night turned out being painful in a number of ways for the Marlins, who used seven pitchers.
Rauch issued a one-out double to Lucas Duda in the 15th, and with two outs, Ike Davis was intentionally walked. A wild pitch allowed both runners to advance, and Tejada delivered an infield RBI single to short.
In the 14th, the Mets turned to Marcum. Green, who tied the game with a sacrifice fly in the ninth inning, singled. Chris Valaika's single put runners on first and second. Again, the Marlins were unable to score, as Miguel Olivo struck out, stranding runners on second and third.
April certainly has not been kind to the Marlins, and the team encountered more adversity in the 10th inning, when Giancarlo Stanton exited with a right hamstring strain. The slugger is going on the disabled list, a crushing blow to a team that is 7-19.
After Steve Cishek stranded Mike Baxter on third base in the top of the 10th, Juan Pierre was plunked on the right elbow by a 94-mph Bobby Parnell fastball to open the bottom of the inning.
With one out, Miami's injury news got considerably worse. Stanton tapped a slow roller in front of the plate and he was thrown out at first. But as the All-Star right fielder crossed the bag, he grabbed for his right hamstring and tumbled to the ground. Escorted by team trainer Sean Cunningham, Stanton walked off the field and he was replaced.
"The video looked like [it happened] when I stepped right on the bag, but I'm not sure," Stanton said.
The game became a battle of attrition. In the 13th inning, with two outs and Tejada on first, New York pinch-hit David Wright, who didn't start due to a stiff neck. With the count full, Rauch struck out Wright looking.
The Marlins certainly had their chances on numerous occasions, but they bounced into five double plays.
Boosted by John Buck's two-run homer off Jose Fernandez in the fourth inning, the Mets carried a 2-1 lead into the ninth.
"We played such a hard ballgame to lose like that," Buck said. "But I think that's what we've got to take from it is we played hard. It's obviously a group that's not going to give up."
The Marlins were able to force extra innings off Parnell, who got in trouble in the ninth by surrendering a leadoff double to Ruggiano. He scored on Green's sacrifice fly.
Entering the game, the buildup was centered on Fernandez and Mets right-hander Matt Harvey. The phenoms did their job, especially Harvey, who struck out seven in 5 1/3 innings.
Miami did succeed in running up Harvey's pitch count to a career-high 121, but the 24-year-old repeatedly was able to execute pitches when necessary to preserve a one-run lead. He was lifted with two runners on and one out in the sixth.
Harvey has allowed one run or fewer in 10 of his first 16 starts, and he has seven or more strikeouts in 11 of those outings.
Fernandez, meanwhile, was lifted after four innings and 81 pitches, while striking out four.
"Today, it was about the team," Fernandez said. "We fought all game. We had a lot of fun. We wanted this one. It was great to be out there and watch your team fight and not give up."
Joe Frisaro is a reporter for MLB.com. He writes a blog, called The Fish Pond. Follow him on Twitter @JoeFrisaro. This story was not subject to the approval of Major League Baseball or its clubs.