Harvey denied No. 5 on long night for Mets
Forced to 15 innings, Marcum gives up walk-off sac fly to Marlins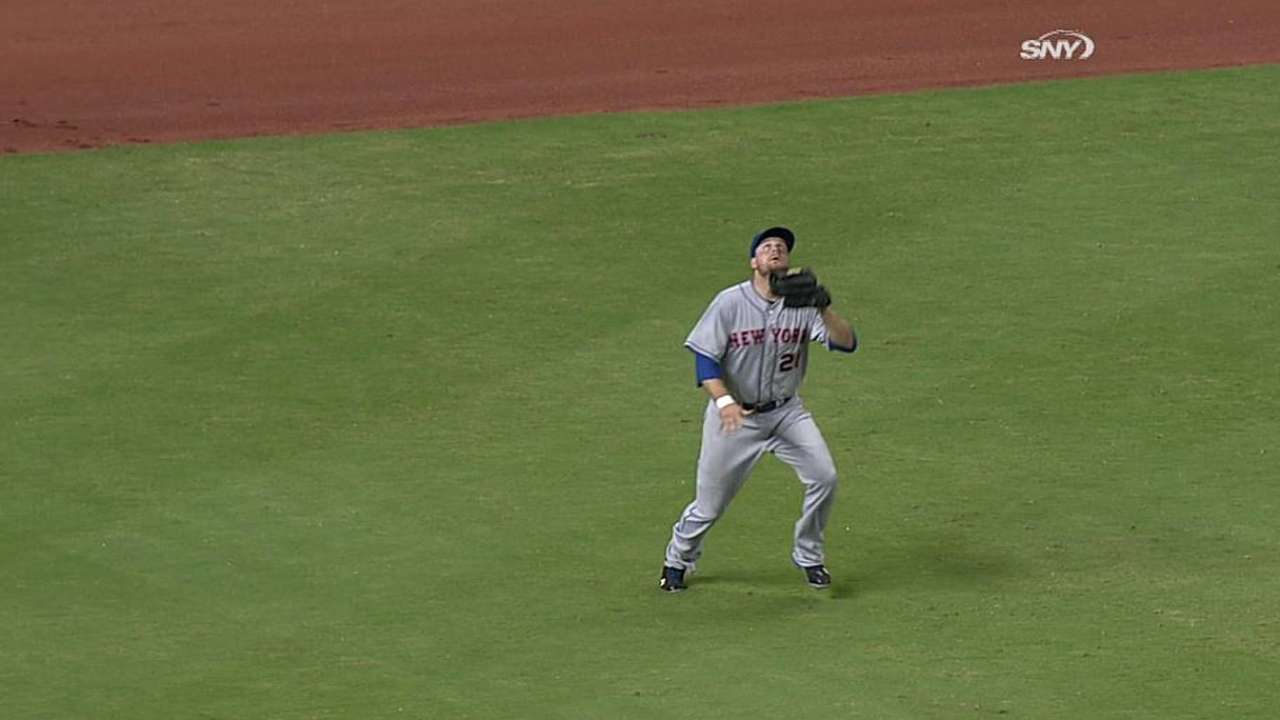 MIAMI -- What began as a promising study of two young pitchers ended in a cocktail of exhaustion and depression for the Mets. Fifteen innings at Marlins Park gave the Mets nothing more than sore muscles, tired minds and their fifth straight loss.
With a starting pitcher on the mound and a backup catcher prepared to pitch if necessary, the Mets dropped a 4-3 game to the Marlins when Nick Green plated Justin Ruggiano on a sacrifice fly in the bottom of the 15th. That made a losing pitcher out of Shaun Marcum, whose volunteer relief stint was pockmarked by soft flares and ground-ball hits.
With one out in the 15th, Greg Dobbs singled. Then Ruggiano walked and Rob Brantly singled to right field, tying the game at 3.
Moments later, with starting pitcher Matt Harvey watching from the dugout bench, Green's sacrifice fly ended things five hours and 31 minutes after they began.
"We played such a hard ballgame to lose like that," catcher John Buck said. "But I think that's what we've got to take from it is we played hard. It's obviously a group that's not going to give up."
"That game was a battle all the way through," Brantly said. "You can say the whole pitching staff of both teams just went out there and battled, and pitched very well. It was kind of refreshing to bear down there in the 15th inning, and scratch out two runs like that."
Thanks in large part to Buck's two-run homer way back in the fourth, the Mets were in position to win when closer Bobby Parnell took the mound for the ninth. Harvey and Marlins rookie Jose Fernandez had both pitched relatively well, albeit inefficiently, forcing both teams to turn to their bullpens in the middle innings.
That signaled danger for the Mets, whose 29th-ranked relief corps seemed destined to crack. But it was not until Parnell served up a leadoff double to Ruggiano that the bullpen did.
Entrusted to protect a one-run margin, Parnell coaxed a popup out of the next batter in the ninth, Brantly, but Collin Cowgill broke back on the ball and could not recover in time. He also bobbled the hit when he eventually caught up to it, allowing Ruggiano to advance to third despite stumbling halfway there.
With runners on the corners and no outs, Green then lofted a sacrifice fly to center field to send the game to extra innings.
"I just took a step back and it was too late after that," Cowgill said. "By the time I read it, it had fallen."
Still, the Mets regained a temporary lead when Ruben Tejada hit an RBI infield single in the top of the 15th. But Marcum, who said he "actually felt really good" on the mound after volunteering to pitch, could not hold it. The outing came on Marcum's regular throw day, and should not affect his next start.
"I applaud him," manager Terry Collins said. "Because Anthony Recker was next."
A former college pitcher for Alvernia University, Recker had gone as far as to warm his arm as the game descended into its later stages. Instead, he joined starting pitchers Jon Niese, Jeremy Hefner and Dillon Gee as the only active Mets not to appear in the game.
Harvey, one of the 21 Mets who did play, lacked his usual sharpness from the start, enjoying his only one clean inning in the fifth. That gave Collins enough confidence to bring him back out for the sixth at 99 pitches, but the inning's first three batters fouled off 10 more pitches to crank Harvey's workload into uncharted territory. The right-hander's 121 pitches represented not only a career high, but also the third-highest total in the Majors this season.
After Harvey departed with two men on base and one out in the sixth, Robert Carson and Scott Atchison escaped that jam without issue. LaTroy Hawkins and Brandon Lyon then carried the lead into the ninth before Parnell took over.
What happened next stuck Harvey with a no-decision, preventing him from joining Dwight Gooden in 1988 and Pedro Martinez in 2006 as the only Mets pitchers to go 5-0 in April. He allowed his only run in the third, when Juan Pierre and Donovan Solano singled to open the inning and Giancarlo Stanton plated Pierre on a double play.
"It's a tough one," Harvey said. "Once it got to be around one o'clock, everybody started to get tired. To lose it in that fashion, it's pretty draining."
It helped a bit that the Mets mustered some early offense against Fernandez, when Buck launched a two-run homer onto Marlins Park's center-field home run sculpture in the fourth inning. That blast tied him with Carlos Delgado in 2006 and Dave Kingman in 1976 for the most April homers (nine) in franchise history, also moving him one away from Jeff Kent's franchise record of 26 April RBIs.
It also temporarily busted the Mets out of a frustrating early stretch, which extended into extra innings. Fernandez allowed the first two men in the first and second innings to reach base safely, stranding all of them, and the Mets finished 1-for-18 with runners in scoring position.
Hardly coincidentally, they did so without their offensive leader, David Wright, who was nursing a stiff neck. Starting in place of Wright at third base, Justin Turner finished 3-for-5 with a walk. Wright appeared as a pinch-hitter in the 13th inning, but struck out looking against Rauch.
His night, like that of his team, turned out fruitless.
"None of us are happy right now," Harvey said. "But we've got another one tomorrow, so we've got to flush this one and move forward."
Anthony DiComo is a reporter for MLB.com. Follow him on Twitter @AnthonyDicomo. This story was not subject to the approval of Major League Baseball or its clubs.