Strasburg's health a concern after loss to Braves
Johnson says righty, who battled for six innings, has forearm tightness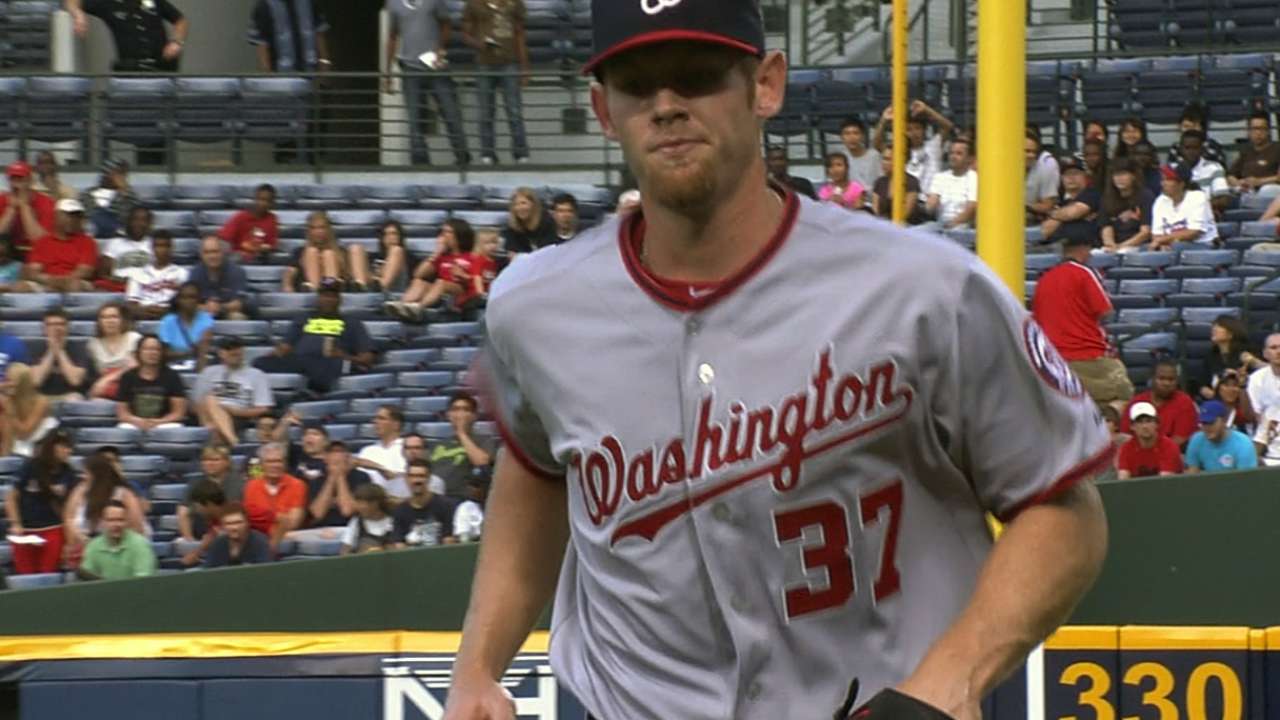 ATLANTA -- Monday night was uncomfortable for the Nationals.
Starter Stephen Strasburg pretty much looked and pitched that way his entire six innings.
Manager Davey Johnson looked and spoke that way afterward about the game, a 3-2 Washington loss, and his ace.
"He always has a tendency to shake his right arm, and him being wild, he doesn't look right to me," said Johnson. "He's still throwing the ball real hard, but I told him when I went out in the sixth, 'Get them out this inning, we'll get you out of there and we'll get you a win.'
"I think he was in there with the doctor, he's got a little tightness, I think, in his forearm," Johnson continued. "So they're going to put him on some medication. That was a bad thing in the game. He was throwing good but his command was way off, so I knew something was off on him."
For Strasburg, struggling at Turner Field isn't new, as he's allowed 12 earned runs in 20 1/3 innings, a 5.37 ERA, his second-highest mark at any ballpark. He allowed only two earned runs over six innings Monday night.
From the first inning, Strasburg -- who said afterward that he felt fine, physically -- struggled. He recognized it right away.
"I smoked the umpire in the first AB. You don't want to go out there and do that," he said about a 3-2 pitch to Atlanta leadoff hitter Jordan Schafer, who would walk and score. "I was pulling the ball. I can't really say why I'm having a tough time right now in the first inning, but I am. I just have to keep grinding and figure it out."
Strasburg did that, as he navigated through minefields in just about every inning, allowing the leadoff man to reach in five of the first six innings, three times putting him on via walk. But he only allowed the Braves to score in one inning after the first, throwing 93 pitches, 53 for strikes, and ending the sixth with a strikeout of B.J. Upton on a 97-mph fastball.
The Braves certainly didn't feel they got the better of Strasburg, who is now winless in five straight starts despite allowing three-or-fewer runs four times.
"With a pitcher with the kind of stuff he has, you want to get his pitch count up as quick as possible and get him out of there," said Braves second baseman Dan Uggla, who was 2-for-3 vs. Strasburg and is hitting .478 career against him. "He still went six innings. But we were able to run his pitch count up a little bit and run a couple [runs] across."
Strasburg's teammates noticed his command was off, but also his grit in fighting through.
"I think he pitched well," said catcher Kurt Suzuki. "Command probably wasn't where he'd like. He was able to get out of a couple of jams, but it was a tough one. His fastball command wasn't where he would want it but, overall, the results were pretty good."
"I don't think he ever really settled in and was totally comfortable, and he still threw a great ballgame," agreed first baseman Adam LaRoche. "Without his best stuff, without his best command, he had to grind through it and got us out of some jams."
Unfortunately for Washington, Atlanta pitcher Julio Teheran was as stubborn.
Just like the first time Washington saw Teheran -- when they knocked him around for four earned runs and six hits in the first two innings but couldn't put him away and eventually lost in extra innings -- the Nationals pounded out 10 hits off Teheran on Monday. But they could only plate two runs and were again unable to put him away, eventually losing late.
Tyler Clippard (1-1) took the loss, allowing the go-ahead run in the seventh, on a walk, a single and a sacrifice fly. Jordan Walden (1-0) got the win for Atlanta.
"We missed a lot of opportunities," said Johnson. "And 'Clip' leading off the inning with a walk, that's about the kiss of death there. Tough ballgame. We'll get 'em tomorrow."
With the loss, Washington, which plays its next six games and 21 of the next 31 on the road, fell to 4-6 away from home.
Every Washington position player had at least one hit as the Nats outhit the Braves, 10-7, with Chad Tracy, getting a rare start at third, and shortstop Ian Desmond each getting two. But the Nats were 2-for-9 with runners in scoring position, as only Tracy and Suzuki could deliver, each getting a second-inning RBI single.
The offense also may not have come out of Monday unscathed. Right fielder Jayson Werth, the team's second-leading home run hitter and run producer, injured his groin. He came up in the eighth inning but told Johnson that he would be unable to get around the bases.
"He had a tight groin going up," said Johnson. "He said, 'Maybe I can hit one out, but if I get on, you'll have to run for me.'"
As if to reinforce that he wasn't going to do any running, Werth fouled a 2-1 pitch off his left shin. He'd strike out swinging two pitches later.
Johnson said he expected Werth to get a couple of days off to rest.
A defiant Strasburg declared afterward that he, too, expected to take a couple of days off -- four to be exact.
"I'm not missing my next start. I'll tell you right now," he said.
Jon Cooper is a contributor to MLB.com. This story was not subject to the approval of Major League Baseball or its clubs.