Simmons' sac fly pushes Braves past Nats
Atlanta wins fourth straight over Washington by taking series opener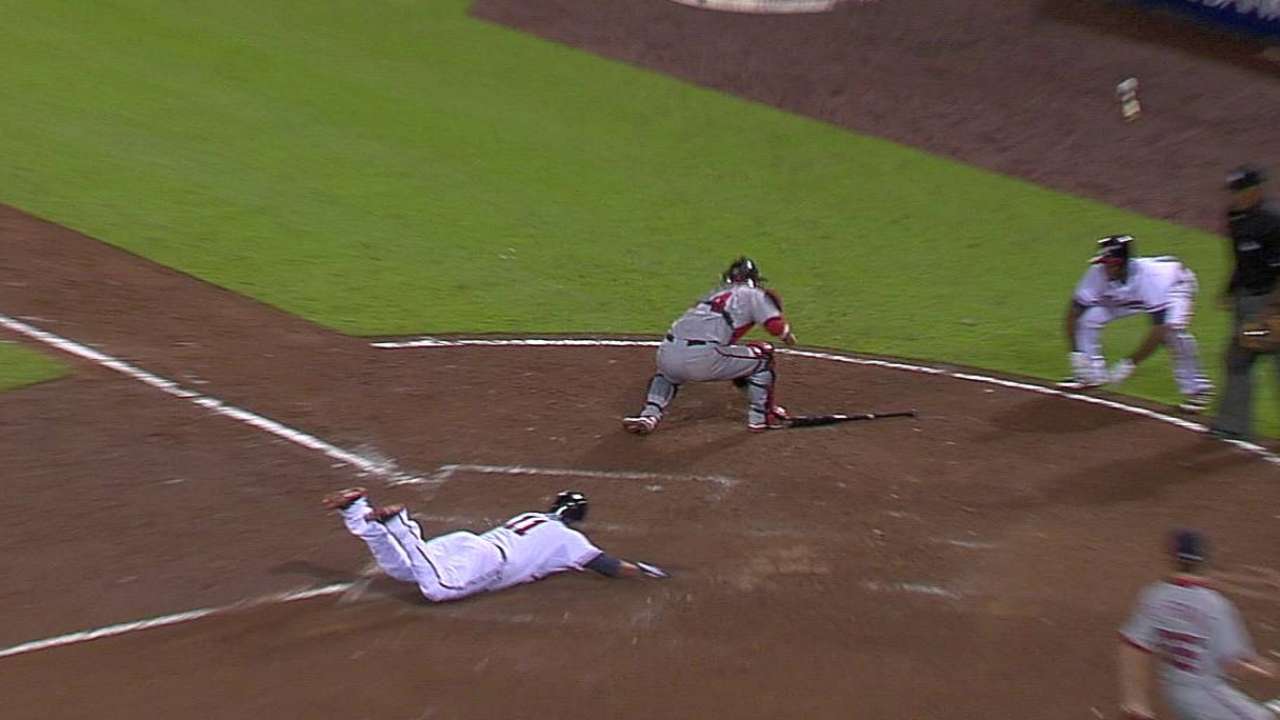 ATLANTA -- If there were any lingering effects of their just-completed and disappointing road trip, the Braves did not show them while extending their early-season mastery of the Nationals and proving that their offense is indeed capable of playing small ball.
Andrelton Simmons' seventh-inning sacrifice fly proved decisive for the Braves as they snapped a four-game losing streak and remained perfect against the Nationals with Monday night's 3-2 win at Turner Field.
"It's nice to play them and get a win," Braves outfielder Jordan Schafer said. "Any time we play them, obviously, it's a big game. It's early. But it's a big game."
Positioned in the leadoff spot for the second consecutive night, Schafer drew walks to begin three separate innings against Stephen Strasburg and delivered a key seventh-inning single that moved Gerald Laird to third base and in position to race home on Simmons' go-ahead sacrifice fly off Tyler Clippard.
Laird, who reached on one of the four leadoff walks issued by Nationals pitchers, slid head-first across the plate in uncontested fashion when Jayson Werth's throw from right field sailed wide of the plate. The run proved sufficient for the Braves, who had lost each of the previous eight games in which they had not hit a home run.
Braves starting pitcher Julio Teheran constructed the most encouraging outing of his young career as he displayed a more lively fastball and limited the Nationals to two runs despite allowing 10 hits in 5 1/3 innings. The 22-year-old pitcher also produced his team's only extra-base hit with an opposite-field double to begin the bottom of the fifth.
"It was definitely nice to come out kind of refreshed, be at home and get a win tonight," Braves second baseman Dan Uggla said after extending his success against Strasburg with a pair of singles, including one in the fourth inning that put Freddie Freeman in position to score on Laird's two-out, game-tying single.
While losing seven of the last nine games of a 10-game road trip that concluded in Detroit late Sunday night, the Braves proved inconsistent on offense and saw their dependable pitching staff struggle. But the frustration built during this stretch was erased as they celebrated their return home by improving to 4-0 against the Nationals this year.
Craig Kimbrel worked a perfect ninth to seal the win in what was his first appearance since suffering his first blown save in last Wedneday's crushing loss to the Rockies. Kimbrel, Eric O'Flaherty and Jordan Walden combined to retire the final 11 batters the Nationals sent to the plate.
Walden displayed a dazzling changeup that allowed him to record three strikeouts in his perfect 1 2/3 innings.
"Walden was spectacular tonight," Kimbrel said. "Hitters were looking at him like they didn't know he had [the changeup]."
Along with losing a fourth consecutive game against their division rivals, the Nationals exited this one-run loss with some concern about Strasburg, who, according to manager Davey Johnson, was experiencing some tightness in his right forearm.
"A lot of time he's shaking his elbow to stay loose," Johnson said. "But this was more frequently. That coupled with the ball going everywhere, that's why I cut him a little short."
Strasburg said he was feeling fine from a physical perspective. But the hard-throwing right-hander was certainly frustrated after issuing three leadoff walks and allowing the first batter he faced in each of the first five innings to reach safely.
Strasburg is 3-4 with a respectable 3.51 ERA in nine career starts against the Braves. He has not completed more than six innings in any of his past five starts against Atlanta.
"We've had some good approaches against him the last two or three years," Braves manager Fredi Gonzalez said. "Maybe it's just a byproduct that we get to see him six times a year and guys get to know him a little bit."
The Braves grabbed an early lead when Schafer drew a walk to begin the bottom of the first inning and then stole second base. This put him in position to score on Justin Upton's RBI single.
"We put some good at-bats on [Strasburg]," Schafer said. "Obviously, he has really good stuff. Every time he goes out, it's a challenge. You're going to go out there and battle and put the best at-bats you can on him. We put enough on him to squeak one out tonight."
Teheran surrendered 10 hits, including eight singles through the first four innings. But the only runs the Nationals produced during this span came courtesy of the four consecutive singles he surrendered to begin the second inning.
After Suzuki gave the Nationals a 2-1 lead with his RBI single, the second-inning threat was minimized when Laird caught Tracy straying too far off second base on the back end of a Strasburg strikeout.
"[Teheran] gave us an opportunity to win a ballgame," Gonzalez said. "They had some opportunities to put a big number on him, and we didn't let it happen."
Mark Bowman is a reporter for MLB.com. This story was not subject to the approval of Major League Baseball or its clubs.