Melancon grabs key role in Bucs bullpen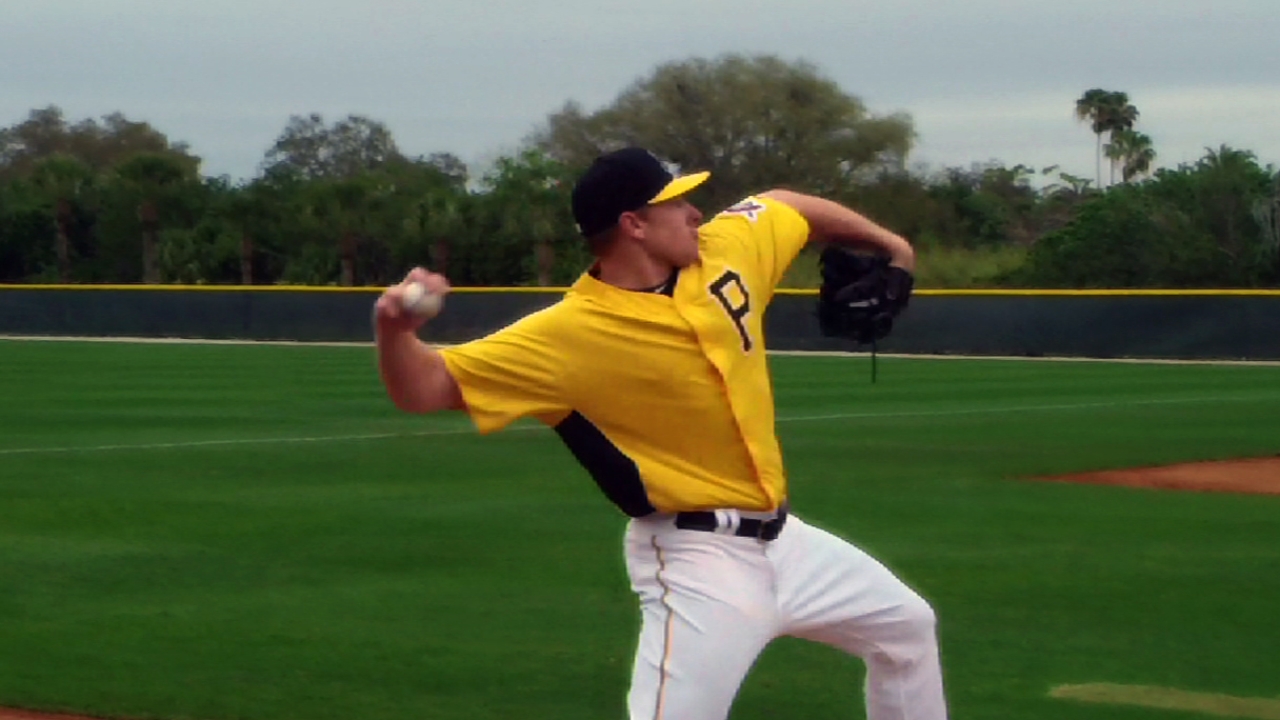 Any time a player gets traded, earning the respect of his new teammates and making immediate contributions are at the top of his "to-do" list.
Mark Melancon can now put a big check mark in front of both of those items.
The 28-year-old right-hander -- who was acquired from the Boston Red Sox last December -- has quickly become a key member of the Pirates' bullpen, turning in excellent work as the eighth-inning setup man for closer Jason Grilli. In his first 13 appearances, Melancon compiled a 0.69 ERA by allowing only one run in 13 innings while striking out 11 batters and walking just one.
"There are a lot of different emotions that go into coming over to a new team, and to step in and do well is always great," Melancon said. "You do win over some guys' trust. But it's always gratifying to have success and feel like you're contributing because it's what you've been working to do your whole life. It doesn't matter if it's your first time with the team or not, it's always fun to do well."
Grilli, who successfully converted his first nine save opportunities and vaulted into the National League lead in that department, is impressed with the results that Melancon has been getting as well as the type of pitches he takes to the mound.
"Mark has a great arm," Grilli said. "Right out of bed, he's got a devastating curveball and plus-stuff. Playing catch with him sometimes isn't fun, but it's awesome to have somebody beside you that you know confidently can go out there and do the job that's asked of him."
"Mark has a low- to mid-90s cutter, and when you see that in baseball, you usually see guys breaking a lot of bats," Pirates reliever Jared Hughes added. "Plus he's got 12-to-6 curveball. When you look at our movement meter [on the auxiliary scoreboards down the lines at PNC Park], that thing is the real deal. So he really has plus-plus stuff."
Melancon established himself as a top-notch performer in 2011, when he went 8-4 with 20 saves and a 2.78 ERA in 71 games for the Houston Astros. Last year, he had a 6.20 ERA in 41 appearances with the Red Sox -- and even some spent time at Triple-A Pawtucket -- but he found success again after the All-Star break.
"In 2011, I was consistent all the way through the season. That's why that stands out," Melancon said. "There was kind of a learning thing that I went through last year, but during the second half, I was pitching as well as I ever have. I wanted to use that going forward and bring that into this year.
"This isn't a surprise. It's what I expect from myself. It's always your goal to do well, and you expect to do well. It's what you've worked so hard to achieve."
Melancon and Grilli are still getting to know each other, but there's a ton of mutual respect brewing.
"Jason has been throwing great and he's got a lot of experience," said Melancon, who is much more low-key than Grilli. "He has a lot to offer, and obviously he's good at what he does. He's also a great guy. He's always got me laughing out in the bullpen. I think I laugh right up until about the seventh inning."
So what does Grilli say and do to make Melancon laugh so much?
"You know what? Mark might seem quiet to a lot of people, but he's as goofy -- if not goofier -- than me," the closer said. "In the short period of time that we've been together, we've built a relationship. He's a likeable guy and it's easy to have fun with him.
"Even if I throw out a stupid joke, he's laughing. Whether it's at me or with me, I don't know, but he still laughs. So I appreciate that. We're still trying to figure each other out a little bit. But all laughing aside, we respect the heck out of each other."
Jim Lachimia is a contributor to MLB.com. This story was not subject to the approval of Major League Baseball or its clubs.