Does AL or NL get an edge in Interleague Play?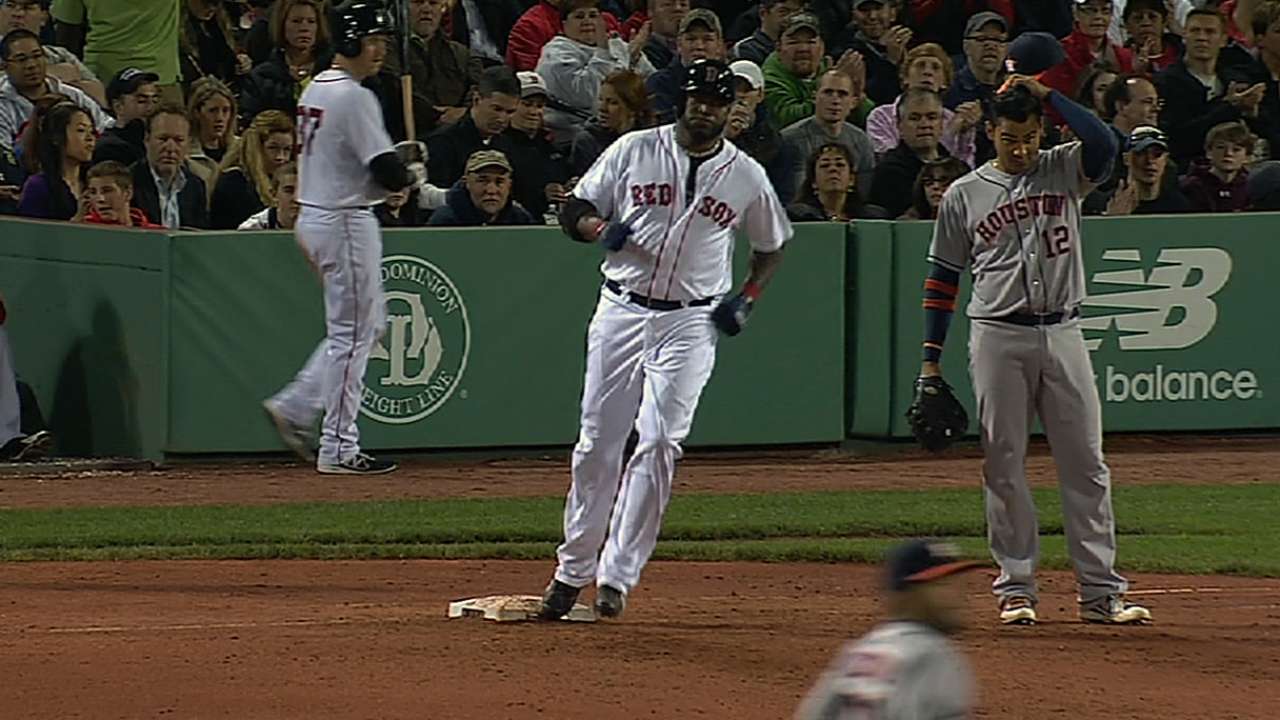 The debate will likely rage on even long after the day comes when both leagues are abiding by the same set of rules regarding the designated hitter -- assuming that day ever arrives.
At the core of the debate, however, are two separate integral arguments.
The first, and most obvious, is whether or not it makes sense to have National League skippers managing one style of game and American League skippers managing what seems to be an entirely different style of game within the same sport.
The other argument is whether a team from one league has an advantage over one from the other when it comes to Interleague Play.
It'd be easy to say AL teams have an advantage during home Interleague games because they have an actual starting designated hitter under contract, whereas NL clubs are typically plugging in a bench player to fill their DH spot. On the other hand, NL pitchers are accustomed to making multiple plate appearances in each of their outings, seemingly giving them the upper-hand over their AL counterparts when it comes to bat control and plate discipline.
"I think it works both ways," Cubs manager Dale Sveum said earlier this month. "We go to an American League park and have to use a DH, but we didn't build our team with a DH. They pay people a lot of money to DH. That's part of their game. We're fortunate because our pitchers can swing the bat pretty good and that's an advantage to us."
Just how much of an advantage has it been though through the first 28 days of the first season of daily Interleague Play? Well so far this year, not much.
In fact, through the first 13 Interleague games played at National League parks, pitchers in each league are an identical 3-for-24 (.125) at the plate and the only hurler in either league to draw a walk is the Rangers' Derek Holland, a career American Leaguer. NL pitchers have, however, laid down two more successful sacrifices than have AL pitchers.
Since this is such a small sample size, it's worth taking a look at the past two full seasons as well. In 2012, NL pitchers hammered out a distinct advantage, hitting .190 (43-for-226) during Interleague Play compared to the AL's .120 (33-for-274) average. In 2011, though, the AL (.116) actually outhit NL pitchers (.105).
The separation has been much more glaring when it comes to the performance of designated hitters in Interleague games played at American League ballparks this season.
Entering play Monday -- there had been 13 Interleague games played in AL ballparks -- American League DHs were hitting .340 (17-for-50) with two home runs and 12 RBIs. The DHs on NL squads had combined to hit .216 (11-for-51) with five RBIs and had yet to homer.
In 2012, AL DHs hit .253 with 18 homers during Interleague Play, compared to a .234 average and 16 long balls hit by NL designated hitters. That's not much of a difference, but as Sveum noted, AL teams employ players specifically for the DH role.
Take Detroit's Victor Martinez, currently in the midst of a four-year, $40 million deal. After missing all of last season with a torn ACL, Martinez has served as the Tigers' DH in all but one of his 22 games this season. Even before his injury, Martinez made 112 of his 144 starts in 2011 as a DH.
There are also sluggers like Boston's David Ortiz, who has a two-year, $26 million contract. Big Papi started at least 100 games as a DH every year from 2004-11 and made all but two of his 83 starts in an injury-shortened 2012 campaign as Boston's DH.
For legendary broadcaster Charley Steiner, who previously worked in the Yankees' broadcasting booth and currently calls Dodgers games on the radio, it's situations like those that make him question the existence of the DH in the first place.
"I think they should eliminate the DH in the American League. I've never been a fan of the designated hitter," Steiner said. "I just think it's a better game without the DH. There's much more strategy involved. I prefer the strategic elements of the game as opposed to guys poking it over the fence all the time."
NL managers being more accustomed to pinch-hitting for their pitchers earlier in ballgames or executing double switches at the right time is certainly evident during Interleague Play.
Consider that from 2007-12, only 20 times did an NL pitcher make four plate appearances during an Interleague game before being pulled. During that same stretch, a whopping 66 AL pitchers strode to the plate on four occasions in the same game. Making that more surprising is the fact that the AL teams had their usual starting DH at their disposal to pinch-hit in those contests.
"As far as managing, of course, with the American League with the DH, it eliminates so much strategy," Marlins manager Mike Redmond said. "You really just sit there and try to figure out when you are going to take your pitchers in and out. In the National League, there is so much going on all the time."
As the season progresses and NL skippers fill out some of their lineup cards with DHs and AL pitchers take their hacks in NL ballparks, the debate will only grow more intense. Instead of focusing on whether one league should adopt the same rules as the other, however, keep an eye on whether or not one league truly benefits from Interleague competition.
Entering play Monday, the results to this point were unclear. The AL had racked up an 8-5 record in 13 games played under their rules, while NL teams held an identical record in the 13 games played by theirs.
Paul Casella is a reporter for MLB.com. Follow him on Twitter @paul_casella. This story was not subject to the approval of Major League Baseball or its clubs.