Three homers back Fister as Tigers sweep Braves
Jackson, Infante, Miggy go deep; righty works seven solid innings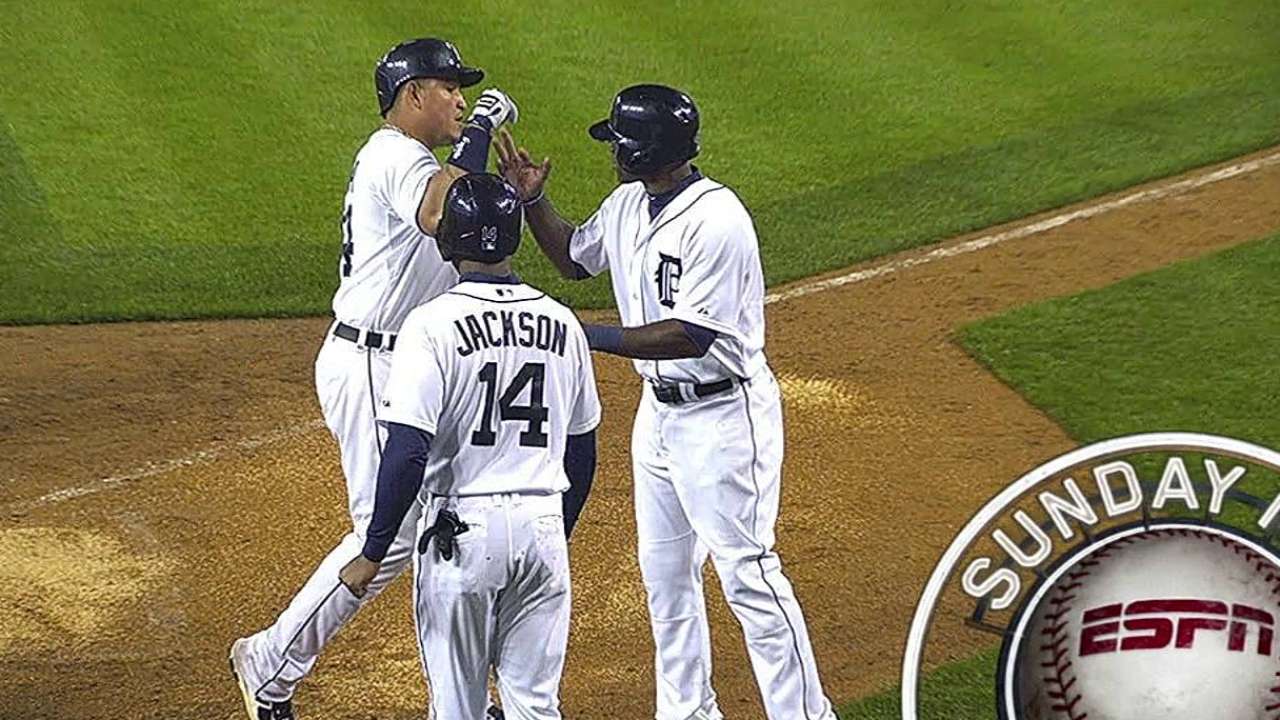 DETROIT -- The weather was miserable Sunday night, like somebody threw a mister over Comerica Park. The crowd didn't seem to care. The Tigers clearly didn't. When they're playing like this against a good team, not even April showers can drown their power.
With seven quality innings from Doug Fister, three-run home runs from Austin Jackson and Miguel Cabrera and an Omar Infante solo shot fueling an 8-3 win, the Tigers completed the weekend dismantling of a Braves team that came to town with the best record in the Majors.
In the process, Detroit seemingly provided a reminder why this is still one of the most dangerous teams in the big leagues, despite the .500 record they carried into the series.
"We're here to win games," said Cabrera, whose line drive into the right-field seats on a 3-0 pitch seemingly encapsulated the series. "We're not here to sweep people. That's nice if we can three games, but we're here to play hard every day, make something happen. We need to keep balanced, play consistent."
They won't play consistently like this. It helps when they play like it against this caliber of team.
They outscored Atlanta by a 25-7 margin over the three-game sweep, their first in Interleague Play since winning six in a row against the Pirates and Nationals in 2010. Those sweeps used to be a summer ritual for the Tigers, who seemingly owned the Senior Circuit from 2006-09 before finding tougher opposition from the NL the last few years.
They don't get much tougher these days than the Braves, who saw their offense that still leads the big leagues in home runs all but shut down in Motown as they wrapped up an 10-game road trip. Justin Upton's solo homer off Joaquin Benoit in the eighth inning Saturday marked the only time Atlanta hitters sent one out.
"That's an awfully powerful team," manager Jim Leyland said. "We knew coming in that they let it fly. They're really aggressive. It's the most aggressive team I've seen. And sometimes that bites you, but for the most part, they're going to score runs because they're going to hit two- and three-run homers."
They barely found the outfield against Anibal Sanchez in the series opener, and they hit into nine ground-ball outs Saturday afternoon against Rick Porcello. On Sunday night, they took as many Fister hit-by-pitches as they took extra-base hits, two apiece.
In place of homers came strikeouts, 39 of them over 27 innings. Eight came from Fister, who fanned five of Atlanta's first seven hitters as they chased curveballs off the plate.
He followed the blueprint that Sanchez and Porcello did before him, keeping the ball down in the strike zone early, working ahead in the count and then expanding the strike zone to exploit the other category Atlanta's hitters lead, strikeouts.
"They've got a great lineup of very aggressive hitters, and I think they use that to their advantage," Fister (4-0) said. "That's something, watching Ricky yesterday, he threw well. It's one of those things I can pick up something from him, and that's one of the things that I did, being able to expand the strike zone. Anibal did that very well the other day.
"They made some adjustments on me, so it's a constant cat-and-mouse game, but luckily we made the right adjustments to them."
All this came without a start from Justin Verlander or Max Scherzer. The Tigers hadn't swept a series without a start from one of them since 2009, the year before they traded for Scherzer.
What the Braves wanted to do with Tigers pitching, Detroit's lineup did to Atlanta's stingy starters. Just as Detroit pummeled previously stingy Paul Maholm for eight runs over 3 2/3 innings, they put up more runs on Mike Minor than he had given up in his four previous starts this season combined.
The Tigers outhomered Atlanta by a 6-1 margin. Half of them came against Minor, who hadn't suffered a multihomer game since last June 24. Detroit's game plan was the same as it was against Maholm, making them elevate pitches.
It was a point Cabrera said they made in the hitters' meeting going into the series.
"I think Prince [Fielder] brought up a good point when we had a meeting, like what's the plan with this guy," Cabrera said. "Everybody agreed we have to get this guy up, try to get deep in the count and try to make them make a mistake. If they make a mistake, we have a good chance to hit it."
Jackson got one and hit it about as far as he hit a ball in his career, a no-doubt drive to left-center field for a three-run homer in the third inning to open the scoring.
Chris Johnson's RBI double and an Evan Gattis RBI single fueled the fourth-inning rally that tied the game and gave Minor a fresh start before he paid for a leadoff double to Cabrera in the sixth. Within two pitches, the Tigers had him home with a Fielder groundout to the right side and a Victor Martinez sacrifice fly to center field.
Minor (3-2) entered the night with five runs allowed over his first four starts. Omar Infante's second homer of the series began a two-out insurance rally in the seventh before Cabrera's third home run of the season capped it, leaving Minor with six runs on six hits over 6 2/3 innings.
Cabrera's line drive into the right-field seats came on a get-me-over 3-0 pitch from Cory Gearrin. It's the type of aggressiveness Leyland has tried to encourage Cabrera to show on 3-0 counts over the last few years by giving him a green light to swing.
His only other home run on a 3-0 pitch came off Minnesota's Anthony Swarzak in 2009.
"He didn't try to do too much with that pitch," Leyland said. "He hit it the other way, and not many guys can do what he did with that pitch."
Jason Beck is a reporter for MLB.com. Read Beck's Blog and follow him on Twitter @beckjason. This story was not subject to the approval of Major League Baseball or its clubs.