Braves close tough road trip with loss to Tigers
After starting season strong, Atlanta goes 3-7 during three-city tour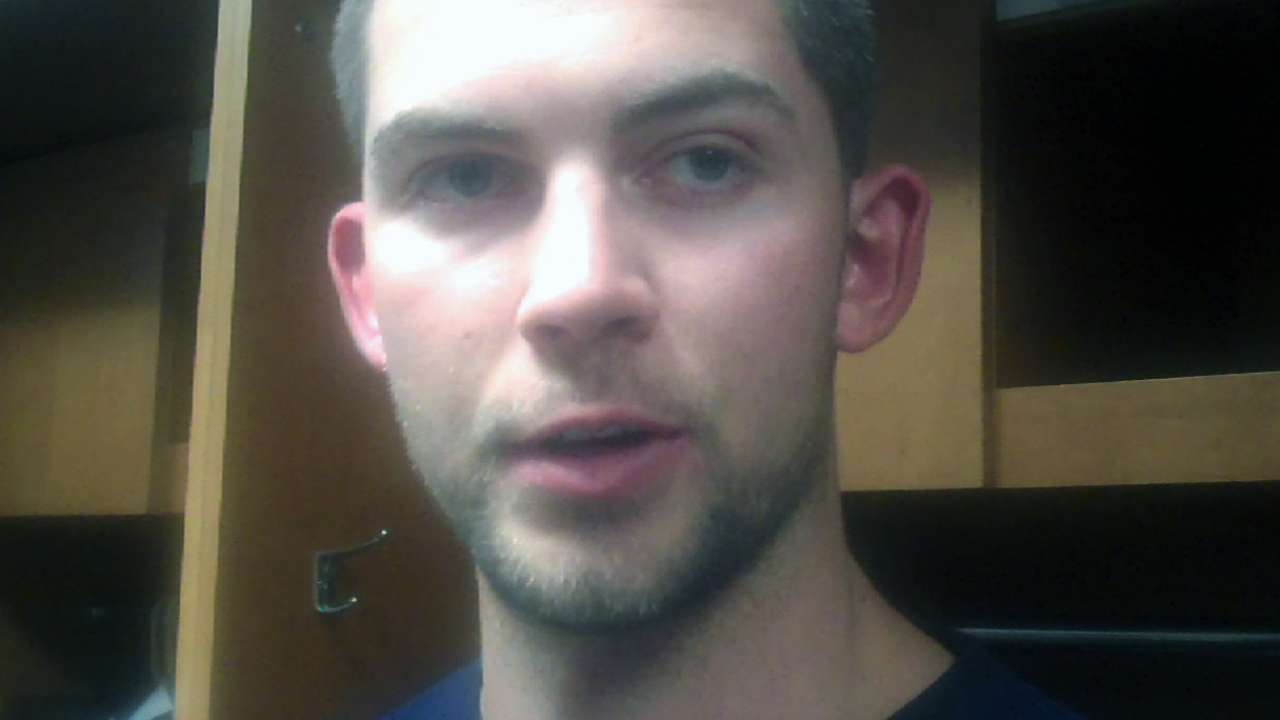 DETROIT -- When the Braves left Atlanta on April 17, they had won 12 of their first 14 games and established themselves as baseball's hottest team. As they spent the past 11 days in Pittsburgh, Denver and Detroit, their bodies were not the only things that became cold.
A miserable 10-game road trip came to a close on Sunday night as Mike Minor fell victim to Detroit's potent offense and the Braves' bats again remained relatively silent in an 8-3 loss to the Tigers.
"It was a tough road trip," Braves second baseman Dan Uggla said. "You could tell it wore on us -- the weather, the travel, the doubleheader, the days off. Everything I think caught up to us here. I'm not taking anything away from [the Tigers]. They really swung the bats great and got great pitching all three days."
The Braves opened this three-city trip with a win in Pittsburgh and then lost seven of the final nine games. Their only wins during this span came during Tuesday's doubleheader sweep over the Rockies. So after losing just two of their previous 14 games, they have now claimed victories on just two of the past 11 days.
"I think over the course of 162 games you're going to go through road trips like this," Braves manager Fredi Gonzalez said after his club concluded this 3-7 trip by being swept for the first time this year.
With the Nationals coming to Atlanta to begin a four-game series on Monday, the Braves will have to hope a return home will rejuvenate their offense, which hit .217 with seven home runs and 96 strikeouts during the final nine games of the trip. Six of those home runs came during Tuesday's doubleheader sweep.
"That's an awfully powerful team," Tigers manager Jim Leyland said. "We knew coming in that they let it fly. They're really aggressive. It's the most aggressive team I've seen. And sometimes that bites you, but for the most part, they're going to score runs because they're going to hit two- and three-run homers."
But offense was not the only problem over the course of the past week. The Braves' pitching staff entered the trip with a 1.92 ERA and exited it with a 3.29 mark. Most of that damage was created by the Tigers, who tallied at least five earned runs against each of the three starting pitchers they faced in this series.
Braves starting pitchers had allowed more than four earned runs in just two of the 21 games played before coming to Detroit.
"That's a pretty good lineup," Gonzalez said. "We gave them some outs. We gave them some opportunities to score, and they took advantage."
While allowing the Tigers six earned runs and six hits in 6 2/3 innings, Minor surrendered two home runs in a game for the first time since June 24. The southpaw had not allowed more than four earned runs in the process of compiling a 2.12 ERA in his previous 19 starts dating back to July 5.
Minor retired the first seven batters he faced and then issued a five-pitch walk to Brayan Pena. Omar Infante followed with a single and then jogged home when Austin Jackson drilled a 1-1 changeup over the left-center-field wall to account for the game's first three runs.
Miguel Cabrera doubled to begin the bottom of the sixth and scored on Victor Martinez' go-ahead sacrifice fly. Minor's attempt to keep the deficit at one run was erased when he allowed a two-out solo home run in the seventh inning to Infante, who notched his first two homers of the season during the final two games of this series against his former club.
After Minor walked Jackson to end his night, Cabrera provided a crushing blow by capping a four-run seventh with a three-run home run off Cory Gearrin, who had not allowed a run in his previous 12 1/3 innings this season.
"I thought the hitters did a good job with [Doug] Fister tonight," Minor said. "He was throwing the ball well and they still managed to put some runs on the board and quite a few hits. It was my job to hold them and I didn't."
Fister struck out five of the first six batters he faced and exited the third inning having only allowed Tyler Pastornicky's one-out single in the first inning. But the right-hander's fortunes turned as the Braves manufactured three hits and took advantage of their opportunities in the game-tying, three-run fourth inning.
Chris Johnson's check-swing, opposite-field double scored Justin Upton and put Freddie Freeman in position to jog home when Evan Gattis sneaked a ground ball through the infield's right side. Infante's errant throw to first base on Uggla's potential inning-ending, double-play grounder tied the game for the Braves, who batted just .197 with runners in scoring position during the trip.
The fourth-inning production accounted for all of the runs tallied by the Braves, who scored in just two of the 27 innings during this three-game series. That did not appear to be a potential development when they left Atlanta having scored at least six runs in half of their first 14 games.
"It doesn't matter how good your lineup is," Uggla said. "Everybody is going to have their ups and downs. When they're hot, they're going to cool off a little bit. Right now, we've just kind of hit a little cold spell."
Mark Bowman is a reporter for MLB.com. This story was not subject to the approval of Major League Baseball or its clubs.