Aviles' five RBIs help propel Tribe in nightcap
Kluber solid, allowing just two runs over seven innings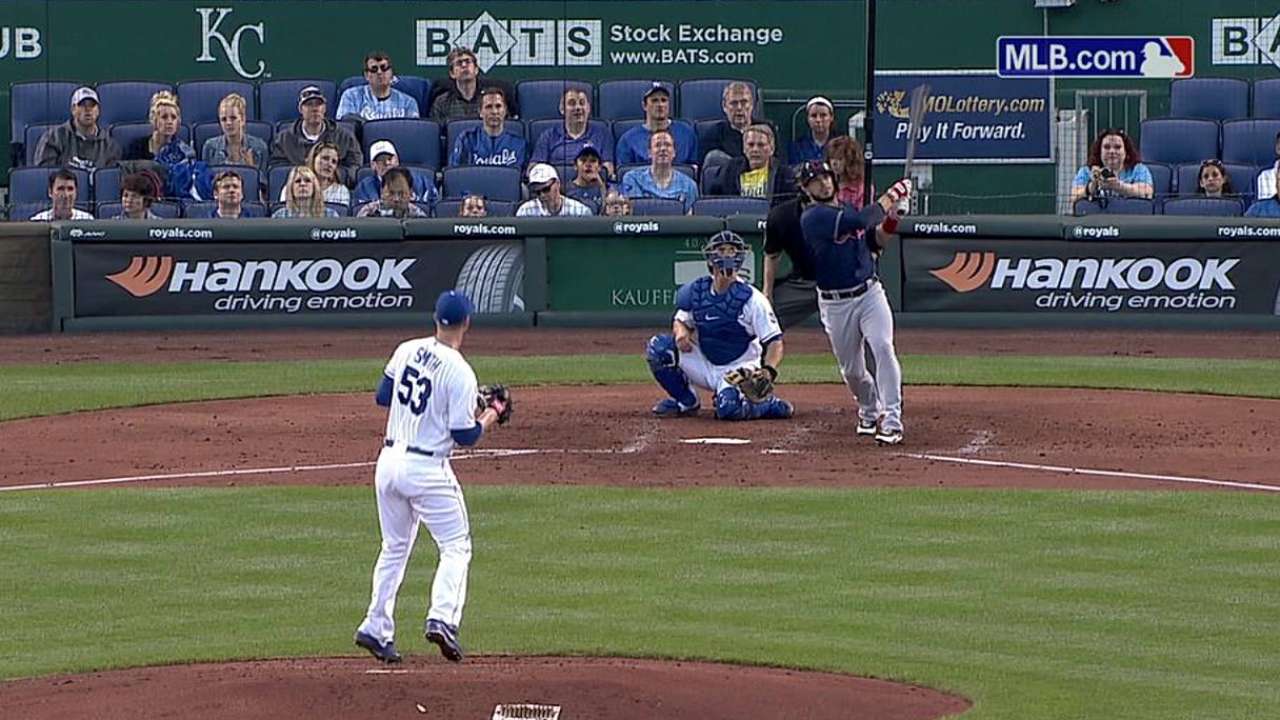 KANSAS CITY -- It was one of the Indians' first moves of the offseason and it mostly flew under the radar. In an early November swap, Cleveland reeled in infielder Mike Aviles and catcher Yan Gomes from the Blue Jays in exchange for reliever Esmil Rogers.
On Sunday night, Aviles and Gomes both played a key role in leading the Indians to a 10-3 rout of the Royals in the nightcap of a doubleheader at Kauffman Stadium. Aviles knocked in a career-best five runs and Gomes tripled, scored and helped guide starter Corey Kluber to a quality start and a win.
At the time of the trade, Indians manager Terry Francona was ecstatic about the deal.
"I was thrilled," Francona said. "Mike Aviles, you play a guy that's not maybe your everyday player, and he kind of carries the offense. That's a nice guy to have. His energy, he's always like that. You can put him anywhere in the infield, and he can hit the ball out of the ballpark."
After being shut out by Kansas City in a 9-0 loss in the first game of the twin bill, the offensive fireworks in the second tilt allowed the Tribe to let out a sigh of relief. The 10 runs scored by Cleveland in Game 2 were as many as the club had scored in the previous 42 innings combined heading into the contest.
The Indians churned out 14 hits, put the leadoff man aboard in six of nine innings and ended the evening 4-for-9 with runners in scoring position. It was a drastic turnaround from Game 1, which marked the 14th time in 22 games this season that the Indians scored three runs or fewer.
"It was definitely, definitely good," Aviles said. "Things haven't been going the way we wanted them lately, and everybody knows that. But, at the end of the day, it's still early in the season. It's always good when you're able to respond after the first game. We lost 9-0 and [the Royals] have been pitching well."
Aviles, who started at second base in place of Jason Kipnis, broke things open for the Indians in the third inning, when he drilled a 2-0 offering from Royals starter Will Smith deep to left field for a three-run home run. Aviles also had an RBI groundout in the first inning and an RBI sacrifice fly in a two-run seventh.
It seemed fitting that Aviles' big night came against the Royals. In 2003, when Kansas City selected Aviles in the seventh round of the First-Year Player Draft, the ballclub gave him a paltry signing bonus of $1,000. A decade later, Aviles is playing under a two-year contract that he signed over the winter with the rival Indians.
Aviles shrugged off the personal connection.
"In all honesty, it's not that big of a significance," Aviles said. "But it was fun. It's always fun to come back and play here. At least I can always say that I [set a career high] here in Kansas City. It's the organization I came up with and I'll always have a soft spot in my heart for Kansas City. It's a great place. It's a great town."
Smith -- in his first start of the season for Kansas City -- took the loss after giving up six runs (four earned) on seven hits in four-plus innings.
Gomes was promoted from Triple-A Columbus prior to Sunday's doubleheader to fill in for backup catcher Lou Marson, who is on the 15-day disabled list with a right shoulder injury. In the fourth inning, Gomes laced a pitch from Smith to right-center field for a triple and later scored on a sacrifice fly from Drew Stubbs.
Indians shortstop Asdrubal Cabrera contributed an RBI triple and Nick Swisher added a sac fly in the eighth inning. Carlos Santana pitched in with a run-scoring single in Cleveland's two-run showing in the first.
"We got leadoff runners on and then we kind of kept the line moving," Francona said. "And our situational hitting was much better. When you have runners on base, and you make guys throw out of the stretch and things like that, that's a lot easier way to play."
At the onset of their busy offseason, the Indians acquired Aviles and Gomes on Nov. 3 with the goal of strengthening the team's depth at multiple positions. Aviles has bounced around the infield in a utility role and Gomes has performed admirably in two stints as an injury replacement for Marson.
The Indians have been especially pleased with how Gomes has handled the pitching staff.
That was put on display again on Sunday, when Kluber turned in seven strong innings for the Tribe. The right-hander limited the Royals to two runs -- both on a bloop single from Chris Getz in the fourth inning -- on seven hits and ended with six strikeouts and no walks.
"Between Spring Training and the couple times here, I've thrown to Yan a lot," Kluber said. "He does a great job back there. You can see he's watching the hitters, watching their swings and stuff, and trying to get on the same page with you. It's nice."
Francona also liked what he saw from Kluber, especially given that the righty had not pitched since April 20 due to a rainout in Chicago earlier this week.
"He was aggressive, especially in," Francona said. "He was kind of moving guys off the plate and opening up the plate. Considering how much he's been bounced around and things like that, for him to do what he did is very impressive."
Jordan Bastian is a reporter for MLB.com. Read his blog, Major League Bastian, and follow him on Twitter @MLBastian. This story was not subject to the approval of Major League Baseball or its clubs.