Sloppy play, Smith's rocky start sink Royals
Young left-hander allows six runs -- four earned -- over four innings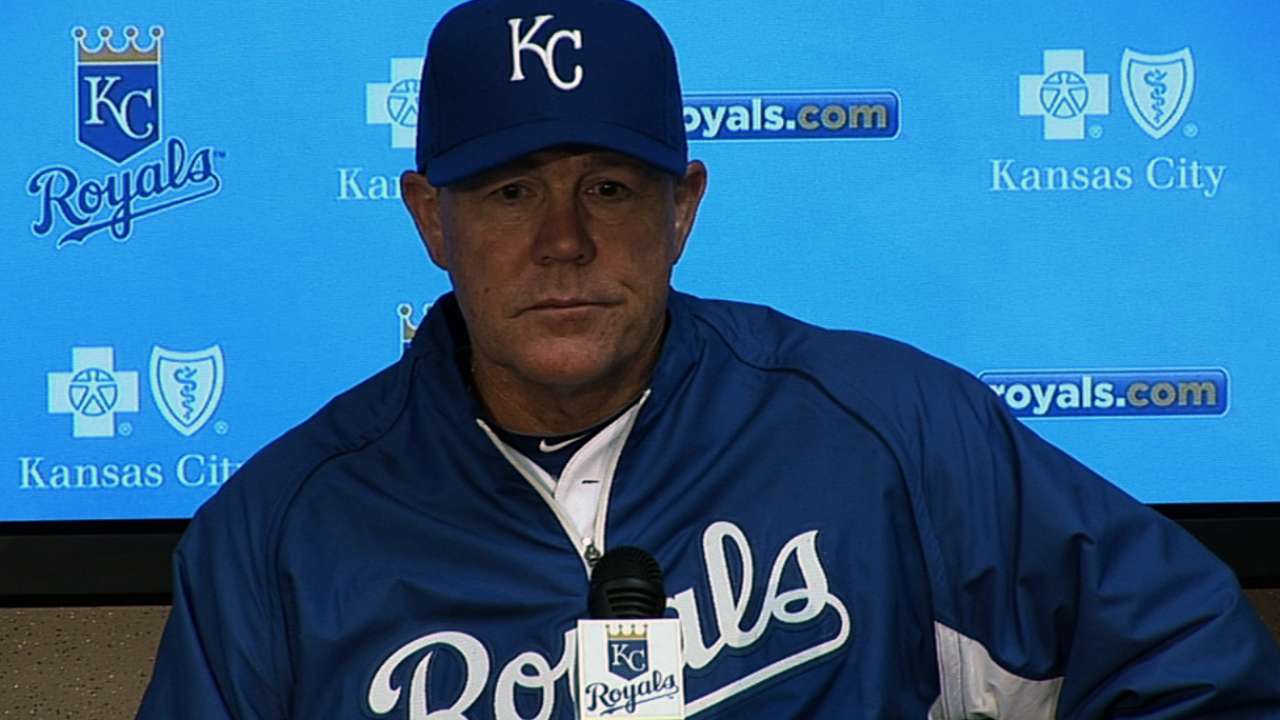 KANSAS CITY -- There was no mistaking Royals manager Ned Yost's review of his team's play in this game.
It was clearly a two thumbs down after a 10-3 loss to the Cleveland Indians on Sunday night in the second game of a split twin bill at Kauffman Stadium. Ex-Royal Mike Aviles knocked in five runs for the Tribe.
"We played crummy, we didn't play good," Yost said. "We didn't play good defensively, we didn't make smart decisions on the basepaths. It happens."
Just like the doubleheader, the Royals' performances were like night and day. The afternoon version was superb, a 9-0 victory. But, oh my, the nocturnal display was dismal.
"We were playing catch-up from the first inning on," Yost said.
Left-hander Will Smith, brought in from Triple-A Omaha to make this start, was in trouble from the get-go. Michael Brantley opened the game with a single and, after an out, third baseman Mike Moustakas booted Nick Swisher's sharp grounder.
That was the first of three Royals errors and led to two unearned runs in the first inning.
"Our mentality is just to get hitters out, so if an error happens, that's baseball," Smith said. "Those are going to happen. You just have to continue to do your job and keep getting outs. I wasn't able to do that tonight."
Aviles hammered a three-run homer off Smith in the third inning after singles by Asdrubal Cabrera and Carlos Santana. It came off one of several fastballs that Smith left up in the strike zone.
"Two-seamer, right down the middle. Bad spot," Smith said.
Aviles, at second base for Cleveland, also knocked in a first-inning run with a fielder's choice grounder and hit a sacrifice fly in the seventh. It was the first five-RBI game of his career.
Aviles, who was traded by Kansas City to Boston in midseason 2011, carried a big stick, but talked softly afterward.
"In all honesty, it's not that big of a significance," Aviles said. "But it was fun. It's always fun to come back and play here. At least I can always say that I had that here in Kansas City. It's the organization I came up with and I'll always have a soft spot in my heart for Kansas City. It's a great place. It's a great town."
In the fourth inning, Yan Gomes belted a Smith fastball for a leadoff triple and scored on Drew Stubbs' sacrifice fly. It was 6-0, Smith had given up seven hits and would be taken out in the next inning.
"I fell behind and got into hitters' counts. Not too many counts in my favor," Smith said. "Fastball counts, I've got to throw fastballs and they've got good hitters up here to hit it."
Left-hander Bruce Chen, who relieved Smith, was touched for two runs in the seventh, but those also were unearned. In the inning, first baseman Eric Hosmer dropped a pop foul and second baseman Chris Getz made a wild throw for errors.
Right-hander J.C. Gutierrez threw the last two innings for the Royals and also gave up two runs. Cabrera got an RBI triple on a long drive that glanced off right fielder Jeff Francoeur's glove and scored on a sacrifice fly.
"Bruce Chen threw very well and I thought Gutierrez threw well, so that's two positives we can take out of that," Yost said.
The Royals were pretty well held in check for seven innings by right-hander Corey Kluber, making his first start this season after rainouts bumped him out of two starting assignments. The only runs against him came in the fourth when Francoeur singled, George Kottaras doubled and both scored on Getz's bloop single to center.
This outing was quite different from Kluber's other appearance in Kansas City. Last Aug. 2, he made his first Major League start in Kansas City and gave up six runs in the first inning. He had no decision as the Royals won in 11 innings, 7-6.
Two of the seven hits off him came by Alcides Escobar, who has a nine-game hitting streak going (15-for-36, .417).
Escobar also walked against reliever Vinnie Pestano to start the Royals' eighth and they loaded the bases with no outs as Billy Butler also walked and Hosmer singled. But when Lorenzo Cain hit a sacrifice fly, Hosmer mistakenly took off for second base and was thrown out for a double play. Then Moustakas flied out and the juicy opportunity fizzled with just one run in.
"Tough ballgame all the way around," Yost said. "We just didn't play well."
Despite the split, the Royals stayed atop the American League Central, holding a half-game lead over Detroit. The Tigers completed an Interleague sweep of Atlanta.
The Royals still have won five of their last seven games.
"You have games like this," Yost said. "The important thing is you forget it and come back tomorrow ready to go."
They'll meet the Indians on Monday night in the series finale.
Dick Kaegel is a reporter for MLB.com. This story was not subject to the approval of Major League Baseball or its clubs.