Backed by Parra, Corbin impresses again in win
Lefty notches third win going six-plus as Parra has two hits, two runs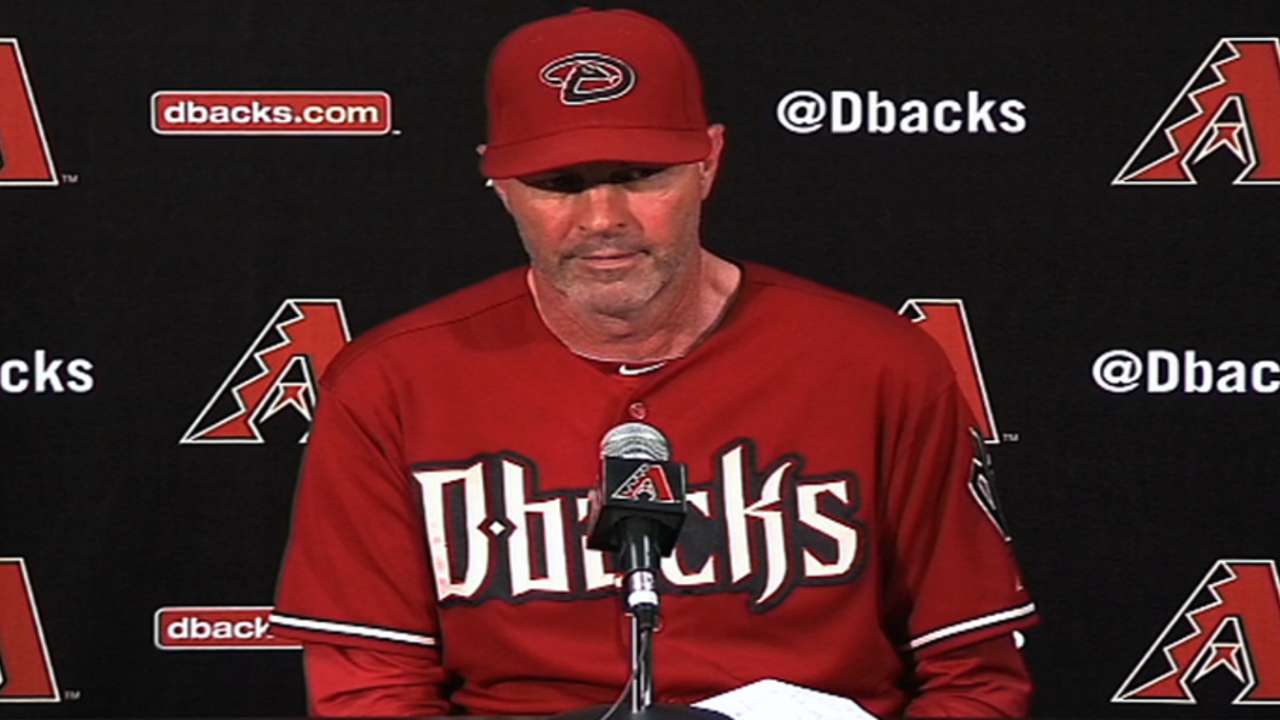 PHOENIX -- A year ago, Wade Miley surprised most everyone when he won the final spot on the D-backs' Opening Day roster and went on to have an All-Star caliber season with 16 wins.
This year, Patrick Corbin turned some heads as well when he beat out top prospects Tyler Skaggs and Randall Delgado for the fifth spot in the club's rotation out of Spring Training.
Through the first month of the 2013 season, Corbin's numbers look a whole lot like what Miley did in 2012, with both pitchers collecting three wins in April and carrying a sub-2.00 ERA into May.
When asked if Corbin could be this season's equivalent to Miley, D-backs manager Kirk Gibson responded: "I hope he wins more games than Miley did last year."
Well, so far so good.
Turning in his fifth consecutive quality start of the year by allowing just two runs over 6 2/3 innings of work, Corbin paced the D-backs to a 4-2 victory over the Rockies on Sunday at Chase Field in front of 24,852 fans.
"He just competes," Gibson said of Corbin. "He understands the tools he possesses and he has utilized them."
The victory, the club's fifth in its last six games and eighth consecutive in series finales, moved Arizona into a tie for first-place in the National League West with the Rockies.
Earning his third win of 2013, Corbin struck out five batters and didn't issue a walk for the first time this season. In each of his five outings to date, the left-hander has pitched at least six innings and hasn't given up more than two runs.
Despite the success on the mound Sunday, Corbin didn't think he had his best stuff, but he managed to record outs anyway.
"I think I made the best of it," he said. "I wasn't as sharp as I have been, so I just wanted to keep us in the game. I think today I left some pitches up. I was just able to keep us in it."
Helping Corbin both offensively and defensively was Gerardo Parra, who scored two runs and collected two hits in extending his career-best hitting streak to 13 games, while making a couple of heads-up plays on the bases and in the outfield with his glove. Although Gibson described Parra's game as, "dominating," Parra didn't want to take too much credit.
"The team was dominating, not me," he said. "We play for the team. I don't play for myself."
Formerly relegated to the fourth outfielder role, Parra has been a force at the top of the D-backs' lineup this season, batting .320 with nine doubles and five RBIs.
"I'm very happy, just playing hard every day no matter what happens," Parra said. "I don't think nothing of last year. I just want to play for today."
Early on Sunday, Corbin escaped trouble in the first inning, allowing three hits, but got out of the frame unscathed when Jason Kubel gunned Troy Tulowitzki out at home plate to end the inning. Tulo was injured on the play, leaving in the third with what was later diagnosed as a left rotator cuff strain.
Kubel, appearing in his first game since coming off the disabled list, led the National League in outfield assists last season with 13.
"He just came in, and that's one of the things he does well," Gibson said. "He has a very accurate arm. It's a hard play to make."
After the D-backs failed to drive home the game's first run when they put a runner on third with one out in the second, a passed ball followed by a wild pitch from Rockies starter Jon Garland with two outs in the third put Arizona ahead, 2-0.
Parra scored the second of those runs on a ball that bounced in the dirt, but only rolled a few feet away from the plate. The 25-year-old made the play happen by taking a huge lead and taking off as soon as the pitch got away.
"He made a good read on that play. They were playing way off the bag, and he got down the line and went immediately," Gibson said. "You try to be aggressive without making outs. We're aware of what guys throw in certain counts and when to be alert to balls in the dirt."
The D-backs tacked on two more runs thanks to RBI hits from Josh Wilson and Cody Ross before the Rockies finally broke through off Corbin in the sixth to cut the lead in half, 4-2.
Corbin left the game in the seventh when the Rockies put two on with two outs, but Matt Reynolds came in and induced Eric Young Jr. into a pop up to end the inning without any damage.
Reynolds, who the D-backs acquired in the offseason from Colorado, has now tossed 12 2/3 scoreless innings over 12 outings to start the season.
Heath Bell and J.J. Putz finished off the Rockies in the final two frames. As a unit, the D-backs bullpen surrendered just two runs over 15 innings in four games against Colorado, following a rough nine-game road trip in which it coughed up five leads.
Tyler Emerick is an associate reporter for MLB.com. This story was not subject to the approval of Major League Baseball or its clubs.