Tulo injured as Rockies' basepath miscues lead to loss
Shortstop thrown out at home as Young tagged out twice going to third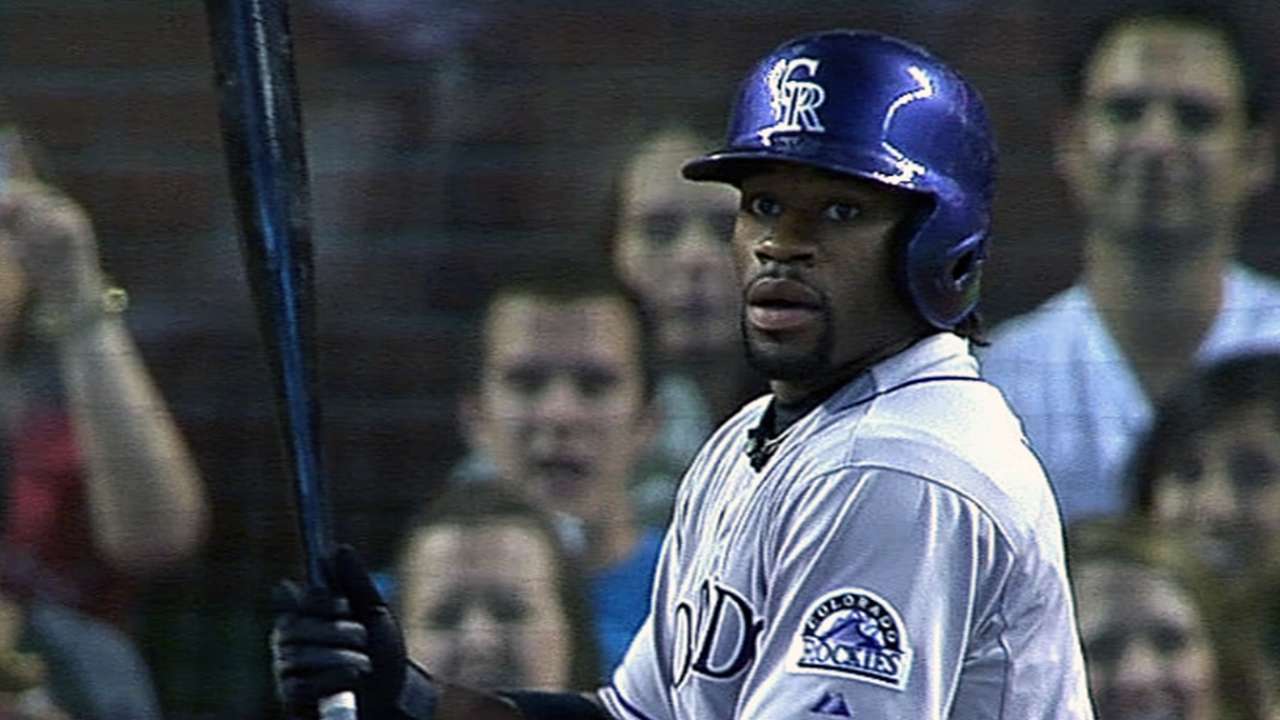 PHOENIX -- For the third time in four games, the Rockies' chance to win evaporated in a cloud of dust on the basepaths.
Eric Young Jr. ran directly into outs after two of his three doubles, and the Rockies lost Troy Tulowitzki to a left shoulder strain on an unsuccessful slide to the plate in a 4-2 loss to the D-backs at Chase Field on Sunday afternoon in front of 24,852.
The Rockies dropped 3-of-4 during the weekend series and will head to Dodger Stadium for a three-game set to continue the road trip. The loss dropped the Rockies into a first-place tie with the D-backs in the National League West. They head to Los Angeles not sure when Tulowitzki -- who was diagnosed with a left rotator cuff strain -- will return. He is considered day-to-day.
In the Rockies' first two losses, Thursday and Saturday, they went a combined 2-for-20 with runners in scoring position. On Sunday, the mishaps belonged to the runners, primarily Young, more than the hitters.
"It's been a big emphasis for us, pushing the tempo offensively and on the bases," Rockies manager Walt Weiss said. "At the same time, we've got to make good baseball decisions. I like the fact we're running the bases aggressively. We've got to find that line about running into outs."
Young opened the game with a double, but ran into an out at third on a bouncer by Tulowitzki. Young was the only runner on base at the time but declined to hold at second.
Later in the inning, Tulowitzki tried to score from second on Michael Cuddyer's single, but Jason Kubel's throw from left field beat him easily. Tulowitzki lost his footing, slid on his left side, then twisted and made contact with D-backs catcher Miguel Montero with his right shoulder. The left shoulder bore the shortstop's weight. Tulowitzki played two defensive innings but didn't bat again before leaving the game.
"You don't ever want to play this game tentative, and I definitely didn't have the most confidence in the world," Tulowitzki said. "I've learned the hard way a couple of times, when you stay out there and injure yourself further, it's not the smartest thing to do.
"Hopefully the best thing to do is tomorrow feel pretty good, see what happens and hopefully be back in there real soon."
Jonathan Herrera replaced Tulowitzki.
After his mishap in the third, Young doubled in the sixth and later beat a throw to the plate on Dexter Fowler's single. Fowler scored on a wild pitch.
The Rockies are using Young as a sparkplug, making him the leadoff man when he starts or using him off the bench as a pinch-hitter and baserunner. He is hitting .314. Weiss doesn't want to ask Young to be more tentative, but the team needs for his impact on the bases to be positive.
"That's part of who he is. ... I don't want him to lose that," Weiss said. "It's a fine line."
The Rockies lost despite a solid start from Jon Garland (2-2), who gave up eight hits and four runs -- three earned and all with two outs -- in six innings. In the third, One run scored when catcher Wilin Rosario missed a pitch for a passed ball, and another scored when Garland bounced a pitch in the dirt.
The D-backs Gerardo Parra went 2-for-4 with a triple. Patrick Corbin held the Rockies to two runs on nine hits in 6 2/3 innings.
"I didn't have my best stuff today, but I think I made the best of it," Corbin said. "I wasn't as sharp as I have been, so I just wanted to keep us in the game. I felt like my fastball was good early but I left it up late."
Rockies third baseman Nolan Arenado, called up from Triple-A Colorado Springs for Sunday's game, went 0-for-3 with a walk during a mini-rally in the ninth. But D-backs closer J.J. Putz struck out slumping Carlos Gonzalez -- who is in a 4-for-35 rut -- with two on to complete his fifth save.
"It was a tough series," Garland said. "We can't hang our heads too low, but at the same time we've got to figure out how to get some of those guys across and play a little bit better.
"They played good, and we left some guys on."
Thomas Harding is a reporter for MLB.com. Read his blog, Hardball in the Rockies, and follow him on Twitter @harding_at_mlb. This story was not subject to the approval of Major League Baseball or its clubs.