Crawford homers twice as Kershaw cruises
Lefty throws eight shutout innings, strikes out 12 to deliver series win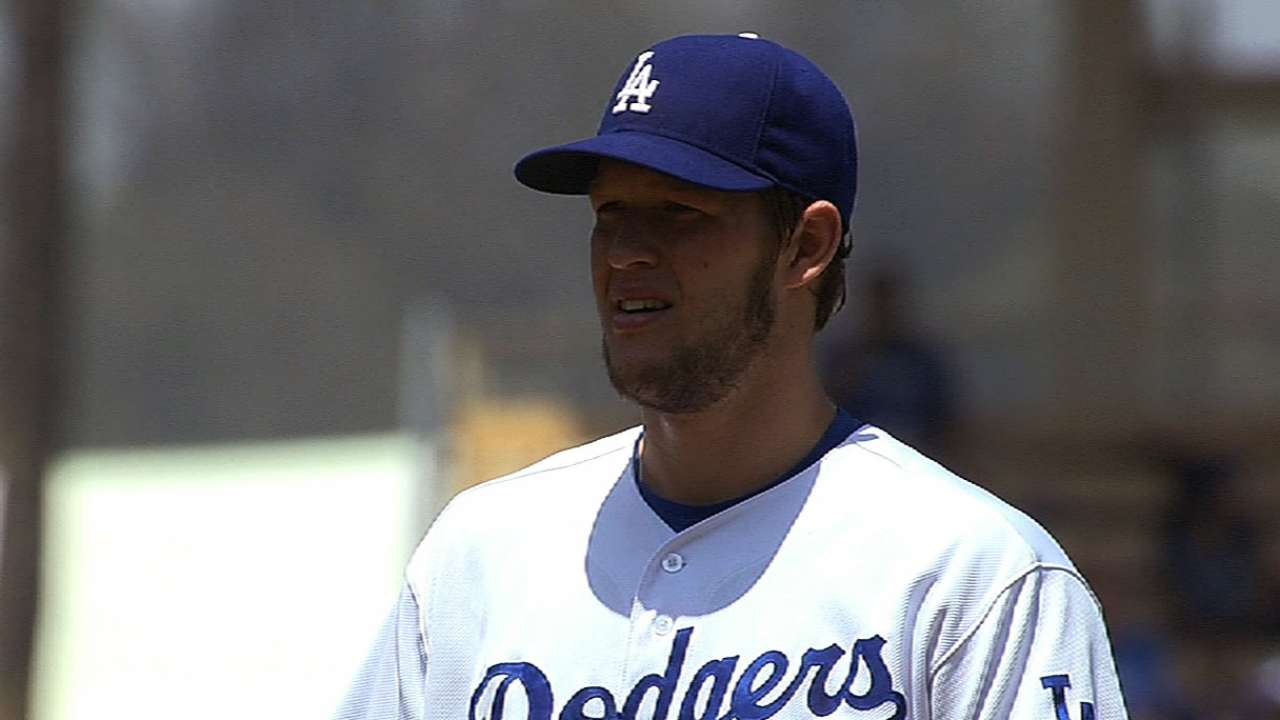 LOS ANGELES -- Clayton Kershaw and Carl Crawford were back in All-Star form Sunday afternoon.
Kershaw tossed eight shutout innings, and Crawford homered twice to lead the Dodgers past the Brewers, 2-0, at Dodger Stadium. It was the first time the Dodgers won a series at home since sweeping the Pirates in the first week of the season.
"Clayton obviously was really good today," Dodgers manager Don Mattingly said. "I thought he did a good job today of using his whole mix. He threw more changeups today, used his curveball more."
After losing two of his past three outings and not pitching past the sixth in his past two starts, Kershaw earned his first victory since April 6.
"Clayton is always driven," Mattingly said. "He's just a grinder. That's just how Clayton is. Any time he struggles, he's going to be particularly focused that next outing.
"Before the game, it was can Kershaw get back to being Kershaw? So I think we found that out."
Crawford gave Kershaw an early lead when he belted the first pitch he saw from Brewers starter Kyle Lohse to left field for a leadoff home run. It was Crawford's eighth career leadoff homer and his first since April 10 at San Diego.
"I picked today to try to be aggressive with the first pitch," Crawford said. "That's just been something from the past week. A lot of guys have been getting ahead with the first pitch right down the middle."
Crawford added another solo shot in the fifth. The outfielder fell behind, 0-2, against Lohse, but pounded a hanging breaking ball into the bleachers in right. It was Crawford's first multi-homer game since July 8, 2010, when he played for Tampa Bay. The four-time All-Star has three homers in his past three games following a 2-for-19 skid during a six-game road trip.
Crawford is hitting .307 in 24 games and credits the coaching staff for allowing him to be aggressive at the top of the order.
"They pretty much gave me the freedom to be myself and not really try to be like a traditional leadoff hitter that takes a bunch of pitches and tries to slap the ball," said Crawford, who leads the Dodgers with 20 runs scored. "For the most part, I'm trying to hit the ball in the gap."
Crawford's homers were the only mistakes Lohse made. The right-hander shut down the rest of the Dodgers' lineup and allowed just three singles. He struck out four and walked none in seven innings.
But Kershaw was better.
Kershaw struck out 12, one shy of his career high, over eight innings and allowed just two runners to reach scoring position on four hits. It was his 19th career game with at least 10 strikeouts. Kershaw has allowed three earned runs or fewer in 18 consecutive starts, the longest active streak in the Major Leagues.
"Both guys threw great," Brewers left fielder Ryan Braun said. "Kyle threw the ball phenomenal for us, and Clayton was as good as I've ever seen him. There's no doubt he's one of the top pitchers in the game, if not the top pitcher. When a guy like that is on top of his game, commanding all of his pitches, you know you're in for a tough day."
The Brewers had a beat on Kershaw early, and he allowed three hits to the first five batters he faced. But he settled in and recorded 18 consecutive outs, including nine strikeouts, before Carlos Gomez doubled to lead off the eighth.
Kershaw squashed any hopes of a Brewers rally, though. Yuniesky Betancourt struck out looking. Martin Maldonado broke his bat, and Kershaw fielded the ball to catch Gomez in a rundown. The Dodgers' ace fanned pinch-hitter Khris Davis to end the threat and his outing. He walked off to a standing ovation.
"He just seems to get stronger when the situation gets tougher toward the end of the game," said fellow starter Chris Capuano. "To watch him dig deep like that is really fun."
Kershaw was unavailable for comment after the game, dealing with a personal issue, according to a Dodgers spokesman.
Playing without second baseman Mark Ellis for the second time in as many games, the Dodgers turned to Nick Punto to fill the void. Punto stepped up and had three hits to go with solid defense at second.
Ellis has not played since he strained his right quad in the fifth inning of Friday's 7-5 win against Milwaukee. The veteran is still hoping to avoid a trip to the disabled list.
Brandon League pitched a 1-2-3 ninth for his eighth save in nine chances. It was the first perfect inning for the closer since April 13, a span of five appearances.
Austin Laymance is an associate reporter for MLB.com. This story was not subject to the approval of Major League Baseball or its clubs.