Pair of homers tarnish Lohse's strong start in loss
Righty matched Dodgers ace Kershaw except for Crawford's blasts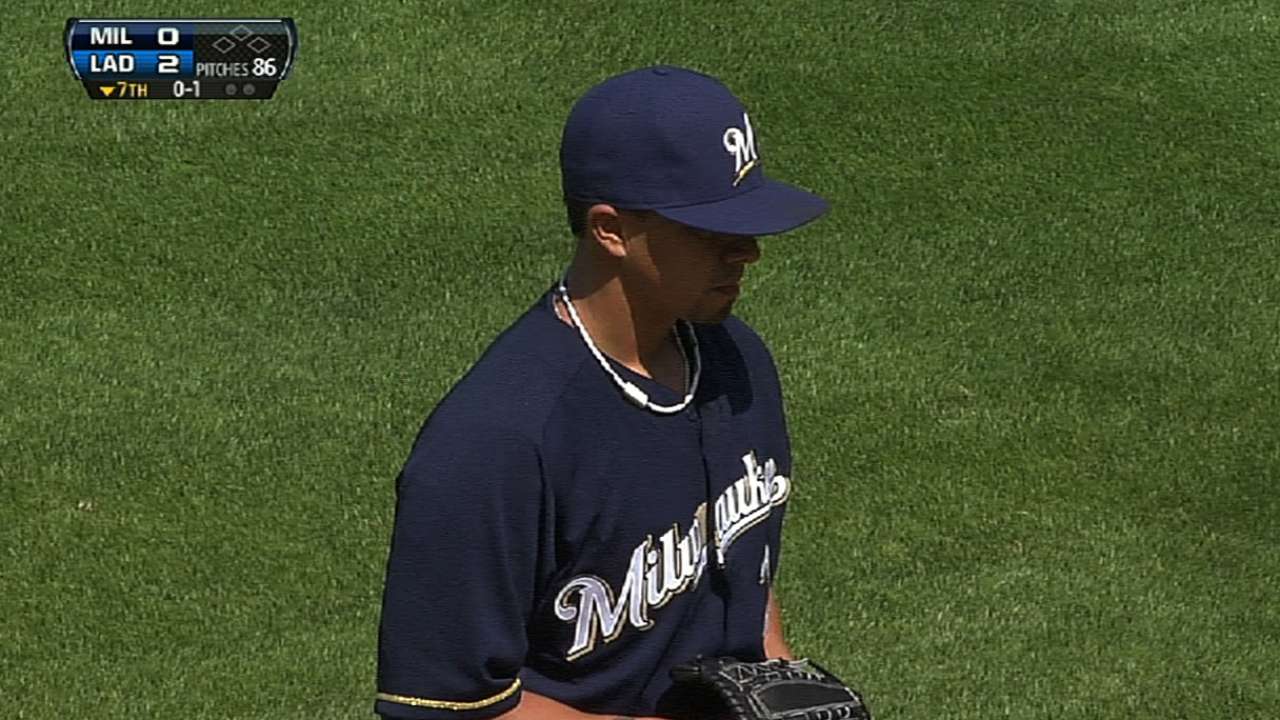 LOS ANGELES -- Clayton Kershaw needed only one run to beat Kyle Lohse and the Brewers on Sunday, and he did not have to wait long for a teammate to deliver.
Dodgers leadoff man Carl Crawford hit Lohse's first pitch of the game for a home run, added another solo shot in the fifth and watched Kershaw do the rest. The left-hander baffled the Brewers for eight innings and sent Milwaukee packing with a 2-0 loss at Dodger Stadium.
L.A. took two of three games to snap the surging Brewers' streak of three winning series.
"Both guys threw great," Brewers left fielder Ryan Braun said. "Kyle threw the ball phenomenal for us, and Clayton was as good as I've ever seen him."
Brewers manager Ron Roenicke said it even better: "I wouldn't want any part of him."
Kershaw scattered four hits, did not walk a batter, struck out 12 and reinforced one of Braun's favorite adages: If you don't get to a great pitcher early, you might not get to him at all. That was the Brewers' lament Sunday after squandering scoring opportunities in each of the first two innings.
In the first, shortstop Jean Segura and Braun delivered consecutive one-out singles, but cleanup hitter Jonathan Lucroy grounded into a routine double play. Rickie Weeks led off the second with a double -- his first extra-base hit in eight games -- but was stranded there when Kershaw induced flyouts from Carlos Gomez and Yuniesky Betancourt, two of the Brewers' most productive early-season hitters, before striking out Martin Maldonado.
Then it was lights out for the Brewers' offense on a sensational Southern California afternoon. Gomez's flyout to deep right field began a streak of 18 consecutive Brewers batters retired, a run that finally ended in the eighth inning, when Gomez led off with a double. He was eventually caught between second and third base after misreading a broken-bat comebacker to the mound, and again, the Brewers could not score.
In one stretch, Kershaw struck out nine of the 12 batters he faced.
"I don't know how many guys [he retired] in a row," Braun said.
Told the answer was 18, Braun smiled.
"Yeah, that sounds about right," he said. "It felt like it."
So much for Kershaw looking beatable. In his previous two starts against the Mets and Padres, Kershaw did not last through the sixth inning. He lost his past two decisions, spanning three starts.
"When he's commanding the fastball inside, you're in big trouble," Roenicke said. "Because there's not much you can do with the pitch, and he knows when to throw the offspeed stuff away, and no hitter can cover everything. Maybe Don Mattingly could do it. Most guys can't."
Lohse would have been just as effective if not for Crawford, who connected with a first-pitch fastball for a 1-0 Dodgers lead in the first inning and an 0-2 slider for a 2-0 lead in the fifth. Aside from those two swings, Lohse surrendered only three hits in seven strong innings, with no walks and four strikeouts.
"Two mistakes to Crawford," Roenicke said, "and the first pitch of the game, I don't know if that's really a mistake. You want to throw a strike, and the guy hits a home run."
Lohse had owned the matchup before Sunday, holding Crawford to one hit in 13 previous at-bats.
"He caught me with a first pitch out over the plate," Lohse said. "You can't do much about it. I'm not going to throw a first-pitch curveball."
Said Crawford: "A lot of guys have been getting ahead with the first pitch right down the middle. I picked today to try to be aggressive with the first pitch."
Lohse's fifth-inning slider was different. That one was a mistake.
"That ball has to be in the dirt," Lohse said. "We were trying to throw it to the dirt, and it just didn't get there."
His record fell to 1-2, again a victim of poor run support. The Brewers are 2-3 in Lohse's five starts, scoring one total run in the losses. Lohse had already lost a 2-0 duel with the Cardinals' Shelby Miller on April 12 in St. Louis before falling similarly to Kershaw on Sunday.
Is he feeling any frustration?
"There's only so much I can do, and I don't mean that in a bad way," Lohse said. "I mean it in the sense that I go out there and make myself [throw] one pitch at a time, don't worry about the results, focus on what I can control. The rest of the game, I can't do much about. Their guy [Kershaw] pitched a great game, and all you can do is keep your team in it for as long as you can"
The series loss was the Brewers' first since they dropped two of three games in St. Louis from April 12-14, amid a dreadful 2-8 start to the season. Milwaukee will have two more chances Monday and Tuesday against the Pirates to become the fifth team since 1969 to clinch a winning April after losing at least eight of its first 10 games.
Roenicke was content with a 3-3 trip to the West Coast, considering the team's recent winning ways.
"You don't expect things to turn around like that, especially since we don't have everyone [healthy]," he said. "If we had Corey [Hart] and Aramis [Ramirez] and Rick [Weeks] swinging well, I would expect this team to do those things. But to do it without those guys, pretty amazing."
Adam McCalvy is a reporter for MLB.com. Read his blog, Brew Beat, and follow him on Twitter at @AdamMcCalvy. This story was not subject to the approval of Major League Baseball or its clubs.