Angels place reliever Burnett on DL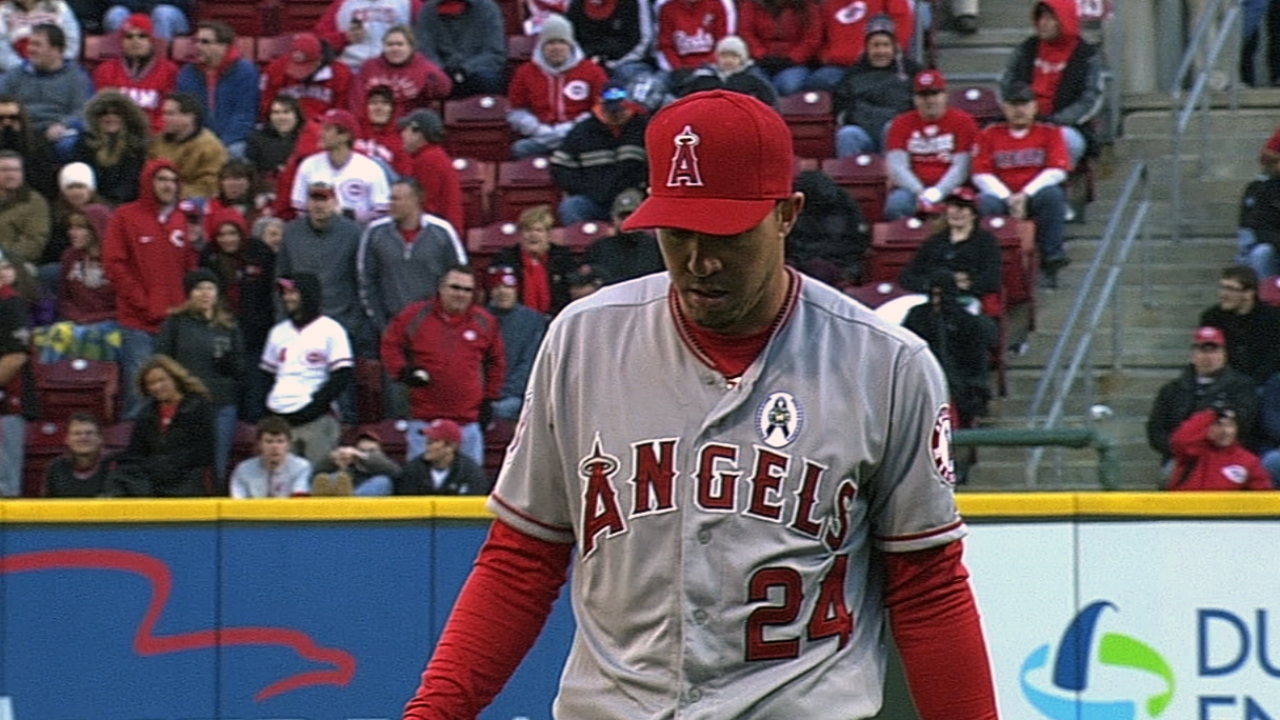 SEATTLE -- It got to a point where lefty reliever Sean Burnett figured he just needed to give his left forearm some rest.
"It feels fine as long as I can take a few days," Burnett said. "But it's not fair to my teammates to pitch and have to take a few days and stuff like that."
So on Sunday, Burnett became the latest Angel to land on the disabled list, going on the shelf for at least 15 days because of left forearm irritation that has been bothering him for the last couple of weeks. An MRI on the area, which resides dangerously close to the elbow, came back clean and the ligament -- replaced via Tommy John surgery in 2004 -- is fine.
"It doesn't seem like it's too serious," Burnett said. "There's no structural damage from what they're telling me. It's more frustrating than anything. I can't put a finger on it."
The Angels replaced Burnett on the roster with Tommy Hanson, who was activated from the bereavement list in time to start Monday's game. They still have eight relievers and three bench players. The 30-year-old Burnett, who was unavailable on Monday and Tuesday because of the muscular ailment, is hopeful that a couple of weeks off will get him back on track.
"The only thing we haven't done is given it some time off," Burnett said. "I've taken a day off, but I've still been throwing during batting practice and stuff like that. Hopefully with a few days of no throwing, it'll calm down. It just seems like right now the muscle's mad at me."
Burnett joins right-handed relievers Kevin Jepsen (strained right lat), Mark Lowe (neck stiffness) and Ryan Madson (Tommy John recovery) on the DL. With Garrett Richards now in the rotation, only three members of the Angels' Opening Day bullpen -- lefty Scott Downs, closer Ernesto Frieri and long man Jerome Williams -- remain available as relievers.
Burnett believes the injury stems from offseason surgery to remove two bone spurs from his elbow, which has given him more range of motion, but has forced his arm to get used to different movements. On the mound, he's able to execute pitches better than he has in quite some time. But the discomfort remains.
"If it was later in the year, you could fight through it maybe," Burnett said. "But right now, just to be this early, it's not worth dealing with for the next six months."
"We just need to take a step back and evaluate exactly where he is," Angels manager Mike Scioscia added. "He's been nursing this for too long for what our medical department's comfort level is. He's very important to us .The tests that have been done have ruled out anything significant, which is encouraging. But there's certainly something going on in his elbow that's going on that we need to address right now."
Alden Gonzalez is a reporter for MLB.com. Read his blog, Gonzo and "The Show", and follow him on Twitter @Alden_Gonzalez. This story was not subject to the approval of Major League Baseball or its clubs.