Correia superb as Morneau's homer lifts Twins
Minnesota's starter goes eight frames, besting Texas' Ogando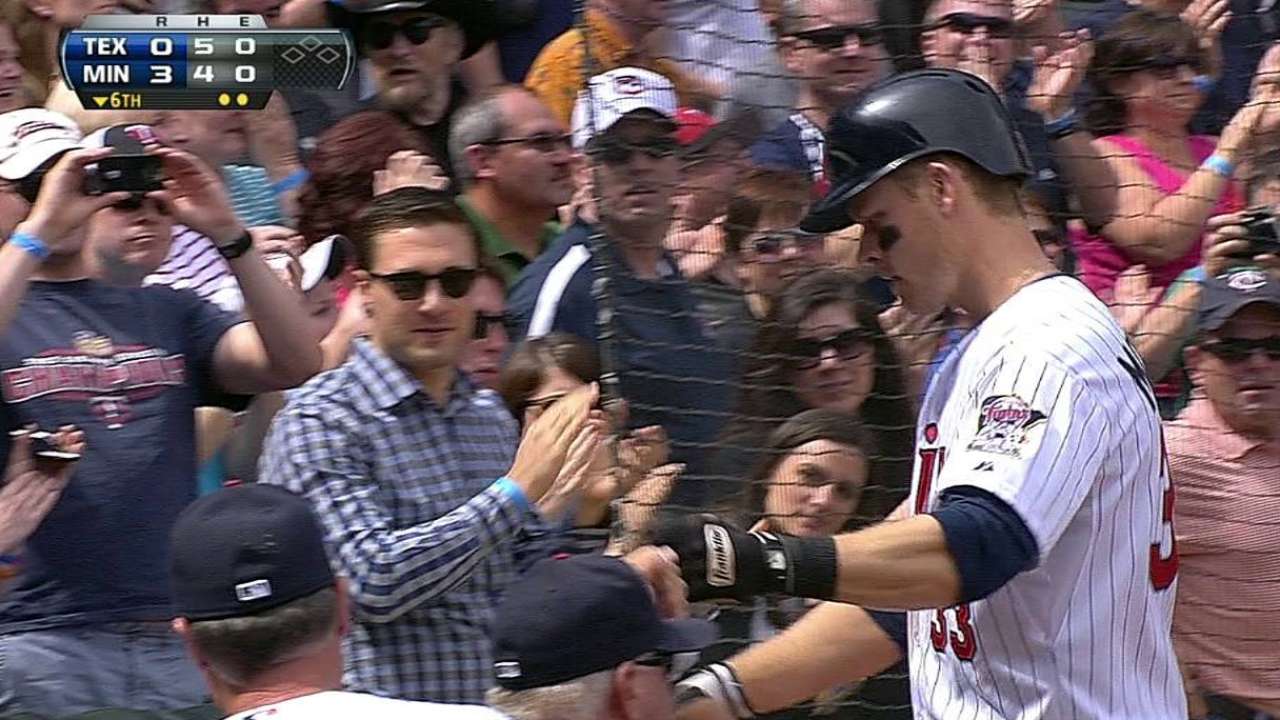 MINNEAPOLIS -- It has only been five starts, but it is fair to say Kevin Correia has been a pleasant surprise for the Twins so far this season.
Correia, who joined the club on a two-year deal worth $10 million this offseason after spending the previous 10 years in the National League, has been the club's most consistent starter in the early going, and he was at it again Sunday afternoon.
Correia threw eight scoreless innings, and Justin Morneau connected on a two-run homer to help lift the Twins to a 5-0 win over the Rangers at Target Field.
"It was a nice win for us," Twins manager Ron Gardenhire said. "It was another well-pitched game by Kevin. It's unbelievable. His success is about throwing it over and getting ahead in the count, and I think we saw him do that all day getting ground balls and pop flies."
Correia, who has lasted at least seven innings in all five of his starts, gave up just six hits and a walk and improved to 3-1 with a 2.23 ERA.
Correia's impressive start comes after he reached the seven-inning mark in just three of his 28 starts with the Pirates last season. The eight innings against the Rangers were the most by Correia since he threw a complete game against the Reds on April 18, 2011.
"In the National League I'd have maybe five less innings than I do right now, because you'd be pinch-hit for in close games," Correia said. "So to go out there a little bit longer is fun. The way I pitch is to keep my pitch count down when it's going well, so it's been nice."
He outpitched hard-throwing Rangers right-hander Alexi Ogando, who gave up three runs on four hits -- including the two-run blast from Morneau in the sixth -- and two walks over six innings.
"That's a tough pitcher over there," Morneau said. "He's a guy who can run it 94-95, but he just made a mistake with a breaking ball, and I took advantage of it."
Chris Parmelee got the Twins on the board in the fourth on a sacrifice fly to score Josh Willingham, who walked and reached third on a single from Morneau.
But Morneau's biggest hit came in the sixth, when he launched his two-run blast off Ogando after Willingham drew his second walk of the game. It was Morneau's second of the season and his first since April 13.
"Today, really, Alexi made one mistake," Rangers catcher A.J. Pierzynski said. "It was to Morneau; he threw a slider up, and Morneau didn't miss it. The two walks hurt, obviously; they both scored. But other than that he threw the ball really well. If he does that, he's going to win a lot of games."
The Twins added two insurance runs in a wild seventh inning that saw Gardenhire ejected for arguing with third-base umpire Alfonso Marquez.
Gardenhire went out to argue that Oswaldo Arcia beat reliever Joe Ortiz's throw to third base on a sacrifice bunt attempt from Eduardo Escobar, but Marquez ruled Arcia out. After Gardenhire was ejected, Jamey Carroll and Brian Dozier both provided RBI singles to pad Minnesota's lead.
Casey Fien finished off the game for the Twins with a scoreless ninth, as the Twins did not want Correia to go out for the ninth with 102 pitches. But Gardenhire lightheartedly said he told Correia he would have kept him in for the ninth had Gardenhire not already been ejected from the game.
"I told Kevin when he came in the clubhouse: If I were still managing, he would have stayed in the game -- just to appease him," Gardenhire said with a smile.
With the win, the Twins climbed back above .500 at 11-10 and earned a series split with the Rangers, who lost back-to-back games for the first time this year. The Twins also held the Rangers to just eight runs in the four-game series, and the Twins' two losses came by one run each.
"We've been playing good baseball," Twins catcher Joe Mauer said. "Even the games we've lost, we've been right there losing a couple one-run games. Guys are fighting, and we're getting good pitching performances, so we'll try to keep doing that."
Rhett Bollinger is a reporter for MLB.com. Read his blog, Bollinger Beat, and follow him on Twitter @RhettBollinger. This story was not subject to the approval of Major League Baseball or its clubs.