Rangers' bats go stale behind Ogando
Minnesota's Correia limits Texas to six singles in eight frames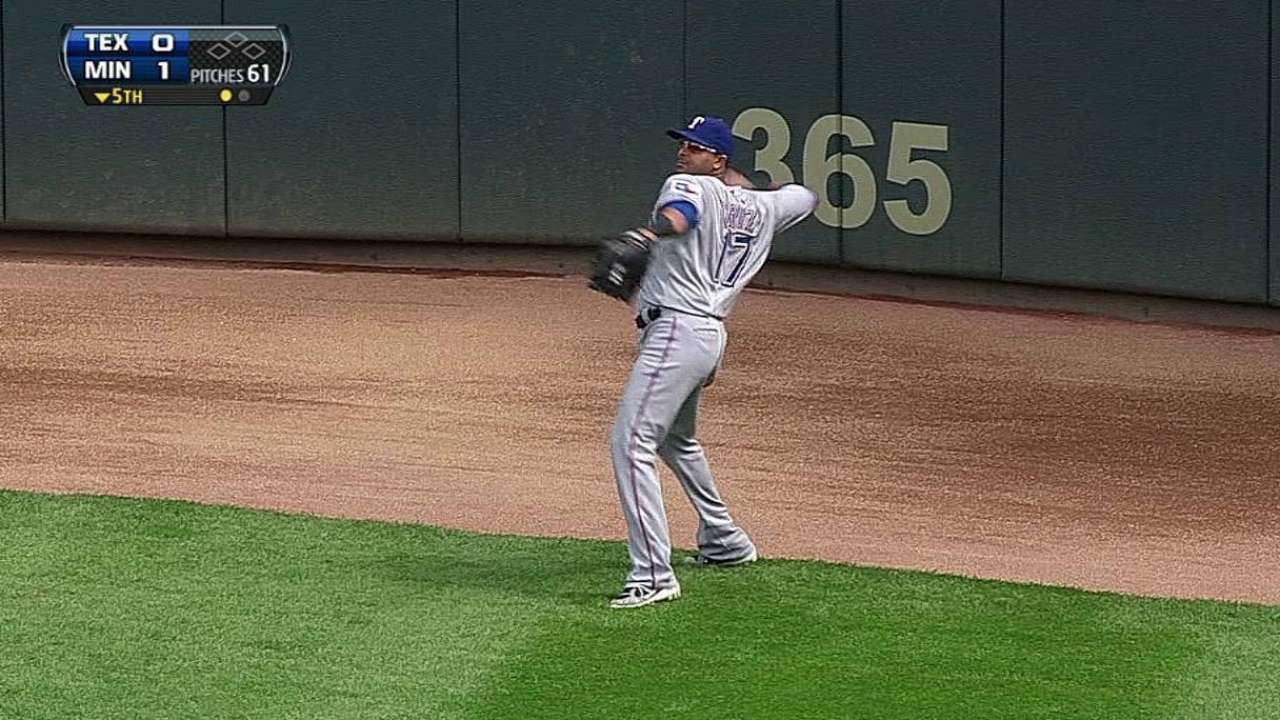 MINNEAPOLIS -- Texas has emerged as one of the best teams in the Majors in the season's early going, with a mixture of a strong pitching staff and a lineup primed for offensive outbursts.
The latter trait, however, eluded the Rangers in the second half of their four-game stay at Target Field.
With a suddenly stale offense, the Rangers lost their second straight game Sunday for the first time this season as Minnesota downed Texas in a series-splitting 5-0 shutout.
One day after they could not muster much of a rebuttal in a 7-2 rout, the Rangers let another sturdy showing from their starting pitcher go to waste by way of a lack of run support.
Kevin Correia has been by far the Twins' most consistent starting pitcher this season, and he continued to add to that distinction Sunday. Working with a distinctively low pitch count for much of the afternoon, Correia (3-1, 2.23 ERA) limited the Rangers to six singles in eight innings for his fifth quality start of the year.
Even with Lance Berkman and Elvis Andrus back in the lineup after a day off, the first six batters of the Rangers' recently potent lineup were kept to three hits.
"He changed speeds; he cut the ball well," Texas manager Ron Washington said of Correia. "We had some opportunities there, and he made some pitches against the middle of my lineup, and it happened twice."
Alexi Ogando was not spot-on but made it through six innings with three runs allowed on four hits in a start that looked quite similar to fellow starter Derek Holland's performance Saturday (3 R, 5 H, 7 IP).
Despite his quality start, Ogando's -- and the Rangers' -- downfall was put in motion when Twins slugger Justin Morneau met up with the first pitch he saw in the sixth inning.
Morneau rocketed an 81-mph slider -- a pitch Ogando said he was "too cautious" with -- beyond the right-field wall at Target Field to put the Twins out front, 3-0, with a two-run homer.
"Today, really, Alexi made one mistake," catcher A.J. Pierzynski said. "He threw a slider up, and Morneau didn't miss it. ... You feel bad when a guy like Derek yesterday comes out and gives us a chance early, and today we really didn't have a lot of scoring opportunities."
Minnesota extended its lead once Ogando exited the game. Reliever Joe Ortiz, making his first appearance since giving up two runs to the Twins on Friday, fell into trouble again. After Minnesota manager Ron Gardenhire was ejected for arguing a call at third, Jamey Carroll notched the Twins' third single of the inning for a one-out RBI to push the deficit to four.
Texas turned to right-hander Jason Frasor to bail Ortiz out of the jam, but Brian Dozier quickly added another RBI single with his second hit of the game.
The Twins opted to pull Correia before the ninth with his pitch count just above 100. But another single for the Rangers, off reliever Casey Fien, did nothing to wake up the offense after it was subdued for eight frames.
"It was another well-pitched game by Kevin," Gardenhire said. "It's unbelievable. His success is about throwing it over and getting ahead in the count, and I think we saw him do that all day getting ground balls and pop flies."
To Texas' relief, Sunday ended a stretch of 13 straight games, 10 of which came on the road. Although the Rangers (16-9) are stumbling slightly as they return home for a series with the White Sox on Tuesday, they remain entrenched in the top spot of the American League West standings.
"It seems like we haven't been home in forever with the way the schedule is set up," Pierzynski said. "It'll be nice to get home, get an off-day at home and relax, get away from baseball for a day. Just get back to hopefully a little bit of normalcy and come back ready to go on Tuesday."
Nate Sandell is a contributor to MLB.com. This story was not subject to the approval of Major League Baseball or its clubs.