Cards can't find the offense in finale with Bucs
Club musters just three hits, drops to second place in NL Central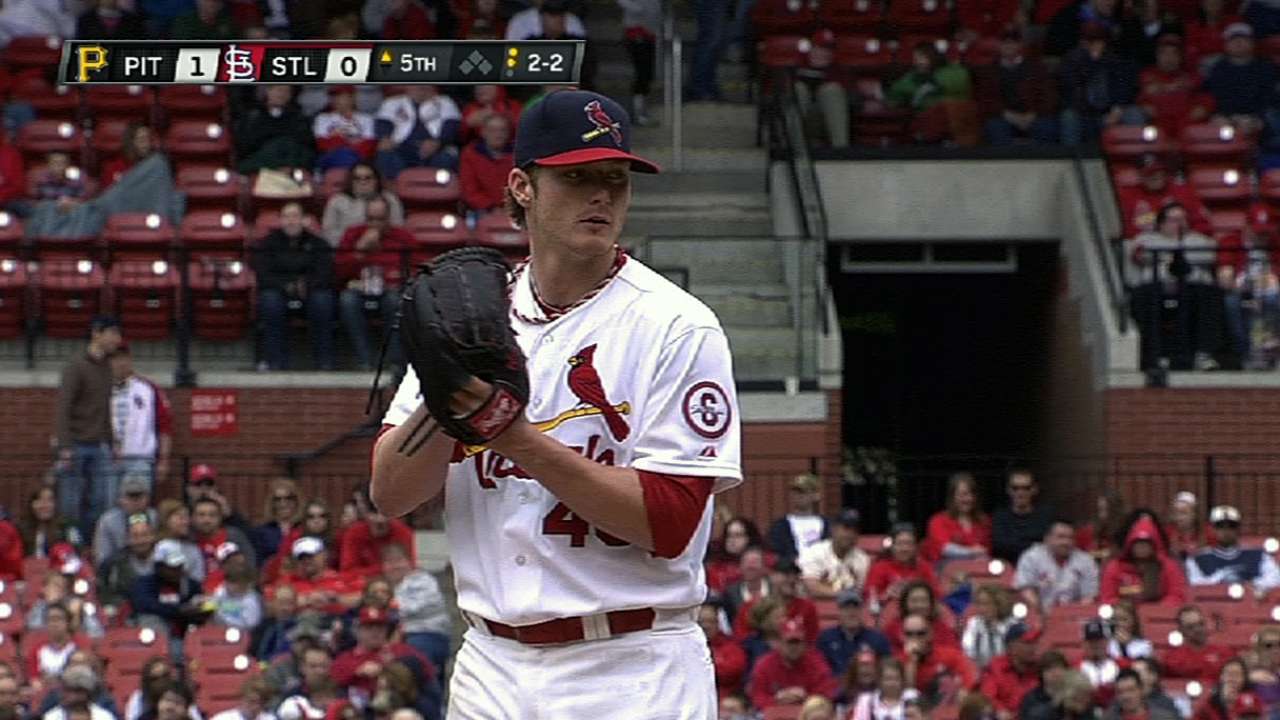 ST. LOUIS -- A series that started with a blowout ended with a thud for the Cardinals, who followed Saturday's bullpen meltdown with an uninspired 9-0 loss in which the club could pick out few positives.
In front of an announced crowd of 41,470 at Busch Stadium on Sunday, the Cardinals' offense was exposed by a rookie starter and the 'pen was again unable to offer any stabilization. Outscored by the Pirates, 14-1, over the final 12 innings of the series, the Cardinals have now lost on consecutive days for the first time this year.
"We're talking one game here," manager Mike Matheny said. "We were flat, no question about it. But overall, these guys have been going about it the right way. You look at today, you don't like anything about it. And you make adjustments and get ready for the next one."
Adjustments are seemingly needed in several areas, beginning with a bullpen that continues to flounder.
The Pirates turned the series finale into a laugher by scoring six times off Fernando Salas, Mitchell Boggs and Marc Rzepczynski in 3 1/3 innings. Those troubles came a day after the 'pen surrendered five runs in three innings.
"We're giving up hits -- some broken bat hits, bloop hits -- and then we're making a mistake down the middle that's getting hit hard," Rzepczynski said. "I think our 'pen is really good still. We just have to get going on the right track."
The ballooning bullpen ERA now sits at a Major League-worst 5.93, though to this point the organization has not made any tweaks. The seven relievers who began the year in the 'pen currently remain. Five have an ERA north of 4.00.
Asked afterward if personnel changes could be imminent, Matheny dodged a direct answer.
"We always think all the time, always trying to think what our club needs and evaluate everybody on a daily basis and evaluate ourselves and make sure we are doing everything we can do," he said. "We never rule anything out. We just keep our eyes on everything."
By the time the bullpen took hold of the game, the Pirates had tired Shelby Miller with several extended at-bats and long innings. In contrast, the Cardinals' offense -- one that prides itself in its ability to grind out plate appearances -- had gone mostly quiet against Pirates starter Jeff Locke.
Though the Cardinals made solid contact on several balls early, hits didn't fall. And in the end, the club finished with three -- all singles -- while walking just twice against a pitcher who had issued 10 free passes in his last three starts. They did not advance a single runner to third.
"It was just a bad game," Allen Craig said. "We didn't do many things well. We didn't execute. I felt early on we hit some balls hard at people, but we didn't get those breaks. In the end, it didn't really matter. We didn't get much going late in the game, either."
It marked the third time in their last 11 games that the Cardinals have been shut out. During that stretch, they are averaging 3.4 runs per game. Through the first 13 games of the season, the club averaged 5.92 runs per game.
St. Louis' season batting average has dipped to .246, and its on-base percentage hardly hovers over .300.
"It's still the first month of the season here," Matheny said. "They've got to stay within themselves and be who they know they can be. We're always making minor adjustments, but for the most part, those numbers are going to equal out by the end of the season. That potent offense is still sitting there. We've seen glimpses of it, but I believe we'll see it through the long haul."
Miller, now 0-2 against the Pirates this season, didn't pitch with the same dominance he had in his previous two home starts, but he was nonetheless good enough to keep the game from getting out of hand. His inability to finish six innings was due much more to pitch count (113) than lack of effectiveness.
Miller threw no fewer than 18 pitches in each of his five complete innings, and only eight of the 24 hitters he faced were retired with three or fewer pitches. The Pirates fouled off 27 of his offerings.
After playing into the Nationals' aggressive with his high fastball in his previous start, Miller was unable to fool the Pirates with that same pitch.
"Today, especially, the ball was up all day," Miller said. "That's not what you need out of a starting pitcher. That's not why I'm up here. I need to get quicker outs. That's something I need to work on. Getting the ball down is the biggest thing. I feel like if I could do that, I could get quicker innings."
Wanting to limit the bullpen's workload as much as possible, Matheny sent Miller out for the sixth with a pitch count already at 97. By that point, the Pirates had taken a 2-0 lead via solo homers from Russell Martin and Jose Tabata. They'd score once in the sixth, too, when John McDonald followed Brandon Inge's two-out single with a bloop hit to shallow left field off Salas.
All three runs were charged to Miller. Of the seven earned runs he has surrendered in five starts, five have been scored by Pittsburgh.
The Cardinals dropped their first series since losing one to the D-backs to open the season. After dropping the first game of the series, 9-1, the Pirates leave town having inched a half game in front of St. Louis in the National League Central.
"We were able to regroup, and came back with two really good efforts by our starters, and our offense continued to chip away," Pirates manager Clint Hurdle said. "We finished very strong."
Jenifer Langosch is a reporter for MLB.com. Read her blog, By Gosh, It's Langosch, and follow her on Twitter @LangoschMLB. This story was not subject to the approval of Major League Baseball or its clubs.