Bucs belt four homers to back dealing Locke
Martin goes deep twice as Bucs take over first place in NL Central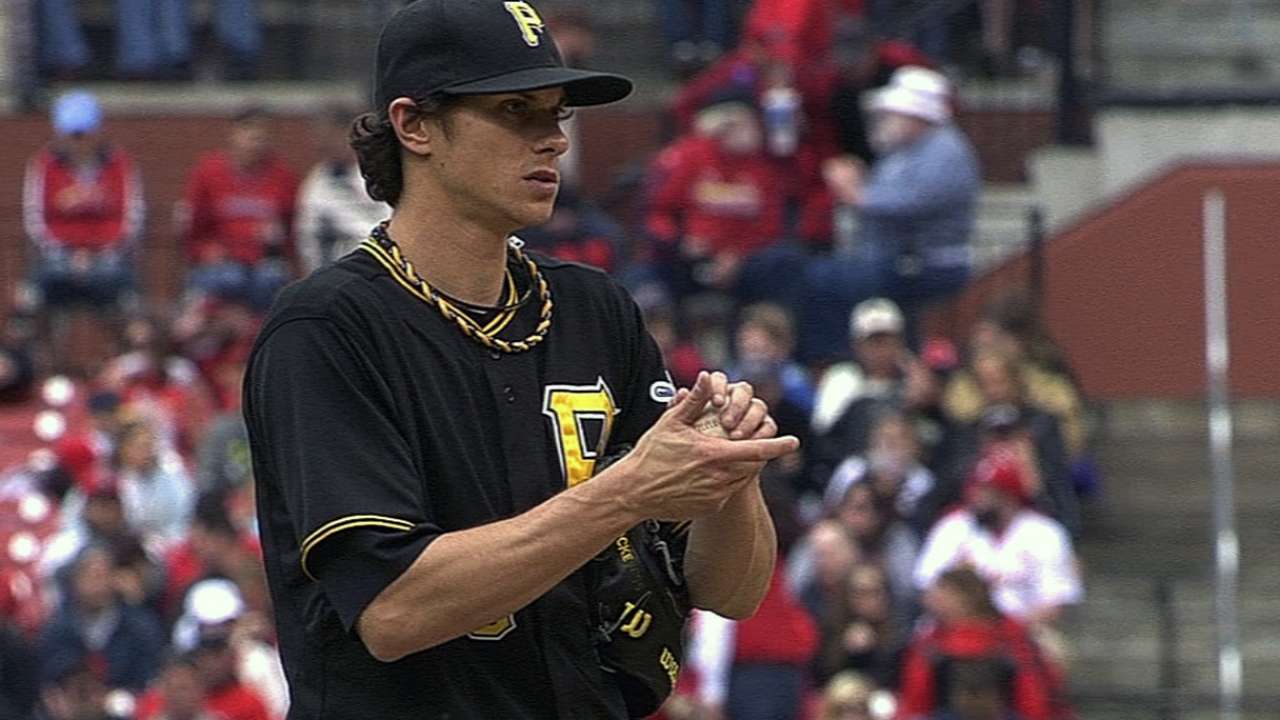 ST. LOUIS -- Clint Hurdle always calls baseball, alternately, a funny or a wonderful game. This episode probably qualifies as both.
Jeff Locke began the season as the Pirates' No. 5 starter, and now is riding a scoreless streak of 13 innings after going the first seven on Sunday as the Bucs downed the Cardinals, 9-0, to vault over St. Louis and into first place in the National League Central.
A lot of other notable achievements were attached to this win: It was the Bucs' 15th of April, matching the franchise's all-time first-month record, and No. 700 of Clint Hurdle's managerial career.
"[The win] means I've been blessed with the opportunity to do this for a while -- but you don't talk about the other number, which is bigger," said Hurdle, referring to the 808 losses and thus deferring the day's pedestal to Locke.
It can be reasonably assumed that Locke has earned a promotion to the No. 4 slot, previously occupied by Jonathan Sanchez.
Following up on his six shutout innings in Tuesday's 2-0 win in Philadelphia, the new Locke remained on display in Busch Stadium, where he limited the Redbirds to three hits while walking two and fanning four.
"Locke pitched a great game. Getting my pitcher putting up scoreless innings gets us in a place to win, and if I do something offensively, it's a plus," said catcher Russell Martin.
Martin launched two of the four homers that helped the Bucs improve their record to 15-10, matching the April record for most wins set by the 1992 club's 15-5 start on the way to the organization's last finish on the happy side of .500 and in the playoffs.
The Pirates have two remaining games, in Milwaukee, to set a new mark.
"You need to do new things to get to new places," Hurdle said. "Ultimately, our target is to play in the postseason, and we got little yard markers along the way. We moved the chains again."
Martin's double jacks were his first since last June 10 for the Yankees. With three homers in the last two games, he fanned the fiery stretch he has been on since starting the season hitless in his first 17 at-bats, then 2-for-32. Since his average reposed at .062 on April 15, Martin has batted .419 (18-for-43).
"It's just the law of averages," Martin said with a shrug. "I made some adjustments at the plate, and I feel like I'm picking up the ball well and hitting mistakes. Balls left in the middle of the plate, I'm not missing them now."
Martin got plenty of help from Hurdle's typical Sunday makeshift lineup, devoid of four regulars (including center fielder Andrew McCutchen, who got his first rest).
Jose Tabata doubled the lead to 2-0 with his own solo homer in the fifth, his first long ball since last June 25.
Then John McDonald made another unlikely contribution in the sixth, dropping a double into left off reliever Fernando Salas to score Brandon Inge, whose single had KO'd starter Shelby Miller.
The first two home runs came off Miller, the rookie right-hander who had allowed only one home run in his first 26 innings. Miller allowed seven hits and three runs in a 5 2/3-inning outing he called "not good."
"I kind of got too reliant on my fastball, I guess. I threw pitches up in the zone and they capitalized on it," Miller said.
Garrett Jones added a third homer, off Salas in the seventh, but only after video review overturned the original call that his drive to right bounced off the top of the wall and was in play. Jones legged that out for a triple -- but was quickly credited with the extra 90 feet for his second homer of the year.
Then the Pirates busted the game wide open with a five-run ninth that featured Pedro Alvarez's two-run single and Martin's two-run homer.
"I'm excited about the way we're playing the game collectively as a group," said Hurdle, waving off the narrower focus on the April record. "We got the backup shortstop and second baseman in there. Everybody is complementing each other, that's what I'm most happy about. The bullpen ... that goes without saying. And we're playing defense."
Locke got some early defensive support from McDonald, who received the start at shortstop and made back-to-back sparkling plays in the third inning. First, he drifted into short left-center for a twisting, over-the-shoulder catch of Matt Carpenter's popup. Next, he speared Carlos Beltran's up-the-middle smash and spun around for a precise throw to first.
"Something had to change execution-wise," said Locke, thinking of the 5.17 ERA he had taken into his previous start against the Phillies. "Just getting ahead of guys, and let them put it into play somewhere and let the defense work."
His teammates may have seen Locke mature as a pitcher right in front of their eyes within the last week. In those two starts and those 13 innings, the 25-year-old lefty has allowed just five hits and struck out 10.
Tom Singer is a reporter for MLB.com and writes an MLBlog Change for a Nickel. He can also be found on Twitter @Tom_Singer. This story was not subject to the approval of Major League Baseball or its clubs.