Nats' bid for series sweep foiled as bats fall quiet
Lineup limited by Reds rookie as Detwiler works five innings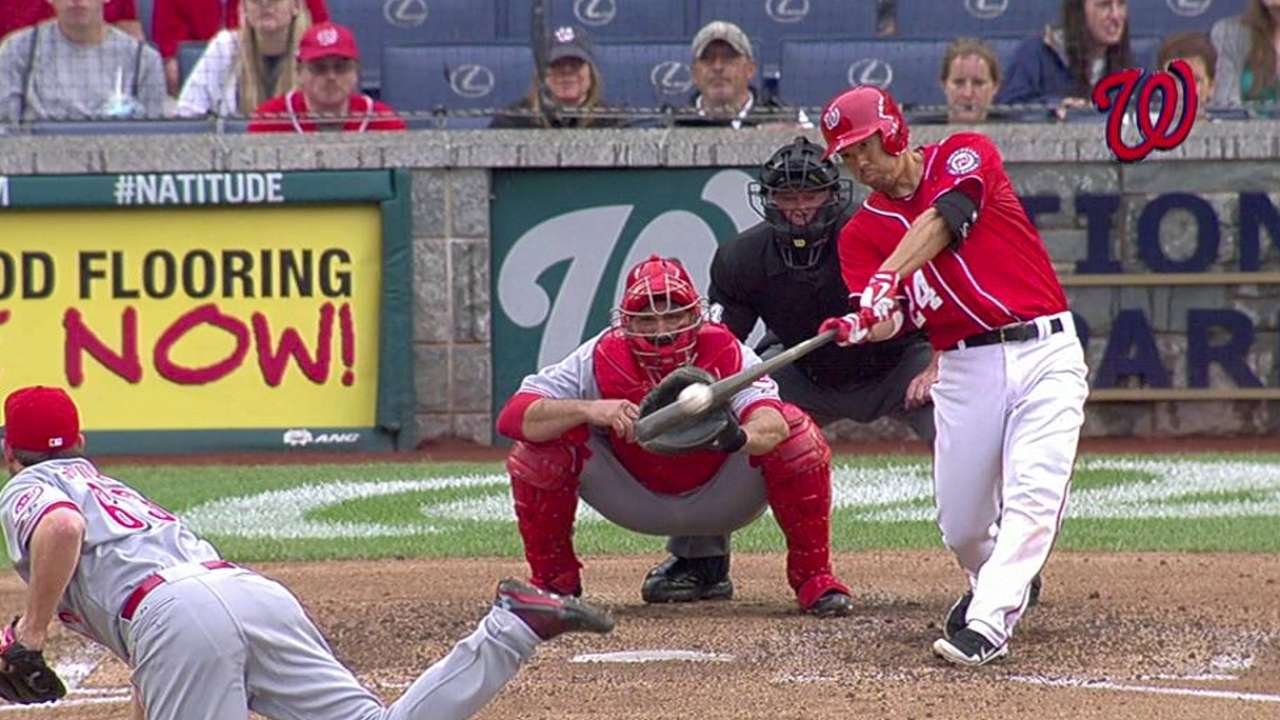 WASHINGTON -- The Nationals had a difficult time against Reds left-hander Tony Cingrani, who pitched six solid innings in a 5-2 victory at Nationals Park on Sunday afternoon.
The loss snapped the Nationals' three-game winning streak as they head to Atlanta for an important four-game series against the Braves, who swept the Nationals in a three-game series more than a week ago.
"It's a big series, regardless of what time of the year it is," first baseman Adam LaRoche said. "It's a time we can turn the tides a little bit. They came in here and killed us. So it would be nice to try and even that out."
Nationals manager Davey Johnson acknowledged that Sunday's game against the Reds was tough to watch. It didn't help that left-hander Ross Detwiler wasn't sharp on the mound. Johnson would like Detwiler to start using all of his arsenal of pitches instead of relying on his fastball.
"He'll get there," Johnson said about Detwiler throwing his breaking balls.
Cingrani was dominant, allowing two hits and striking out 11 batters. Cingrani became the first Reds rookie to record 10 or more strikeouts since Johnny Cueto did so on July 22, 2008, against the Padres.
"[Cingrani] threw a good ballgame," Johnson said. "He threw more breaking balls than I thought. ... He kept us quiet."
The Nationals had a chance to score against Cingrani in the fourth and fifth innings. In the fourth, after Denard Span struck out and reached first on a wild pitch, Danny Espinosa doubled to right field to put runners on second and third. But after Bryce Harper struck out and Jayson Werth walked to load the bases, Cingrani bore down and struck out Desmond and LaRoche to end the threat.
"I've seen it happen," Reds manager Dusty Baker said about Cingrani getting four strikeouts in an inning. "I don't think he wants to do that all the time. But we were happy to get what we could get. The mark of a good pitcher is the guy who can get out of trouble."
An inning later, with a runner on first, Span hit a line drive to left fielder Xavier Paul, who dropped the ball and let it bounce a few yards away from him. Anthony Rendon tried to score all the way from first base and was thrown out at the plate. It didn't help that he stopped after rounding third base.
"I didn't want to be thrown out at third," Rendon said. "You don't want to be the last out at third base, so I held up for a little bit to see what happened. He obviously missed the ball [in left field]."
Detwiler threw a lot of pitches early in the game and paid the price. He had a rough time in the first inning against Cincinnati, throwing 35 pitches and allowing two runs. With one out, the Reds had runners on second and third when Brandon Phillips singled up the middle to drive in Zack Cozart and Joey Votto. The pitch to Phillips was right in the middle of the plate.
"I didn't want to throw the ball right down the middle, but it's just one of those things I didn't have a good feel for anything today," Detwiler said. "You go back and figure out why everything went wrong. You learn a lot more from your failures than you do your successes."
The Reds added another run in the second inning against Detwiler. With the bases loaded and one out, Votto singled to right field, scoring Cingrani. By the time the second inning ended, Detwiler had thrown more than 50 pitches. But he settled down and pitched five innings and allowed four runs -- three earned -- and struck out three batters.
After Cingrani left the game, the Nationals managed to score in the seventh inning off right-hander Sam LeCure, who allowed an RBI double to Kurt Suzuki to make it a 4-1 game.
Left-hander Sean Marshall entered the game and stopped the threat, getting pinch-hitter Steve Lombardozzi and Span to ground out.
Of the relievers who entered this game for the Nationals, Henry Rodriguez struggled to throw strikes. He threw 17 pitches and threw four strikes.
"He had been getting better and better. It seemed like he completely lost it," Johnson said.
When Rodriguez left the game, the Reds had the bases loaded when Ryan Mattheus allowed a sacrifice fly to Cozart to make it a four-run game.
The Nationals scored their last run of the game off right-hander Jonathan Broxton in the eighth inning. With two outs and a runner on first, Ian Desmond hit a routine fly ball to right-center field. It looked like Shin-Soo Choo had a bead on it, but he dropped the ball and Harper scored all the way from first base. Desmond was given an RBI double on the play.
With the loss, the Nationals are now 13-12 for the season.
'We didn't get the hits. The guys up there are a little cold," Johnson said.
Bill Ladson is a reporter for MLB.com and writes an MLBlog, All Nats All the time. He also could be found on Twitter @WashingNats. This story was not subject to the approval of Major League Baseball or its clubs.