Dominant Cingrani in top form as Reds take finale
Rookie's big day includes record fourth inning, first Major League hit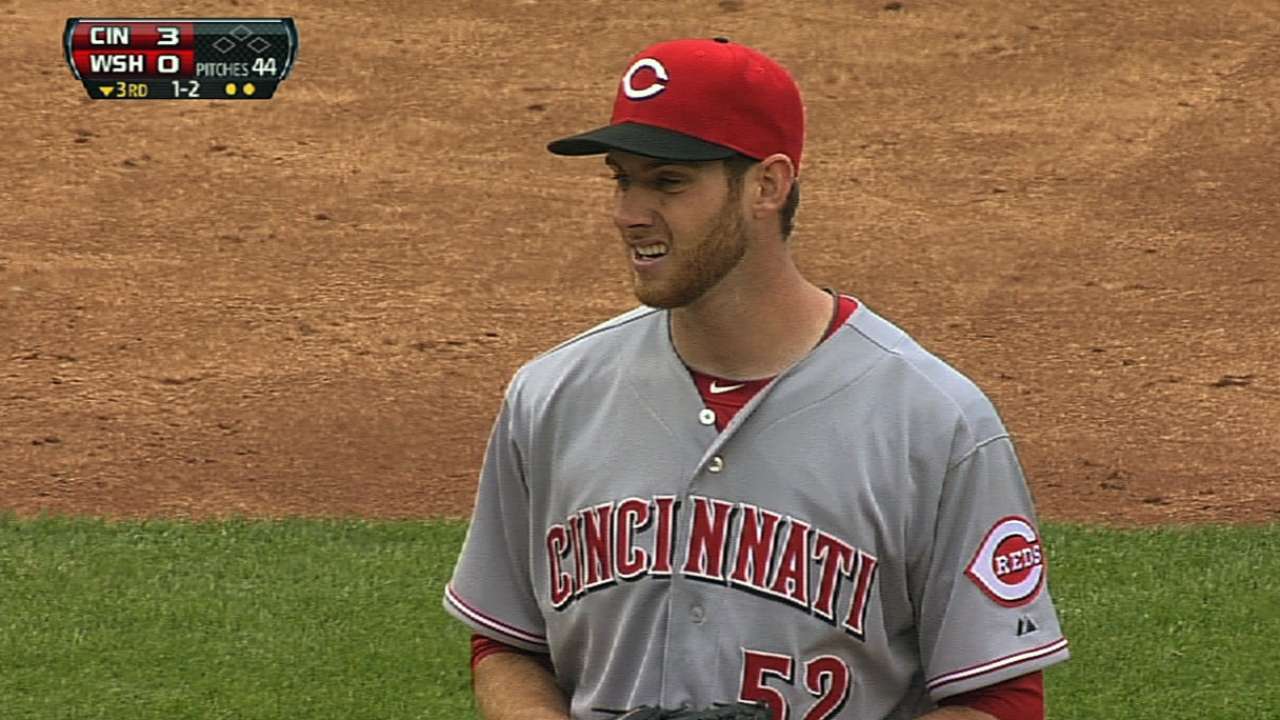 WASHINGTON -- Reds rookie pitcher Tony Cingrani had one of those days where everything just seemed to work perfectly for him.
Cingrani set a career high with 11 strikeouts, including four in an inning, and the Reds avoided a four-game sweep with a 5-2 victory over the Nationals on Sunday.
Cingrani, who was making just his third Major League start, threw six scoreless innings and gave up just two hits with one walk, improving to 2-0 on the season. He is the first Reds rookie with double-digit strikeouts since Johnny Cueto in 2008. He also got his first career hit with a single in the second.
"I just threw fastballs and some curve balls in there and I just got ahead of them," said Cingrani, who also threw a season-high 110 pitches. "I bared down and got them out. That's what you got to do."
In the fourth inning, Cingrani became the fifth Reds pitcher to strike out four batters in an inning when he sat down Denard Span, who reached first base when the ball got by catcher Corky Miller, and then Bryce Harper, Ian Desmond and Adam LaRoche.
The Nationals' Ross Detwiler was not as effective, allowing four runs (three earned) on 11 hits with three strikeouts and one walk in five innings.
The Reds won for just the second time on the road this season. They also snapped an eight-game losing streak away from the Great American Ball Park. In addition, Cincinnati avoided its first four-game sweep since 1989 against the Nationals, who were still playing in Montreal at that time.
Reds manager Dusty Baker hopes to carry some momentum heading into the next series against the Cardinals.
"It was just nice to get a win, period, especially on the road where we've been struggling some," Baker said. "We always talk about get-away day victories because they can stop a sweep, create a sweep or it's usually a rubber-match game. It's big for us going into St. Louis."
The Reds' bats came alive early when Zach Cozart singled and Joey Votto doubled in the first inning. Both players then scored on a single by Brandon Phillips, who took over the National League lead with 24 RBIs.
Detwiler had to throw 35 pitches just to get out of the opening inning.
"That's what's going to happen when Det's not really sharp," Nationals manager Davey Johnson said. "But he battled. He gave us five innings and kept us in the ballgame. There are times like that when he needs to use his whole arsenal. You've got to tip your cap to the other guy. He threw a good ballgame."
The Reds loaded the bases with one out in the third and increased the lead to 3-0 on a single by Votto. The threat ended when Phillips lined into a double play. As Cingrani continued to stay ahead of the hitters, the Reds added another run in the fourth when Cozart beat out a grounder to third with two outs that scored Miller.
Cingrani did not allow a baserunner until the fourth when Span struck out, but reached first base when the ball got by Miller. After Harper struck out, the Nationals loaded the bases. But Cingrani struck out Desmond and LaRoche to get out of the inning and secure the rare feat.
"He's a guy who can attack the zone from the get-go," Miller said. "He got into that jam and he got out of it. That's what I've seen so far this year is that if he gets in that jam, he's not giving in. He gets fired up. If he can pound the zone more often, he can get into the seventh, eighth and ninth."
The Nationals threatened in the fifth when left fielder Xavier Paul could not hold onto a sinking liner by Span. However, Paul recovered and fired the ball to shortstop Cozart, who then threw out Anthony Rendon at the plate.
With Cingrani gone, the Nationals cut the lead to 4-1 on a run-scoring double by Kurt Suzuki off Sam LeCure in the seventh. However, Reds' lefty Sean Marshall entered and got two grounders to strand runners on second and third.
The Reds added another insurance run on a sacrifice fly by Cozart in the eighth. The Nationals cut the lead to 5-2 in the bottom half of that inning on a double by Desmond.
Todd Karpovich is a contributor to MLB.com. This story was not subject to the approval of Major League Baseball or its clubs.