A's win with small ball in extras after Cespedes' HR
Sogard scores from second on bunt, throwing error in 10th inning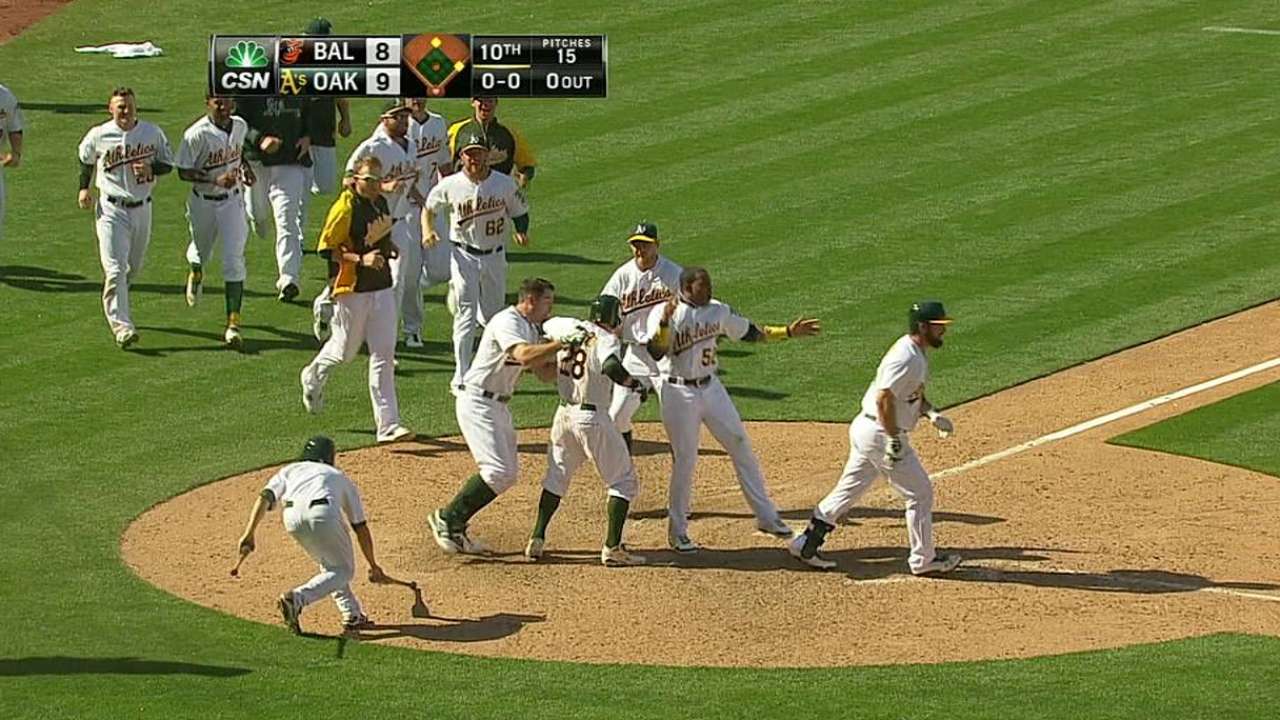 OAKLAND -- When everyone else knew he was about to score the winning run, Eric Sogard didn't.
Less than a minute before Oakland sealed a 9-8, 10-inning victory over Baltimore, the speedy infielder had his head down at third base, his ears trying to pick up anything from a deafening home crowd that would tell him whether he was safe.
But when Sogard finally poked his head up, after racing to the bag on teammate Coco Crisp's sacrifice bunt off righty Pedro Strop, he was greeted not by an umpire but by third-base coach Mike Gallego, who was frantically waving around his right arm at least seven times.
Four seconds would pass -- though it felt more like four minutes -- for Sogard to realize that the ball that was supposed to be somewhere in his vicinity was instead in left field, following Manny Machado's throwing error, and that he needed to find his way up and to home plate.
"I heard the whole dugout yelling at me and screaming at me, telling me to go," Sogard recounted. "I was just trying to figure out what was going on."
Yoenis Cespedes, the man responsible for his team still playing in the 10th inning after he golfed a game-tying, two-run shot to left field in the ninth, would later say through his interpreter that he was about ready to climb out of the dugout and pick up Sogard to carry him to home plate himself.
"I think the whole team wanted to," manager Bob Melvin said laughing, "and [Gallego] was the one who had to resist doing it."
Sogard had to make it on his own, and he did with ease, with Nate McLouth's throw from the outfield landing wide of the plate as the A's came pouring out of the dugout, their second walk-off victory of the season -- after racking up 15 last year -- officially in the books.
Sogard caught his breath, his wild journey on the bags having begun when he led off the frame with a base hit and continuing when he advanced on Adam Rosales' sacrifice bunt that Strop threw wide to second.
"Probably something you don't see every day," said a smiling Sogard, a touch of cream left over from a celebratory pie to his face still visible near the corner of his eye.
"Once I got to first base," Crisp said, "I took a look back over toward third base and I was just watching the play. He was late getting up, but luckily he has enough speed to where he can make up some ground. I was thinking, 'Oh gosh, it's going to be close,' but thank goodness he made it."
It was in just enough time to help the A's avoid a four-game sweep at the hands of the Orioles, their four-game losing streak put to rest on the same day they got Cespedes back from the disabled list.
That, it seemed, was no coincidence.
"Everyone has a different element to their game, and he's a five-tool guy, so he can bring it all," Crisp said. "Going through a rut like we've been going through, it's nice to get someone like that back in the lineup who has the capability of hitting a home run and posing like it's a golf swing."
Cespedes' ninth-inning clubbing off Brian Matusz was just one of many heroic efforts in a game the A's once trailed by five. Seth Smith had a game-tying home run of his own, his two-run shot in the seventh that reinvigorated Oakland's dugout and erased the bullpen's continued failure to compile a shutdown inning.
Relievers Ryan Cook, Sean Doolittle and Grant Balfour each gave up a run, after Bartolo Colon surrendered five in six innings, before Jerry Blevins finally threw a clean 10th.
"We needed to fight and claw back and do something good and win a game," Melvin said. "You're not thinking about your record at this time of the year, you're just trying to stop a losing streak and win a ballgame.
"That's who we feel like we are. It's even more rewarding when you lose three in a row, come all the way back after being down 5-0 and you lose it again, all three of our best relievers end up giving up a run and we still win a game. To be able to continue the fight after some demoralizing stuff, coupled with the fact we had a losing streak, was impressive."
Jane Lee is a reporter for MLB.com. Read her blog, Major Lee-ague, and follow her on Twitter @JaneMLB. This story was not subject to the approval of Major League Baseball or its clubs.