Defensive misplay sinks O's in extra innings
Davis launches ninth homer; McLouth, Machado each tally four hits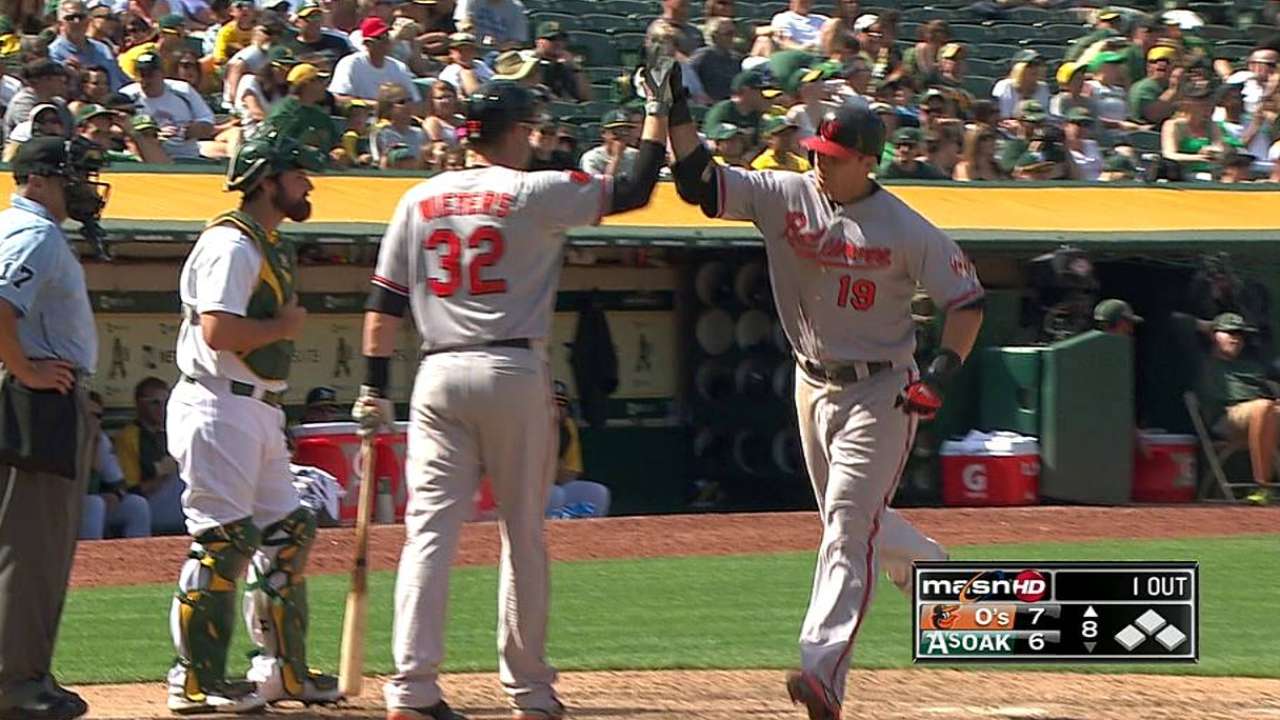 OAKLAND -- The Baltimore Orioles were a pitch or two away from ending a 26-year drought in which they hadn't swept a four-game series in Oakland. They will happily settle for the series win.
Eric Sogard scored on a throwing error in the bottom of the 10th inning and the Orioles dropped a 9-8 decison to the Athletics on Sunday.
"[Coco Crisp] put the bunt down, and I was going in head first [at third base] not really knowing what was going on," Sogard said. "I was trying to read the crowd, whether I was safe or out. Sure enough, I look up at [third-base coach Mike Gallego] and he's waving me, and I see the ball in the outfield and decided to take off. I had a little breather there, which was nice. I needed that, but I was able to beat it."
The Orioles took an 8-6 lead into the bottom of the ninth, but closer Jim Johnson had the day off. He'd thrown in five of the past six Orioles games, and the added strain could have cost Baltimore later in the season.
"What it shows is a different chain when we give Jim a day," Orioles manager Buck Showalter said. "The bullpen got some big outs too."
Troy Patton got the final two outs of the sixth to strand three runners after the A's closed to within two runs of Baltimore.
Darren O'Day got the Orioles through the seventh and Brian Matusz pitched a scoreless eighth before giving up a two-run shot to Yoenis Cespedes -- playing in his first game off the disabled list -- to tie the game and send it into extra innings.
Pedro Strop made sure the Orioles had at least one more chance at it before giving it up in the 10th.
Sogard led off with a single, reached second when Adam Rosales' bunt was mishandled and scored when Crisp's bunt was thrown into left field.
"I was proud they went for it both ways," Showalter said. "You have to take a pop at it or it sets them up for too many things. I feel good about the way we played."
Chris Davis gave the Orioles a 7-6 lead with his eighth-inning home run and Manny Machado doubled home a run in the ninth to make it 8-6.
"It's so hard to sweep four games," Davis said. "Three out of four is good against anybody, especially to start a road trip. I'm happy with the three wins and I'm happy with the way we swung the bats."
Machado collected four hits and drove in two runs, Adam Jones had two hits and drove in two, and Matt Wieters also drove in a run for the Orioles, who have won eight of their last 11 games.
Nate McLouth also had four hits and scored four times. He hit .563 (9 for 16) in the series with two doubles, a home run, seven runs scored, five driven in and three stolen bases. McLouth has reached base safely in 22 of his last 36 plate appearances.
Davis hit an 0-2 pitch from A's reliever Sean Doolittle over the right-center field wall to break the tie.
"I thought it gave us a bit of a jolt," Davis said. "Then Cespedes hit a ridiculous home run. He took the wind out of our sails. When he hit the ball, I [said], 'Are you kidding me?'"
Baltimore starter Miguel Gonzalez lasted 5 1/3 innings, giving up four runs on seven hits. He walked two and struck out four.
"I tried to do too much," Gonzalez said. "A couple of pitches I forced instead of just letting go."
The Orioles jumped out to a 4-0 advantage with a big fourth inning. The first five batters each reached base safely, with Jones singling home one run and Davis following with a two-run double. Wieters added a sacrifice fly.
Jones doubled in another run in the fifth to make it 5-0. The way Gonzalez was breezing through the A's lineup, it looked like it would be more than enough.
But the A's scored four times in the sixth to chase Gonzalez from the game. Patton entered the game with the bases loaded and one out and stranded all three runners.
Machado singled home a run in the seventh to give Baltimore a 6-4 advantage, but that lead was erased when Seth Smith powered a towering drive over the center field fence, a two-run shot off Patton that tied the score.
Rick Eymer is a contributor to MLB.com. This story was not subject to the approval of Major League Baseball or its clubs.