No offense, but talented trio is struggling
Trout, Pujols and Hamilton go hitless in loss to Mariners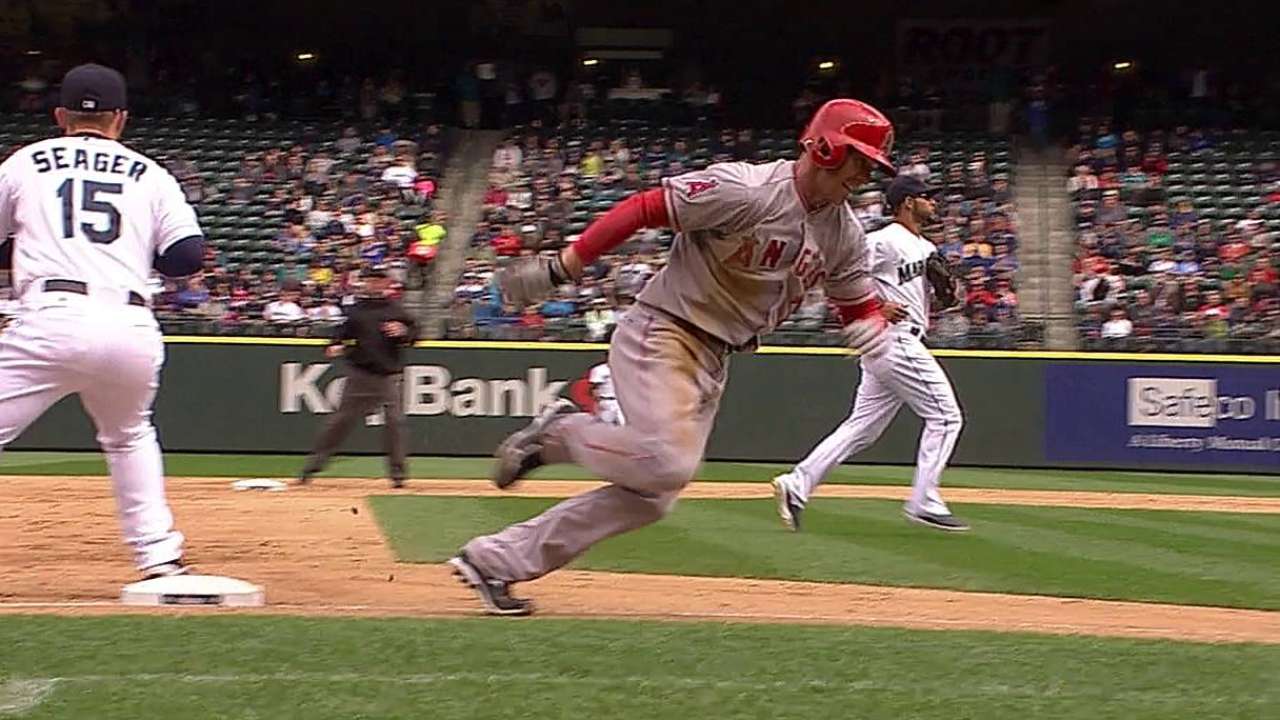 SEATTLE -- On an Angels team that entered the season heavy on offense and perceived as light on pitching, Mike Trout, Albert Pujols and Josh Hamilton are very much at the center.
They're the three that Mike Scioscia eventually opted to connect in the lineup, the three who sat together at a Spring Training press conference and the three you could count on, through thick and thin, in good times and in bad.
Lately, though, they've done the seemingly unfathomable, given their talent and track record -- they've struggled collectively.
On Sunday, in a 2-1 loss to the Mariners at Safeco Field, Trout, Pujols and Hamilton combined to go 0-for-12 with five strikeouts. And over the last six games, a stretch in which the Angels have lost four times, they've combined to bat .167, with 16 strikeouts in 66 at-bats.
"It's part of the game," Pujols said. "That means when we come out, we might come out at the same time, so it'll be a little different."
If there's a silver lining with the current Angels -- now 9-15 after dropping three of four to the Mariners, putting them 6 1/2 games back of the first-place Rangers in the American League West -- it's what the first baseman just referenced. Trout, Pujols and Hamilton will eventually turn it around and get hot -- really hot, you'd think.
It's just not happening yet. With April almost over, they're batting a combined .242 with two homers apiece -- while the Angels have the left side of their infield, four relievers and an ace on the disabled list. On Sunday, they were at the core of an offense that did almost nothing against Hisashi Iwakuma, made Jason Vargas a tough-luck loser and totaled nine runs in the four-game set.
"I think some things this series stalled, but they'll be fine," Angels manager Mike Scioscia said of his Nos. 2, 3 and 4 hitters.
"We're battling; it's not like we're going out there trying to fly out or punch out," Trout added. "It's a long year. We're going to be fine."
Making his first appearance against the organization he suited up for the previous four years, Vargas had the best start of his Angels career, throwing eight innings of two-run ball to drop his ERA from 5.82 to 4.85.
On a cool afternoon that saw him scatter six hits, walk two, strike out seven and go longer than any Angels starter has all season, the 30-year-old left-hander made just two mistakes: Two down-the-middle fastballs to Jason Bay and Michael Morse, resulting in a pair of solo homers.
"His changeup was really good today," said Bay, whose Mariners are now 11-16. "It was diving and fading and doing a lot of things and we really couldn't do much with him. Luckily, our pitchers gave us a chance."
The Angels struggled to get anything going off Iwakuma, who limited them to only one unearned run -- on a slow roller by Trout that snuck under the glove of shortstop Robert Andino for an error and scored Andrew Romine -- while striking out eight and walking none in six innings.
After that, Carter Capps blanked them for the next two frames and Tom Wilhelmsen picked up the save while mowing through the middle of the Angels' batting order.
"At some point, you have to beat good pitching," Scioscia said. "We weren't able to do it this series."
The Angels batted .208 in the four games in the Northwest, going a combined 0-for-17 with runners in scoring position. Three days before departing to Seattle, they had swept the defending AL-champion Tigers and looked like they were finally on their way.
Since then, they've dropped five of seven to the Rangers and Mariners, giving them the exact same record they had through 24 games of last year's sluggish April.
"We're mentally strong -- we have a great ballclub," said Pujols, whose team wraps up its seven-game road trip with three in Oakland. "It happens to good teams. At the end, hopefully it happens for a reason. To win a championship, you just don't rise to the top and ride it all year long. You have to go through some tough times, and it's good that it happens right now than in September, or later on in the season.
"We have plenty of time. We said that last year, but we have a lot of games left, so anything can happen. We go to Oakland, win the series, and we had a good road trip."
Alden Gonzalez is a reporter for MLB.com. Read his blog, Gonzo and "The Show", and follow him on Twitter @Alden_Gonzalez. This story was not subject to the approval of Major League Baseball or its clubs.