Lackey takes big step forward against Astros
Picks up first win since 2011 with strong six-inning effort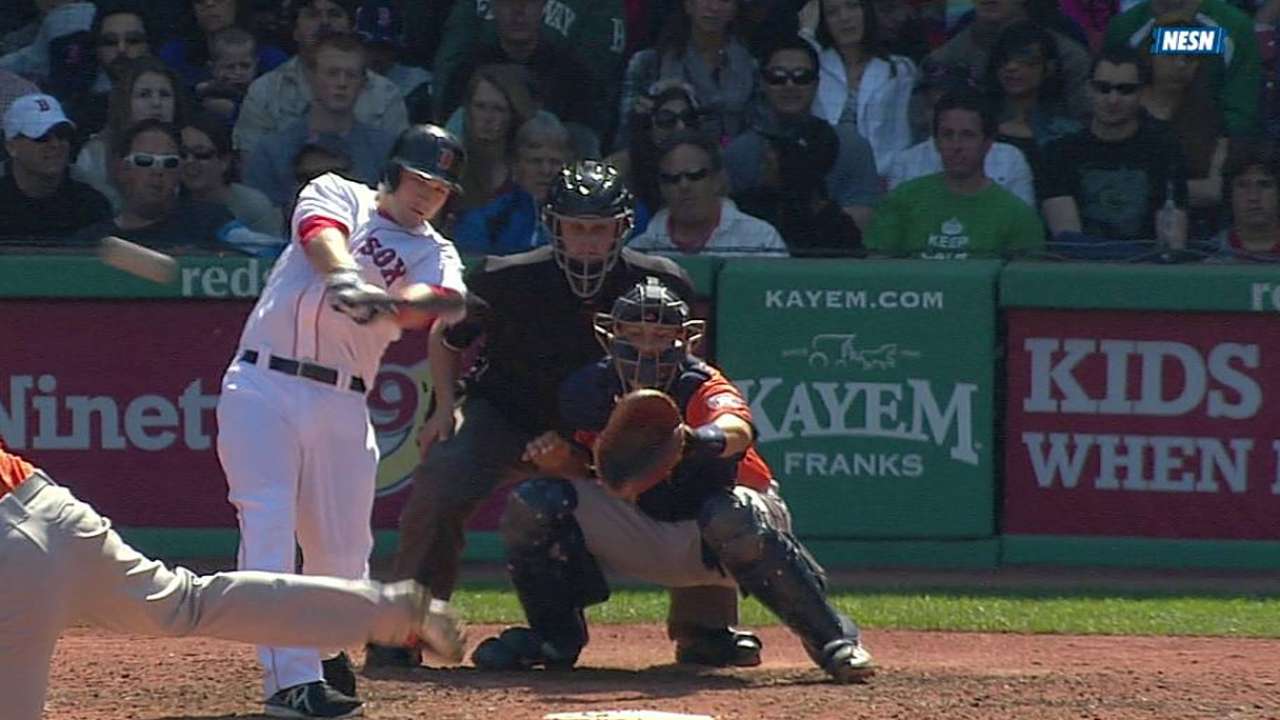 BOSTON -- John Lackey finally had expectations to meet, maybe for the first time since starting the 2010 season after signing his five-year, $82.5 million contract with the Red Sox.
After six strong innings by Lackey in a 6-1 win over the Astros on Sunday afternoon, the first step toward getting him back to being a productive part of the Red Sox's rotation was a success.
"It's been a long time," Lackey said. "There's been a lot of hard work to get back to this point, and hopefully I can keep it rolling forward."
The Red Sox finished off a four-game sweep of the Astros and improved to 18-7, matching their best start since 2002. They own the best record in the Majors, and could set team record for most victories in April with a win on Tuesday against the Blue Jays.
Regardless of the team Lackey was facing -- though the Astros, for all the flak they receive, are actually averaging just over four runs a game, better than 16 other offenses in the Majors this season -- he was able to get his fastball up to 93 mph (about 2 mph slower than his fastest pitch during his first start of the season), get out of jams and consistently locate in the strike zone.
While his arm strength is still not back to 100 percent after a right biceps strain kept him on the 15-day disabled list for 20 days, Lackey was able to test his fastball, cutter, slider and curve throughout an 81-pitch outing.
"I was just hoping I didn't feel anything in the arm," Lackey said. "And [I was] just trying to get back in the groove of things, and hopefully get four or five starts going here and get the arm strength back and get the feel back. It was definitely a good step in the process."
With a fastball that sat around 90-92 mph in the early going, Lackey gave up a quick run in the first. His fastball lost a few ticks in the middle innings, but the 34-year-old then retired 13 men in a row.
The Astros loaded the bases on three singles in the sixth inning, before Lackey turned it back up a notch to face Fernando Martinez.
Martinez fouled off a 90-mph fastball before sending a 90-mph cutter deep to left. But the ball bounced off the Green Monster just a few feet foul to give Lackey a chance to put him away. Martinez struck out on the next pitch, a sharp slider.
"I thought the ball got out of his hand better than expected," said manager John Farrell. "Not only in terms of velocity, but in the action to which some of his pitches showed at the bottom of the strike zone -- whether it was a two-seamer to get a number of ground balls, he had a good cutter, consistent sharpness to his curveball, as we saw in Toronto in his first outing. Honestly, it was better than expected in most ways today."
Stephen Drew had a two-out, two-run triple in the fourth inning to give Lackey an early lead.
"It's always good to deliver," said Drew, who has five RBIs in his last four games. "It's just a matter of timing for me, and it was just a good feeling. We needed it."
David Ortiz continued his torrid spell with an RBI single in the first inning and an RBI single in the seventh, driving in Daniel Nava each time. Ortiz went 2-for-4 at the plate, though it lowered his average to .516. He extended his hitting streak to 20 games dating back to last season, which is a new career high.
Nava reached base three times, marking the 12th game this season that the outfielder has reached safely at least twice. Entering Sunday, his .402 on-base percentage ranked 11th in the American League.
"Our overall offensive approach has been outstanding," Farrell said. "Guys aren't afraid to pass the baton onto the next guy. They'll take their walks in key spots. We've had good situational hitting."
The Red Sox outscored Houston, 28-10, over the four-game series. The Astros have yet to win in seven tries at Fenway Park.
"You look at their pitchers," said Astros manager Bo Porter, "and even when they got in trouble, they were able to make quality pitches to get out of trouble. And a lot of times, those quality pitches were in or breaking stuff down and out of the zone to get us to chase.
"After four games, they played better than us."
Jason Mastrodonato is a reporter for MLB.com. Follow him on Twitter @jmastrodonato. This story was not subject to the approval of Major League Baseball or its clubs.