Scuffling Giants lose fifth straight as Padres sweep
Vogelsong allows three homers; Posey clubs two-run shot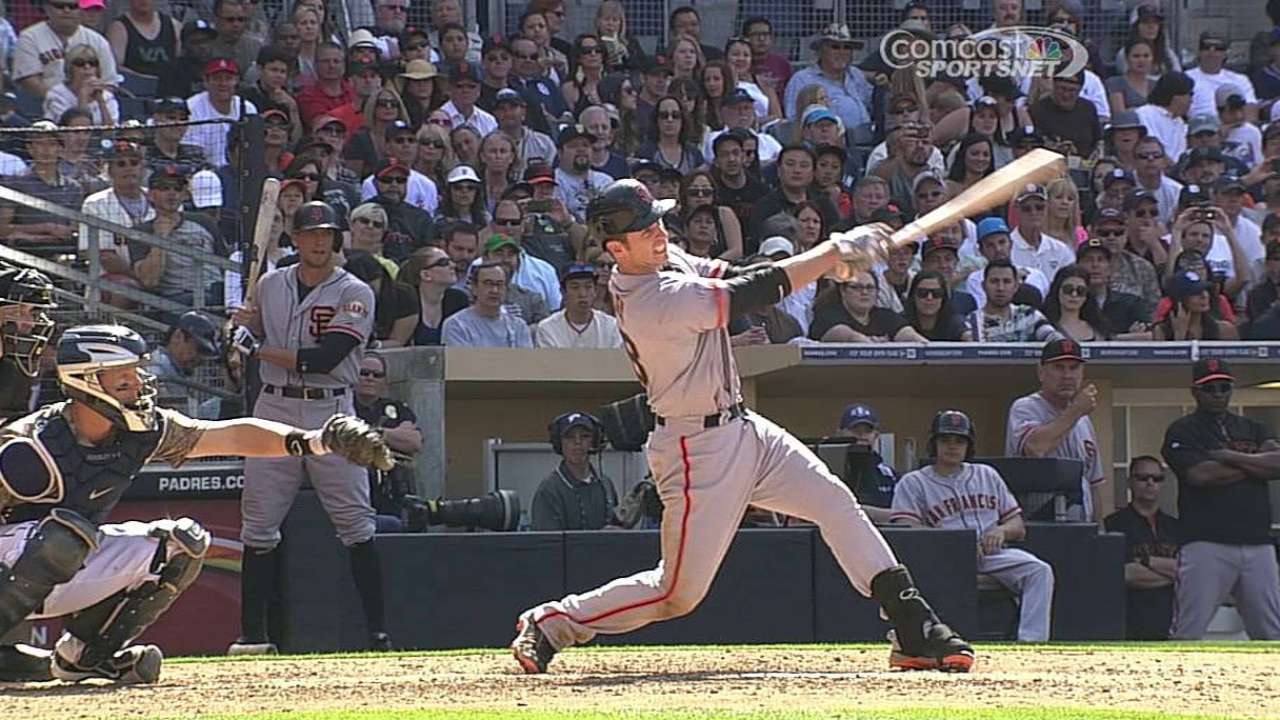 SAN DIEGO -- The reality of the new season is dawning upon the Giants.
The reigning World Series champions no longer lead a charmed life. Their fabled starting pitching is erratic. Their defense is less than airtight. They've lost the knack they displayed in last year's second half for collecting that decisive hit.
So they're vulnerable to being subdued by ordinary teams such as the San Diego Padres, who completed a three-game series sweep Sunday with a 6-4 victory. Ryan Vogelsong surrendered three home runs as the Giants' twin losing streaks grew to a season-high five games overall and six on the road.
Plenty of time remains for the Giants to regain their equilibrium. They've lost eight of 12 games since starting 9-4, suggesting that their luck can again change. Though it's ridiculously early to dwell on standings, they trail first-place Colorado in the National League West by a mere two games.
Moreover, examine San Francisco's five-game losing skid. Three games extended into extra innings; three ended with one-run margins and two featured two-run differences. Annoying but rare outfield mistakes contributed to three defeats. The Giants conceivably could have won all five games.
"It's always frustrating when you lose, but I don't sense any tension or anybody overly frustrated," said Giants catcher Buster Posey, whose eighth-inning, two-run homer stoked San Francisco's comeback hopes. "It's more a drive and a willingness to work to get back on track."
That largely explained second baseman Marco Scutaro's presence in the lineup. Manager Bruce Bochy had planned on starting rookie Nick Noonan at second. But Scutaro, whose 12th-inning fielding error Saturday enabled San Diego to score the winning run, told Bochy that he wanted a chance to atone for his mistake. As last year's Most Valuable Player in the NL Championship Series, Scutaro inspires respect and bears credibility. Bochy honored his request.
"The veterans wanted to break this streak," Bochy said. But Scutaro went 0-for-4 as his batting average plunged to .215.
Vogelsong, another trusty veteran, matched a personal worst by allowing the trio of homers that gave San Diego a 5-1 lead through four innings. In five outings, Vogelsong already has yielded seven homers, a total he didn't reach last year until July 1 -- 15 starts into the season.
Vogelsong admitted that he has struggled to repeat his pitching delivery.
"I'm just off, man. I can't get anything really going," he said.
As a result, Bochy said, Vogelsong "didn't have his stuff or his command."
Vogelsong experienced similar doldrums last year, when he recorded a 6.75 ERA in his final 10 starts. He recovered to post a team-high three postseason victories.
"I don't feel like I'm as far off as I was last year," Vogelsong said.
Neither were the Giants in this game. After Posey's homer trimmed San Diego's lead to 6-4, the Giants moved runners to second and third with two outs against setup reliever Luke Gregerson. Padres right fielder Chris Denorfia then raced to his right and dove to snare Andres Torres' line drive, denying the Giants a hit that surely would have tied the score.
"Luke and I were talking about it and that pitch [that Torres hit] was just about on the ground," said Denorfia, who entered the game in the sixth inning. "I was fortunate to get a good jump on it."
The Giants had some bright spots amid their doldrums. Posey is hitting .400 (12-for-30) during a season-best nine-game hitting streak. Pablo Sandoval matched a personal high with four hits to lift his batting average to .316, tops among the regulars.
And Matt Cain will start Monday's series opener at Arizona. The Giants are winless in the five games started by Cain, who bears an unsightly 6.59 ERA. But they firmly believe that the three-time All-Star is due to pitch the game that will begin his ascent.
"He's been working his butt off every day to straighten out," Vogelsong said. "Hopefully it translates for him tomorrow."
Chris Haft is a reporter for MLB.com. This story was not subject to the approval of Major League Baseball or its clubs.