Blue Jays can't end road trip on winning note
Pair of homers hurts Dickey as offense is unable to generate much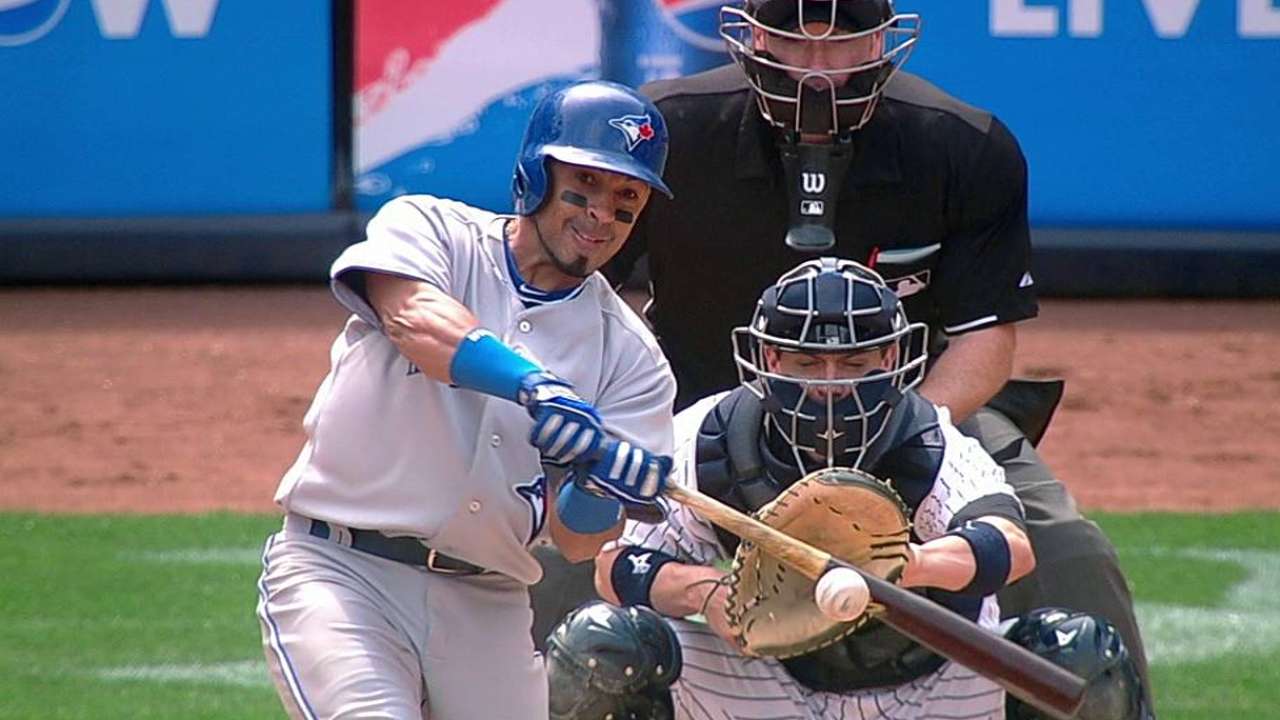 NEW YORK -- The Blue Jays began a seven-game road trip earlier this week with the goal of getting back to .500, but now that aspiration seems like an ancient dream.
Toronto had been desperately hoping for a series of positive outcomes to help get its season back on track. Instead, the club has dug itself a bigger hole, and the search for answers continues.
Right-hander R.A. Dickey tossed seven strong innings, but the offense continued to struggle as the Blue Jays' losing streak was extended to a season-high four games with a 3-2 loss to the Yankees on Sunday afternoon at Yankee Stadium.
"It has obviously been incredibly disappointing for everybody," said Dickey, who was charged with three runs on four hits. "The beauty about baseball is it's just one month and we've got five left, so there's still time.
"But at the same time, we can't just keep going out there and saying, 'Oh, it's going to turn.' Everybody in here knows we have to each take responsibility for turning it. We know what needs to be done. It's just a matter of doing it."
Dickey managed to get through the seven innings despite continuing to deal with tightness in his upper back and neck area. The injury has lingered in his past four outings, and with the pain having yet to subside, he is expected to get an MRI within the next couple of days. But the hope remains he'll be able to keep pitching through the discomfort like he has the past four times out.
The Blue Jays finished their road trip against Baltimore and New York with a 1-6 record. Most of the blame goes to the offense, which managed to score a total of 23 runs over that span while hitting just .231 (9-for-39) with runners in scoring position.
The offensive woes have been lingering for almost the entire month of April. Toronto has scored three runs or fewer in 15 of its 26 games this season while its previously hyped lineup ranks just ninth in the American League with a total of 95 runs. All of the teams behind the Blue Jays in that category -- except Seattle -- have played at least three fewer games.
The lack of run support has applied plenty of pressure on both the defense and pitching staff. The margin for error has been so small that each game seems to be decided by one bad pitch or one miscue in the field.
"I think guys at the plate feel like they've got to press a little bit," Dickey said. "I certainly feel like I need to make big pitch after big pitch. And so when you do have some climactic innings, everything's exacerbated a little bit. It's hard to play like that for a long amount of time, and it'll wear on you."
That type of situation arose again on Sunday afternoon. Dickey cruised through the first six innings of the game, but all it took was one hiccup in the seventh for his afternoon to become unraveled.
Dickey surrendered a leadoff single to Travis Hafner before retiring the next two batters he faced. All he needed was one out to preserve a 2-1 lead, but he couldn't get the desired result. Dickey tossed an ineffective knuckleball that Yankees first baseman Lyle Overbay sent just over the wall in right-center field.
That one little mistake was enough to dictate the final outcome. Those things will happen from time to time, but when it becomes a recurring trend, then the issues become magnified.
"We're positive, we're right in every game, we just can't get that big win," Blue Jays manager John Gibbons said.
"It was a good ballgame and it was good all the way around, good clean game, just got the big hit there late and it made the difference."
The Blue Jays have spent most of this season relying on the long ball to score runs, but on Sunday afternoon, it was some rare timely hitting and seeing-eye singles that sparked at least a bit of offense. But seven of Toronto's eight hits on the afternoon came with two outs and a pair of doubles by Jose Bautista and Maicer Izturis were the only hard hits of the day.
Toronto's first rally came in the fourth, when Edwin Encarnacion hit a two-out bunt single down the third-base line that stayed fair. He came around to score after the Blue Jays pieced together another pair of softly hit balls by Melky Cabrera and Adam Lind to tie the game at 1.
Bautista led off the sixth with a scorching double to left off Yankees starter Phil Hughes. Later in the inning, Izturis came through with a double off the wall in right field to score Bautista and at least temporarily put Toronto on top.
"You look at the first run he gave up, you're going to give up hits like that, but you don't usually see three of them in a row though," Yankees manager Joe Girardi said of Hughes. "That's the bottom line -- two jam-shots and a cue shot. But I thought he pitched really well today."
But the Blue Jays' offense was quiet from that point on, and the lack of run support continues to be a problem that Toronto seems incapable of overcoming.
Before hosting the Red Sox on Tuesday, Blue Jays now have a much-needed off-day on Monday following a grueling stretch of 20 games in 20 days. That should provide an opportunity to regroup, but the schedule doesn't exactly provide the club any favors moving forward.
"Big time," Gibbons said when asked if his club needs that day of rest. "And then come right back at it with Boston, which is playing as good as anybody in baseball right now.
"So it doesn't get any easier that's for sure. But the off-day will do us some good. Physically, they need it, too."
Gregor Chisholm is a reporter for MLB.com. Read his blog, North of the Border, and follow him on Twitter @gregorMLB. This story was not subject to the approval of Major League Baseball or its clubs.