Overbay's homer lifts Yankees past Jays
Late rally gives NY first home sweep; Hughes solid in no-decision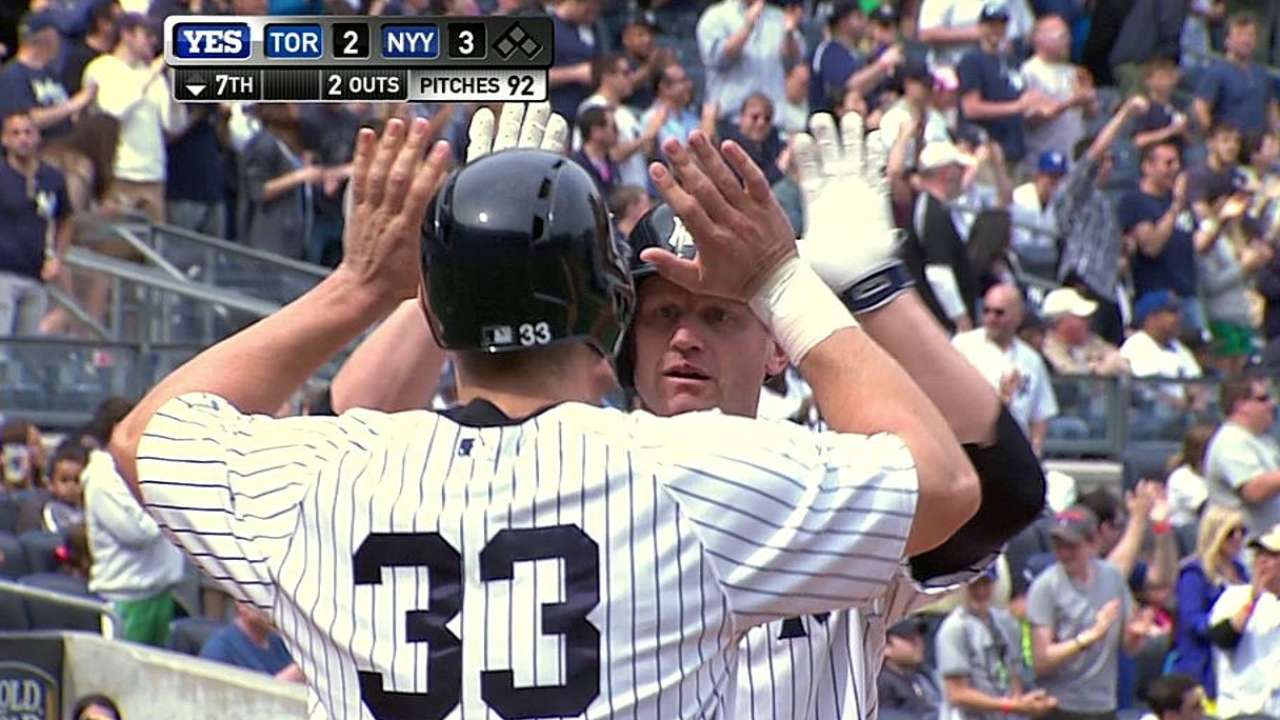 NEW YORK -- Four games. Four come-from-behind victories. One sweep.
That's how the Yankees kicked off their current 10-game homestand, finishing off a four-game sweep of the rival Blue Jays with a 3-2 win at Yankee Stadium on Sunday. The four-game winning streak matches the Yankees' season-high and marks the team's first four-game sweep of the Jays since Sept. 18-21, 1995.
Stifled nearly all afternoon by R.A. Dickey's knuckleball, the Yankees once again found a way to scratch out a victory behind another late rally.
Locked in a pitchers' duel with Yankees starter Phil Hughes for much of the day, Dickey and the Jays entered the bottom of the seventh inning clinging to a 2-1 lead. Though it was only a one-run deficit, the Yankees had hardly threatened the knuckleballer all afternoon. New York, in fact, never had a baserunner on second or third base in seven innings against Dickey.
It turns out the Yankees didn't need to. They instead relied entirely on a pair of home runs against Dickey. The first, off the bat of Brennan Boesch, staked the Yanks to an early 1-0 lead in the second inning and the second, a two-run shot by Lyle Overbay in the seventh, proved to be the difference.
"We didn't have a lot [of success against him]," Yankees manager Joe Girardi said of the reigning National League Cy Young Award winner. "We had four hits and two of them were homers, that's what helped. It's tough, because you're used to seeing guys throwing in the 90s, and all the sudden, you're trying to hit a butterfly, so it becomes very difficult.
"It's tough to center a ball on him, and we were able to really only get three or four on him today, and fortunately, two of them were home runs."
One day after the Yankees rallied twice en route to a one-run victory, their pitching staff again kept them in the game long enough to break through late. Hughes, who settled for a no-decision to remain winless on the season despite recording his third consecutive quality start, pitched six strong innings, allowing just two runs on seven hits.
Pitching with a 1-0 lead following Boesch's home run, Hughes gave up three consecutive two-out singles -- two of which snuck through the infield while the other barely dropped down in shallow left field -- in the fourth inning as the Jays knotted the game at 1. Two innings later, a Maicer Izturis RBI double off the right-field wall put the Jays ahead, 2-1, but Hughes limited the damage one batter later, recording one of his season-high nine strikeouts.
"You look at the first run he gave up, you're going to give up hits like that, but you don't usually see three of them in a row though," Girardi said of the three well-placed Toronto hits. "That's the bottom line -- two jam shots and a cue shot. But I thought he pitched really well today."
Though the Yankees didn't come through in time to earn Hughes his first win of the season, when they did finally break through, it was once again courtesy of a pair of newcomers.
One day after Travis Hafner (signed on Feb. 1) and Vernon Wells (acquired from the Angels on March 26) combined to drive in all five of the Bombers' runs, Boesch (signed on March 15) and Overbay (signed on March 26) did all of the damage on Sunday.
"We knew what these guys could do, whether it's Hafner or Overbay or Wells," said Hughes, who remains 0-2 but lowered his season ERA to 4.67. "Guys who have experience in this league and good hitters, that's the bottom line. So we felt like if we pitched well, we were going to get contributions from somebody and that's been the case early on."
Overbay, who spent five seasons with the Blue Jays from 2006-10, said it was something he learned during his playing days in Toronto that allowed him to go 2-for-3 against Dickey and launch the go-ahead home run. Sometime in 2007-08, then-teammate Matt Stairs let Overbay in on his secret to approaching knuckleball pitchers -- simply try to pull home runs.
"Ever since I did that, I've started hitting them a lot better," Overbay said. "You just start taking an aggressive swing at it, I think is the biggest thing. [If] you start trying to feel for it and hit it, it ends up beating you. So it's just a matter of taking a big, strong, aggressive hack."
And that's exactly what Overbay did on a 1-1 pitch with two outs in the seventh inning and Hafner at first base representing the potential tying run. Hafner had singled to lead off the frame against Dickey, who then retired the next two batters on weak flyouts before hanging a knuckleball out over the plate for Overbay.
"I threw him a couple of mediocre knuckleballs and he got a couple of base hits, one being a home run," said Dickey, who fell to 2-4 on the season. "When you're playing tight games against the New York Yankees, it's usually the guy that makes the most mistakes that's going to lose the game, and today, it looks like I did that."
More often than not against the Yankees, it's been the other guy making those late mistakes recently. With Sunday's win, the Yankees improved to 9-1 in games decided by two runs or fewer this year, including 4-0 in one-run affairs.
The victory also ran the Yankees' overall record to 15-9, a tally that more than satisfies Girardi, with or without his club's early-season rash of injuries.
"I would have signed up for it, definitely," said Girardi. "It's a group that has something to prove, in the sense there's some guys that are older that had some down years or injury-plagued years [and] some younger guys that are trying to establish themselves.
"They've made it work, coming together. … They've done a really good job."
Paul Casella is a reporter for MLB.com. Follow him on Twitter @paul_casella. This story was not subject to the approval of Major League Baseball or its clubs.